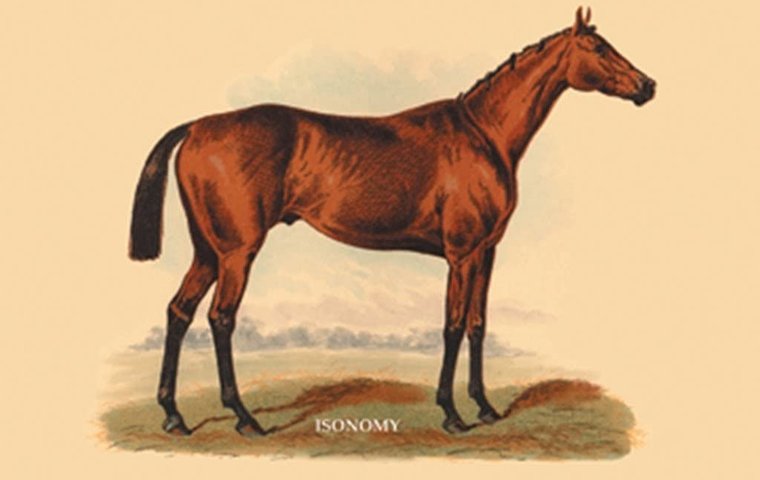 Renowned bloodstock writer Tony Morris with the 20th in a series of articles celebrating 100 horses instrumental in shaping the Thoroughbred.

Isonomy, b c, 1875, Sterling – Isola Bella, by Stockwell
Foaled in 1833, Birdcatcher was the first horse bred in Ireland and raced exclusively in that country to make a deep impression on the breed. In a stud career that involved several trips back and forth over the Irish Sea, he got the winners of seven English Classics and twice headed the sires' list, in 1852 and 1856. He is recognised now as a link, through his St Leger-winning son The Baron, and that horse's son Stockwell, in the chain from Eclipse that came to be recognised as the breed's overwhelmingly dominant male line.
However, there was another branch that stemmed from a son of Birdcatcher whose racing career was far less distinguished than that of The Baron. As a 2-year-old, Oxford contrived two second places, one of them a neck behind subsequent Derby hero Thormanby (who gave him 5lb) in a race of no importance at Chester, and at three he finished unplaced in two starts. He at last gained winning brackets in two minor races at four, the first at Oxford and the second, five days later, at York.
The record reads badly, but Oxford was quite highly regarded by his connections on home form. He was, though, more often lame than sound, and his trainer was clearly striking while the iron was hot when he sent him out again so soon after his maiden win. Oxford would always seem a dubious proposition for many breeders, but after The Student, from his first crop, proved to be one of the best 2-year-olds of 1865, he received bigger books, albeit generally lacking quality.
Oxford ranked 13th on the sires' list thanks to The Student's juvenile form, but that colt ran only once at three – unplaced and unbacked in the 2000 Guineas – and it was 1870 before his sire occupied a place among the top 20 again. The revival was down to Sterling, a genuinely top-class performer and much the best of all Oxford's progeny.
Sterling, bred by the Graham brothers at their Yardley Stud, near Birmingham, won seven races, two as a juvenile, three at three, one at four, and one at five, the last being the Liverpool Autumn Cup, the highest-profile contest among his victories. But he was a far better horse than the roarer Bothwell, who somehow contrived to relegate him to second place in the 2000 Guineas, and he gave tremendous performances in two editions of the Cambridgeshire.
In the 1871 version of that important Newmarket handicap, Sterling was joint top-weighted 3-year-old with Derby hero Favonius, and he fared rather better than the Classic hero, dead-heating for second place just a head behind the 4-year-old Sabinus, who was in receipt of 4lb.
In the 1873 event, he had to carry 9st 7lb, conceding from 12lb to 56lb to 36 rivals. He had a temper tantrum, rearing and bucking before a long-delayed start, and at the off pulled his way into a prominent position, defying his jockey, Henry Custance, to restrain him. The rider never did get him under control, but amazingly his mount kept on to secure third place. In the light of that performance and his subsequent win at Liverpool, Custance was inclined to rate Sterling the best horse he ever rode.
Sterling was owned throughout his racing career by Miss Isabella Graham, sister to the pair who had bred him, but he never ran in her name. He appeared as the property of Mat Dawson on his debut, and thereafter he raced under a lease arrangement in the striking orange and purple colours of Fred Gretton, who also used the nom de course of Mr Blaydon.
The Grahams' chief line of business was as corn merchants, and they were suppliers of barley to the Bass brewery, of which Gretton was a partner. When the connection was extended through racing, there followed beneficial consequences for both parties.
The colt who drew John Porter's eye
Sterling had fully earned a crack at stud, and he returned to his first home to begin his career as a stallion in 1874. If Yardley had a marketing campaign for the horse at that time, it was not very successful, as the report of his first season's activity showed 16 live foals, all bar one bred by Messrs Graham. But the farm's own belief in the horse proved quite sufficient to ensure his success.
Among the mares they committed to Sterling in his first season was Isola Bella, a young Stockwell mare who had shown no form in five races, three of them with a 14-year-old midget Fred Archer in the saddle. Her owner-breeder, Richard Naylor, understandably did not rate her as a broodmare prospect, but she was to become the dam of not just a great racehorse, but a sire who achieved a distinction that is still unmatched and seems likely to remain unmatched for all time.
In the summer of 1876 Kingsclere trainer John Porter paid a visit to Yardley with a view to casting his eye over the yearlings the stud would be sending to the sales at Doncaster. The one he liked best was the little colt out of Isola Bella, whose want of size seemed forgivable when he displayed a free action and a competitive streak, galloping around a paddock with the rest of the consignment bound for auction. Porter decided there and then that he would buy the colt at the sale; he had a ready-made client in Fred Gretton, who had raced the sire and was now a Kingsclere patron. The deal was duly done at 360gns, and the name chosen for the colt was Isonomy.
Examine the careers of all the horses on the English Turf who came to earn the epithet 'great' and you will find none who had a stranger first season in training than Isonomy. Conduct that exercise again over those horses' second season, and the same individual stands out from the rest, albeit for a different reason.
All three of Isonomy's races as a 2-year-old were half-mile dashes, the first at Brighton in August, the second at Newmarket in September, the third again at Headquarters in October. On his debut, he was beaten by two fillies, the winner Ersilia scoring for the sixth time in 11 races, while runner-up Preciosa was almost equally experienced, making her eighth start.
The colt's runs at Newmarket were both in handicaps. There were 15 runners in the first of them, and Isonomy prevailed by half a length and a neck with the help of an 11lb concession from the runner-up and 6lb from the third. Curiously, he was not quoted in the betting for his last run, in which he again figured in a close finish among three. He took second place, beaten a head while conceding 11lb to the winner, and half a length in front of the third, to whom he gave 14lb.
A 'no' to the Classics
What was anybody to make of Isonomy's form, and what could anybody expect from him as a 3-year-old? Here was a colt who held entries in the Derby and the St Leger, but who had run only in modest company over the minimum distance. He surely couldn't be a Classic contender on that evidence.
In fact, his owner did not want him to be a Classic contender. Fred Gretton's chief interest in owning horses was betting on them with a view to bringing off a coup at long odds in one of the highly competitive handicaps that attracted enormous wagering. He had gone close in two Cambridgeshires with Sterling. Wouldn't that race be a suitable target for his son?
Part of the groundwork toward that end had already been done. On his 2-year-old form, Isonomy was a runner of little distinction, so the Jockey Club handicapper could only give him a light weight unless he showed marked improvement in the interim. Why not make assurance doubly sure? Gretton told Porter that he did not want Isonomy to run before the Cambridgeshire, and that he proposed to have a huge bet on the colt.
Although Isonomy had hardly grown in height – and would never measure above 15.2 – Porter saw plenty of improvement in his charge through the spring and summer of 1878; he was becoming the complete racehorse before his eyes. But the trainer had to feel pressure, instructed to have the colt at his peak in the most competitive handicap of the season after 364 days' absence from the racecourse – and in the knowledge that his patron would be backing him for serious money.
In fact, Isonomy did visit Newmarket before his big assignment. Porter took him there with others of his string to stage a trial over the Cambridgeshire distance before racing at the first October meeting. It did not go smoothly, and the colt was beaten a head, providing mixed messages for those who witnessed it. Gretton, who already stood to win £40,000, was looking for encouragement that he should increase his stake, while casual observers noted only that Isonomy had been beaten, unaware that he was conceding 26lb to a smart stable companion. The negative news that they passed on meant that he remained a longshot in the minds of most punters.
Landing a massive coup
Isonomy's price on the day was 40/1, and he could not have been a more convincing winner, coasting home by two lengths, with half a length and a head back to the popular 6-year-old Hampton, top weight under 9st 3lb, in fourth place in the field of 38. Gretton's coup was duly landed, and while he congratulated himself on having got his colt in the race with only 7st 1lb, others speculated over how much weight would have been required to stop him winning. Porter reckoned he would have won with 9st.
A clearer idea of Isonomy's true merit was every racegoer's wish for 1879, and that was granted in an impressive campaign that brought him six victories from eight runs. He began with a defeat, failing by a length and a half to give the classy American gelding Parole 8lb in the Newmarket Handicap. That was his first race over 12 furlongs, but the distance was not his undoing. He was just not cherry ripe in mid-April, and much longer trips were not going to bother him when he was at his best.
He turned out twice at Ascot, upsetting the odds on 1877 Derby hero Silvio in the Gold Vase on Tuesday before accounting for other Classic winners in Insulaire and Jannette in a Gold Cup run on rain-drenched ground two days later. His next two races came during what was known as the Sussex fortnight, his win in the Goodwood Cup reversing the Newmarket form with Parole, followed by a Brighton Cup victory for which he started at 10/1 on.
One of the golden rules for punters, then as now, was never to bet odds-on in a handicap, but those who staked 11 to win eight when Isonomy ran in the Great Ebor at York were given nothing to worry about; he relished heavy ground once more and trotted up by eight lengths. He was given two more targets for that season – the Doncaster Cup and the Cesarewitch.
Isonomy's reputation was now so exalted that it seemed he would face no competition at the Yorkshire course, but not only was the prospect of a walkover averted, one of his three rivals actually gave him a race. That was Jannette, who had won both Oaks and St Leger in 1878, but she had been no match for Isonomy at Ascot and was not expected to provide a threat to the long odds-on favourite this time. In fact she excelled herself, racing neck and neck with the colt in the final furlong, and jockey Tom Cannon had to call on Isonomy's courage and resolution to secure victory by a head.
Extraordinary decision
It seemed an extraordinary decision to start Isonomy in the Cesarewitch, once the handicapper had set him to carry 9st 10lb, with the bottom weights on 6st. The public ignored him as a 66/1 shot, while Fred Gretton backed his other runner, Westbourne, who was third in the market, to win him £50,000.
Asked to do the impossible, Isonomy might just have managed it, if he had not received a clout from Westbourne that nearly knocked him over when he was mounting a strong challenge. Gretton's gamble was frustrated, as Westbourne finished runner-up to fellow 3-year-old Chippendale, while Porter felt that but for the interference he suffered the neglected Isonomy would have won instead of finishing a thoroughly honourable fifth.
Isonomy had only two races as a 5-year-old, the first of them in the Manchester Cup, a handicap over 13 furlongs in mid-May. The public seemed to have forgotten that he could make the impossible attainable, letting him start at 100/6 in a field of 21. But Fred Gretton had faith in the best horse he would ever own, and took advantage of the generous odds. Isonomy had 9st 12lb, while second top weight Lartington had only 7st 9lb, and at the foot of the handicap was Lightfoot with 5st 9lb. His class and courage to the fore, Isonomy gave 45lb to joint-favourite The Abbot (who had been beaten under a length in the 2000 Guineas a few weeks earlier) and thwarted him by a neck on rock-hard ground.
Many believed that Isonomy would need to master the 1879 St Leger winner Rayon d'Or in his bid for a second Gold Cup at Ascot, but that French colt's connections eventually ducked the issue, opting for the Rous Memorial Stakes an hour later instead. However, they did field a challenger to Isonomy in Zut, who had been the previous season's winner of the Prix du Jockey-Club and Prix Royal-Oak, but he was dismissed as a 33/1 no-hoper, and it was Cesarewitch hero Chippendale who proved the worthier opponent, a respectable second a length in arrears, without causing the favourite any concern.
Isonomy might have gone on to enhance his record, but Porter advised retirement, saying that racing on hard ground was beginning to take a toll. Gretton was happy to take that course, recognising that his horse had gone beyond filling the role of medium for betting coups. From 14 starts Isonomy had ten wins, two seconds, a third and a fifth. He had been the best of his generation for three seasons, probably a three-time Horse of the Year had such a concept been recognised at the time.
When Isonomy came out of training, he was still Sterling's standout performer, and his breeders were still attracting few outside mares to him. But Sterling was to become more prominent as a sire, and three Yardley Stud products – Paradox, Enterprise and Enthusiast - proved successful in the 2000 Guineas. He ranked second on the sires' list in 1884, when his son Harvester dead-heated with St Gatien in the Derby.
In 1886, when the Sporting Times asked prominent racing personalities to nominate the best racehorse they had seen, ten respondents nominated Isonomy. Only Gladiateur, with 11, garnered more first-place votes. Having acquired such celebrity on the racecourse, it might have been expected that Isonomy would find strong support at stud, but that did not happen immediately. Indeed, there were only seven live foals as the outcome of his initial season at Bonehill Paddocks, near Tamworth. Five of them, plus one born dead, were listed as bred by the late Fred Gretton, the other pair by Bonehill Stud.
The poor initial response to Isonomy as a stallion might have had something to do with the fact that Gretton was not a popular man. He was notoriously mean and selfish, his trainer learning early that he should expect no reward for helping him to land his gambles. When Porter was informed that Tom Cannon had been promised £1,000 if he were to win the Manchester Cup on Isonomy, he told Gretton that, if he were not to be similarly incentivised, he could take his horses away. No doubt reluctantly, Gretton acceded to the demand.
A change of ownership certainly made a difference to Isonomy. On New Year's Day 1883, he was sold at auction for 9,000gns, a sum that showed he commanded more respect from breeders than might have been supposed from the patronage he had received at the outset. He was bought by Caroline, Duchess of Montrose, to stand at the stud she was establishing in Newmarket, named in honour of her 1878 Derby winner Sefton.
In fact, Isonomy had another season at Bonehill in 1883, as Sefton Stud was not ready to take a stallion, but the difference in quality of the books he received was immediate. Indeed, in each of his last nine years in service, he covered at least one Classic-winning mare; in one year, 1888, he was visited by five.
Dead before his greatest achievement
Isonomy succumbed to an enlarged heart on 7 April, 1891, already recognised as a successful sire – second on the list in 1888, fourth in 1887 and 1889. But the accomplishment that made him unique in the annals of the British Turf and is likely to remain unmatched for all time, could not be recorded at the time of his death. Among the progeny he left behind were an unraced 3-year-old called Common and a yearling who would be named Isinglass. Both colts would become Triple Crown winners.
Isonomy's first son to achieve distinction was Gallinule, who came from his third crop. He won three races, including the National Breeders' Produce Stakes, as a 2-year-old, but the three following seasons delivered no more victories while he became unsound in his wind and developed a tendency to break blood vessels. Fortunately, breeders trusted him at stud, and he was to become a multiple champion as sire and broodmare sire, famous most especially for his wonderful daughter Pretty Polly.
In the fourth crop came Satiety, who won 15 of his 19 races and found a modicum of success at stud, and the first notable filly in Seabreeze, who collected Classic wins in the Oaks and St Leger. Antibes (Yorkshire Oaks), a sister to Seabreeze, came among the 1886 foals, and Isonomy's ultimately most significant daughter, Arcadia, arrived in 1887. She showed decent form in two wins as a juvenile before falling short against the best of her sex at three, but at stud she became the dam of the hugely successful sire Cyllene.
Common was Isonomy's first Classic-winning colt, and in addition to his Triple Crown he beat a solitary rival in the St James's Palace Stakes, but finished only third in the Eclipse Stakes to 4-year-old Surefoot. He was trained by John Porter, who was initially keen to campaign him in cup races as a 4-year-old, but changed his mind after Common's sale to Sir John Blundell Maple shortly after the St Leger. The colt's new owner had made his money as proprietor of a furniture store in London's Tottenham Court Road so was not at all the class of owner welcome as a patron of the Kingsclere stable. Instead of racing at four, Common began what turned out to be a disappointing stud career. His best representative was Nun Nicer, who won the 1000 Guineas and finished second in the Oaks in 1898.
The 1-2 in all three Triple Crown races
Whereas Common came to the 2000 Guineas as an unknown quantity, Isinglass arrived at his first Classic as an unbeaten odds-on chance, with a Middle Park Plate success in his record. He would suffer no defeat until late September, when he failed to give fellow 3e-year-old Raeburn 10lb in the Lancashire Plate at Manchester, but had the celebrated 4-year-old filly La Fleche behind him.
Not the least remarkable fact about the Classic crop of 1893 was that Isonomy would have been sire of the Triple Crown winner even if Isinglass had not been around. Runner-up in all three races was Ravensbury, another gifted son of Isonomy, who also endured wretched luck on a venture to France for the Grand Prix de Paris. The judge there was among a small minority who reckoned that the English raider had been beaten, and when England's Racing Calendar came to record the result, there was evident irony in its pronouncement that Ragotsky had won by 'a very short head.'
That reverse at Manchester would remain the only one in the 12 lifetime starts for Isinglass, who proceeded to add the Princess of Wales's Stakes, the Eclipse Stakes and the Jockey Club Stakes to his credits at four and the Gold Cup in his solitary start at five. He retired with career earnings of £58,655, a record sum in Britain that was not surpassed until 1952.
Isonomy was always going to find it hard to head the sires' list while he had to compete with St Simon and his larger books, but he was twice that horse's runner-up posthumously and in 1894 he finished only £37 in arrears.
Gallinule and Isinglass became Isonomy's best sire-sons, the former proving more consistent, but the younger horse got John o' Gaunt, whose son Swynford helped preserve a longer-lasting male line. Both, like Isonomy himself, proved effective as broodmare sires; Gallinule topped that table five times, the last as late as 1920, while Isinglass was ever-present in the top ten for a decade, claiming the title in 1912.
Isonomy has long been overlooked in appraisals of the standout runners and sires of the past. He deserves wider recognition in both categories.