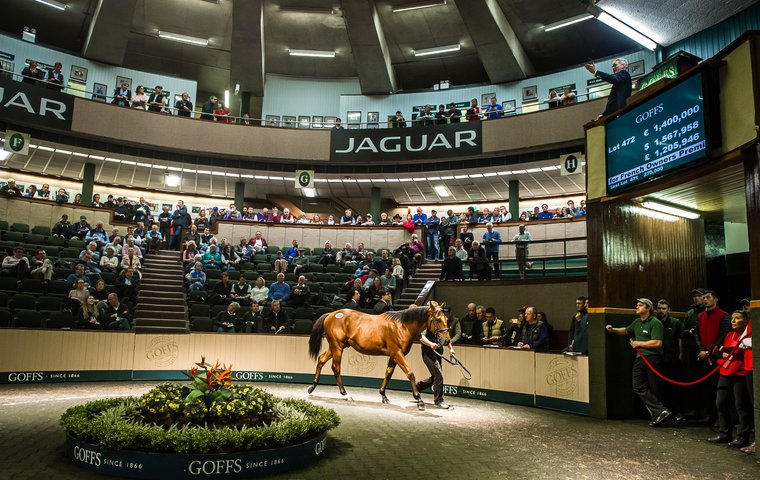 The curtain comes down on the Wildenstein family's official association with horse racing next week, when Goffs stages the second draft of horses offered as part of the Wildenstein Stables Limited Dispersal.

As with the first round of horses, part two will be handled by the Castlebridge Consignment. It comprises of 20 foals due to sell next Thursday (17 November) and another 27 mares and two fillies in training catalogued to sell next Friday (18 November).
Established by Georges Wildenstein in 1923, the stable's name is synonymous with a series of giants of the turf. Perhaps the most memorable was All Along, that legendary globetrotter who was champion in both Europe and the U.S. courtesy of victories in the Arc, the Rothmans International, Turf Classic and Washington D.C. International.
But then there were the four Arc winners, among them champion Allez France, who had the measure of Dahlia every time they met, and Peintre Celebre, the record-setting winner of 1997.
The stable continued to operate at the highest level following the death of Daniel Wildenstein in 2001, campaigning G1 winners such as Aquarelliste, Beauty Parlour, Planteur, Vallee Enchantee and Westerner. His eldest son, Alec Wildenstein, died in 2008 aged 67, and their final G1 winner came courtesy of Beauty Parlour in the 2012 Poule d'Essai des Pouliches.
As such, the Wildenstein Stables Limited Dispersal has deservedly been billed as one of the most eagerly anticipated auction events of recent years.
The first draft of horses, which consisted of 17 yearlings and 41 horses in training offered at the conclusion of the Goffs Orby Sale on 28 September, attracted a deep international buying bench, led by the American-based White Birch Farm, which signed for four horses in the presence of Joseph Allen worth €1.32 million.
Representatives of White Birch Farm also tried hard to secure the headline act, the Dubawi yearling colt out of Beauty Parlour, but had to give best to John Ferguson at €1.4 million. The colt headed a quartet horses that sold for €350,000 or more that evening, alongside 2-year-old Pavini and yearling Pale Moon, who were snapped up by White Birch for €600,000 and €360,000, and 3-year-old Bengala, who was bought by agent Patrick Lawley-Wakelin for €350,000.
In all, 57 horses changed hands at an average of €102,789.
The second half of the dispersal promises to be just as memorable given it includes Beauty Parlour herself, who sells in foal to Kingman.
Once again, many of the Wildenstein family's respected lines are also on show, including those belonging to Pawneese, Virunga, Albertine, Lupe and Petroleuse.
Potential stand-outs
1187) b c Dansili - Pacific Rim(Singspiel)
Although Pacific Rim faced the starter just four times, her career was a memorable one, comprising three wins, including a wide-margin victory in the G2 Prix de Malleret at Saint-Cloud.
Lot 1187 is her second foal and follows a Mastercraftsman yearling colt that sold for €60,000 to the China Horse Club in the first round of the dispersal.
This family has been a grand servant to the Wildenstein family over the years. Pacific Rim is a half-sister to G2 Prix Hocquart winner Prairie Star, also G1-placed, and out of G3 Prix Minerve winner Prairie Runner, an Arazi half-sister to the G1-placed Poussin.
Pacific Rim herself sells as lot 1412 in foal to Zoffany, and, as a young G2 winner in foal to an upwardly mobile sire, promises to another major highlight.
Prairie Star is also catalogued as lot 1418 in foal to Camelot.
1189) b f Invincible Spirit - Peinture Rare(Sadler's Wells)
Peinture Rare's two-year-old Dubawi filly, Pavini, was one of the standout lots of the Orby draft of horses, selling for €600,000 to White Birch Farm. And little wonder; not only was she a daughter of Dubawi but out of G2 Prix de Pomone heroine Peinture Rare, a half-sister to the Wildenstein's brilliant champion Peintre Celebre. The son of Nureyev was impressive enough in victory in the Prix du Jockey Club of 1997 but it is for his sweeping winning run in that year's Arc for which he remains celebrated.
This youngster is one of only six filly foals by Invincible Spirit on offer this year in Europe. She is the fifth foal out of Peinture Rare, whose first, Perle Rare, was a winner at Maisons-Laffitte last summer.
In turn, Peinture Rare is out of G2 winner Peinture Bleue, the dam of six stakes horses in all. In addition to Peintre Celebre and Peinture Rare, they included G3 winner Pointilliste and Listed scorer Peinture Rose.
Ten-year-old Peinture Rare should also be popular when she takes her turn in the ring as lot 1415, offered in foal to Dansili.
1198) ch c Le Havre - Altamira(Peintre Celebre)
This colt is one of only two colt foals offered in Britain and Ireland this winter by the leading French sire Le Havre, who is due to stand for €60,000 in 2017.
A member of the Wildenstein family's famous Albertine family, he is a half-brother to last year's G1 Prix du Moulin runner-up Akatea, now running for Joseph Allen in America. He is also a half-brother to the listed-placed Abilene as well as this year's G3 Prix Vanteaux fourth, Asterina, who sold for €270,000 to Alan Quartucci at the first part of the dispersal in September.
They are out of the Listed-placed Altamira, herself a half-sister to G3 winner Affaire Solitaire and from the further family of G1 winners Arcangues and Angara.
Altamira sells as lot 1427 in foal to Lope De Vega.
1199) b f Siyouni - Amerique(Galileo)
A daughter of one of France's most sought-after sires, this filly is bred on a variation of the Pivotal - Galileo cross responsible for Rhododendron and Hydrangea, the first two home in the G1 Fillies' Mile at Ascot this year.
She also represents the best of Wildenstein breeding as the second foal out of the listed-placed Amerique, a daughter of champion Aquarelliste. One of the most memorable Wildenstein horses of the past 20 years, Aquarelliste swept the G1 Prix de Diane, G1 Prix Ganay and G1 Prix Vermeille for Elie Lellouche. The daughter of Danehill was also second in the 2001 Arc.
The globe-trotting Aquarelliste was out of the classic-placed Agathe, herself a daughter of Wildenstein foundation mare Albertine. And she hasn't let the side down at stud; Amerique is one of three black-type performers out of the mare alongside listed winner Ame Bleue, second in the G1 Prix Jean Romanet and G3 La Coupe de Maisons Laffitte, since the publication of the catalogue, and G3-placed Artiste Divine.
Amerique herself is set to sell in foal to Siyouni's sire, Pivotal, as lot 1428.
1201) b f Dansili - Beauty Parlour(Deep Impact)
By a stallion who boasts 20 G1 winners, this filly is the second foal out of the 2012 Poule d'Essai des Pouliches heroine Beauty Parlour, whose first, the Dubawi colt Being There, topped the Goffs Orby Sale when sold out of the dispersal for €1.4 million to John Ferguson.
In addition to the Pouliches, Beauty Parlour also won the G3 Prix de la Grotte and ran a narrow second to Valyra in the Prix de Diane.
This is a particularly international family that should appeal to a variety of buyers; Beauty Parlour is out of Bastet, a listed-winning half-sister to Australian legend Might And Power, the champion older horse in Australia of 1997-98. Bastet is also a half-sister to the dam of champion Hong Kong miler Lucky Owners and from the immediate family of Australian G1 winner Mosheen.
1407) LADY OF KYUSHU
2012 f Smart Strike - Lady Acquitaine (El Prado)
Not only was Lady Of Kyushu a talented filly who struck at listed level but she is also a descendant of Robert Sangster's champion Durtal via the branch that produced Irish 2,000 Guineas winner Roderic O'Connor.
Lady Of Kyushu was saddled by Francis-Henri Graffard to win two races, including the listed Derby du Languedoc at Toulouse, and to run second behind Candaliya in the G2 Prix de Royallieu.
She is one of three winners out of the G3-placed Lady Of Aquitaine, a half-sister to listed winner Secret Garden, in turn the dam of Roderic O'Connor.
Not only that, she shares her late sire, Smart Strike, with the dams of G1 winners such as Mine That Bird, Shared Account, Union Strike and Peace And War.
1429) ANDROMEDA GALAXY
2008 m Peintre Celebre - Arlesienne (Alzao)
In foal to Charm Spirit
As a young stakes-winning member of the Albertine family in foal to Charm Spirit, Andromeda Galaxy is sure to ring a few bells.
Trained by Elie Lellouche, she won two races, including the listed Prix Charles Laffitte, and was third in the G3 Prix de Flore.
And she has the female family to complement her record as a half-sister to G3 winner Affaire Solitaire and listed winner Aizavoski. She is also a sister to the listed-placed Altamira, who has made a strong start as a broodmare as the dam of G1 Prix du Moulin runner-up Akatea and the listed-placed Abilene in her early years at stud.
Their dam, Arlesienne, is a listed-winning half-sister to G1 winner Angara, while further back is the family of Arcangues.
Andromeda Galaxy has a 2-year-old Elusive Quality filly, Andira, and a yearling filly by Giant's Causeway to race on for her next year. Also waiting in the wings is a filly foal by Holy Roman Emperor (lot 1200).
1431) BEAUTY PARLOUR
2009 m Deep Impact - Bastet (Giant's Causeway)
In foal to Kingman
Among other things, the Wildenstein family will be remembered in racing circles as an operation that thought outside the box. How many other people would have taken the risk of running a proven turf runner such as Arcangues in the Breeders' Cup Classic? Trained to the minute by Andre Fabre, he justified that decision by winning - at 133-1.
Sending a mare to Japanese sensation Deep Impact in his first few seasons is another example of their enterprising approach to racing.
They were one of the first European breeders to use the horse at the Shadai Stallion Station and were initially rewarded as the breeder G3 winner Aquamarine and listed winner Barocci out of his first crop.
However, the crowning achievement of those early forays was Beauty Parlour, a year-younger sister to Barocci, who captured the 2012 Poule d'Essai des Pouliches for Elie Lellouche. She also won the G3 Prix de la Grotte and ran a narrow second to Valyra in the Prix de Diane.
Her emergence proved to be a pivotal point in the stud career of Deep Impact, who has subsequently been supported by a number of other prominent European breeders.
Unsurprisingly, Beauty Parlour played a prominent role within the first draft of Wildenstein horses as the dam of a Dubawi colt that sold for €1.4 million to John Ferguson. The colt was her first foal and is followed by a Dansili filly that sells as lot 1201.
Beauty Parlour is sold carrying a foal from the second crop of Juddmonte's brilliant miler Kingman.
The dispersal also plays host to her winning half-sister Blue Kimono (1432), who is in foal to Australia.
1433) BONANZA CREEK
2010 m Anabaa - Bright Moon (Alysheba)
In foal to Pivotal
Unsurprisingly, the Bright Moon family was in great demand back in September, accounting for Bengala, who sold for €350,000 to Patrick Lawley-Wakelin on behalf of Robert 'Shel' Evans, and Barrancas, a 2-year-old Silver Frost filly, who was knocked down for €100,000 to Horse France.
There are two opportunities to invest in the family this time around, led by Bonanza Creek, a daughter of noted broodmare sire Anabaa, who is in foal to Pivotal.
The winning Bonanza Creek is out of dual G2 Prix de Pomone winner Bright Moon and therefore a sister to the G3 winner and G1-placed Board Meeting, dam of the G1-placed Big Blue, and half-sister to champion Bright Sky, winner of the 2001 Prix de Diane and G1 Prix de l'Opera.
She has one foal on the ground, a daughter of Siyouni, who sells as lot 1202.
Meanwile, her winning half-sister Beata, by Silver Frost, sells as lot 1430.
1417) PLEASANT VALLEY
2011 m Shamardal - Poughkeepsie(Sadler's Wells)
In foal to Makfi
One of two daughters of accomplished producer Poughkeepsie catalogued, this mare was rated 105 at her peak for Luca Cumani.
Although black-type aspirations never materialised, Pleasant Valley did win three races and competed with credit when pitched into stakes company.
Particularly appealing, however, is her pedigree. By emerging broodmare sire Shamardal, whose daughters provided Awtaad and Gifted Master in 2016, she is a half-sister to listed winners Pretty Tough and Parisienne (granddam of champion Protectionist) as well as the stakes-placed Poincon de France, Pirate Bay and Private Life.
Her winning dam, Poughkeepsie, was the last filly foaled by the Wildenstein's outstanding performer Pawneese, a European champion of 1976 by virtue of wins in the King George, Oaks and Prix de Diane.
Pleasant Valley's winning half-sister, Parade Militaire, sells as lot 1413 in foal to Manduro.