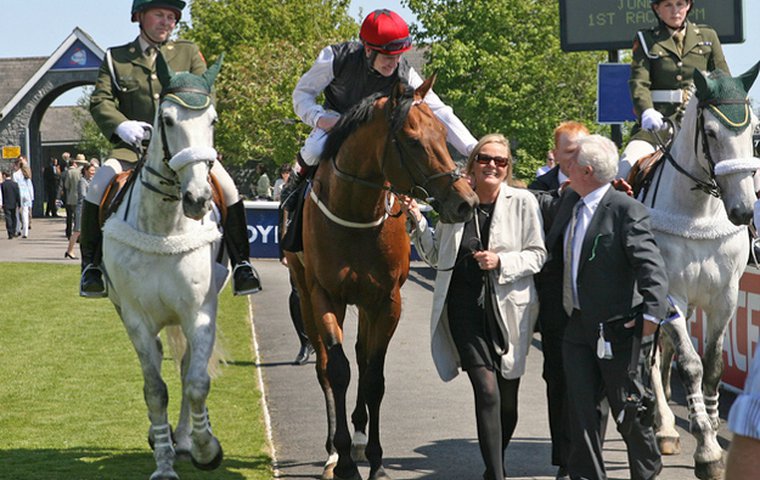 It's been one of the world's leading racing and breeding operations for half a century, producing outstanding winners of some of the world's greatest races, including the Melbourne Cup, the Belmont Stakes, the Irish Derby, and the Japan Cup. But next weekend it launches a horse many believe could be its best yet on an eagerly awaited 4-year-old campaign - the lightly raced Dermot Weld-trained Free Eagle.

Kevin Blake discovers what has made Ireland's Moyglare Stud such an enduring success, and how it has handled the transition since the death three years ago of its founder, Swiss-born billionaire Walter Haefner, aged 101.
Moyglare Stud's black, white, and red silks, as well as horses it has bred and sold on, have enjoyed G1 victories all over the world. At the latest count, 21 runners bred and/or raced by Moyglare have enjoyed success at the highest level, with names such as Assert (Irish Derby), Designs On Rome (Hong Kong Cup), Go And Go (Belmont Stakes), Media Puzzle (Melbourne Cup), Refuse To Bend (British 2,000 Guineas), and Stanerra (Japan Cup) flying the Moyglare flag high on every major racing continent.
However, significant changes have come since the death of Walter Haefner in 2012 -- the year the stud celebrated its 50th anniversary -- and the retirement a year later of two key members of the team: the inimitable stud manager, Stan Cosgrove, who stepped down after an association spanning more than 50 years, and Jimmy Feane, who had been in charge of breaking in yearlings and had spent 29 years at Moyglare.
Haefner, who had been the world's oldest billionaire, had handed over the reins to his daughter, Eva Bucher-Haefner, in 2008, and her team navigating the transitional period are led by new stud manager Malachy Ryan and sales/breeding advisor Fiona Craig, who had worked with Cosgrave since 1989.
Yet any transition has barely been necessary, according to Craig. Loyalty and longevity, with the trainers, jockeys, and stud staff remaining constant for many decades, have long been a feature of the Moyglare operation. "Little has changed," she said. "Malachy inherited a very experienced stud team, most of whom had been there for at least a decade and many for longer. In addition, Stan left the farm in very good order in terms of upkeep and maintenance, and so it was a relatively seamless transition.
"For sure, Malachy has put his own mark on the place, but the goal remains the same – to breed healthy, sound racehorses and hope we get the luck at the right times so a few of them make up to stakes level."
It may have taken Moyglare more than 50 years to build up its remarkable tally of 21 G1 winners all over the world, but such is the team of horses it has in training for 2015 that the tally could well be added to, possibly more than once.
The star of the show is Free Eagle, considered by many to be one of the most exciting older horses in training in Europe.
The 4-year-old son of High Chaparral, who has already been secured for stallion duties by the Irish National Stud after he retires, stamped himself as a G1 winner in the making with his excellent third in the British Champion Stakes at Ascot last October on unsuitably testing ground on what was just his fourth career start. Understandably, Craig cannot wait to see him back on the track:
"He's in great form and will hopefully start back in the Tattersalls Gold Cup [May 24]. It's hard to believe that he started life as a smallish and rather forgettable foal, but he was always that great colour, had plenty of quality, and could really move. It was a real blow missing the classics with him last year, but maybe it will end up as a blessing as he has no mileage on his clock. He has matured and just got so much stronger over the winter. We can't wait to see him."
In addition to Free Eagle, Moyglare has at least two other potential G1 winners to go to war with this season, with the exciting stayer Forgotten Rules and the progressive filly Carla Bianca both impressive in winning at group level for Dermot Weld last year.
"Forgotten Rules started off as a very narrow, but great moving horse, and sometimes all you can do then is wait, and he is certainly is an advert for the merits of patience," Craig said. "He starts this season as a 5-year-old, having only had three runs, and was still a very green and goofy racehorse in those starts.
"Hence he is still a very untapped talent and will be aimed at the top staying races this year. Ground is perhaps his limiting factor as he does like it soft, so it looks as if we may be the only people hoping for a wet Royal Ascot."
The other big hope is the 4-year-old grey Carla Bianca. "She was also a narrow sort, but, boy, she could always move," Craig said. "I loved her mother [Majestic Silver] and have always described her as the most naturally athletic filly I have ever seen at Moyglare.
"Unfortunately, she was also very hot and temperamental so, whilst I use the term athletic, there are quite a few other adjectives used by the people that used to have to deal with her. We gave her a chance, and she has come up trumps with her first foal in Carla.
"However, whilst she threw so much of her athletic ability into Carla, she also threw a good measure of her other characteristics. Her [Carla Bianca's] talent was always there, her ability to go into and come out of the stalls was questionable, but time and practice got her there, and when the penny finally dropped last year, off she went.
"Now as a 4-year-old, she finally has the strength and substance that was lacking before. A pure athlete, hopefully we will have some fun with her this year."
While little may have changed at the farm, one difference this season is that a number of Moyglare horses will run in the colours of Eva Bucher-Haefner's daughters, Mischa and Chiara, for the first time. These colours are of great significance to the family.
Chiara's silks -- orange and white stripes and a green cap -- were called "Sarah Haefner's colours" (after Walter's wife) and were used extensively in Ireland in the 1970s. "As it turns out, though, the colours were first registered in Ireland in the late 1960s, well before Sarah started using them," Craig said. "Eva says that it was very typical of her father to want his horses to run in Ireland in the colours of Ireland -- as that is what they are."
Mischa's silks -- blue and white stripes and blue and white quartered cap (Walter Haefner had used a Zurich football team as inspiration for them) -- were first registered for steeplechasers in the late 1950s and were subsequently used by Walter Haefner on his good French racehorses until the current black, white, and red Moyglare colours took over in the early 1980s.
"Though they were only rarely used in Ireland, we decided to reinstate these famous colours for Mischa and hence Stay De Night [a 4-year-old Shamardal gelding] will run in the colours that Mischa's grandfather once wore himself to ride in races," Craig said.
Whether the new colours see top-level success this season or not, the historic farm has plenty of equine firepower to go to war with and looks set to live up to the high standards it has set for itself over the previous 50 years for many years to come.