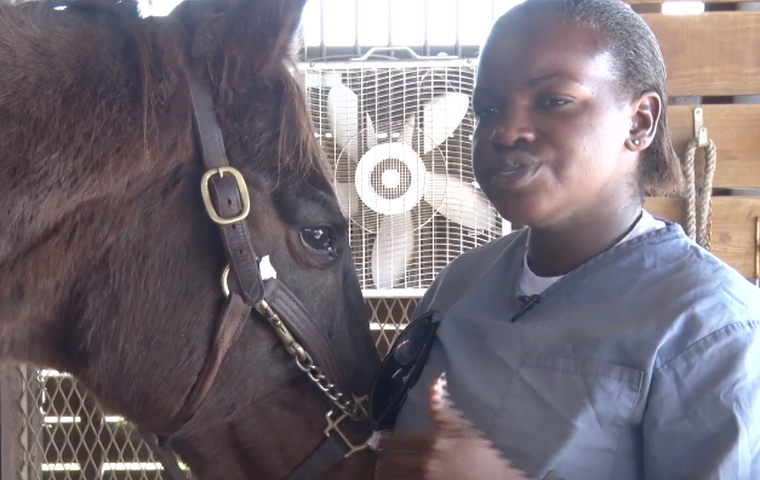 He was on the go pretty well non-stop for eight years from his debut when finishing down the field in a maiden claimer for 2-year-olds at Calder in Florida in August 2008. By the time Immortal Wink had competed for the final time in June last year, he had run no less than 142 times. Yet arguably that hectic schedule was merely a spot of early conditioning for the more significant role he has now.

Immortal Wink barely strayed above claiming level in a track career that saw him win 16 times at Mountaineer Park, River Downs, Beulah Park and Calder, and finished placed another 41 times, collecting total prize money of $111,193, according to Equibase. Yet he wasn't entirely without speed, as you'll see in this video of his thrilling last-gasp victory at Calder in December 2009:
In 2014 Immortal Wink relocated to Puerto Rico, and his last 31 runs were all at Camarero racetrack. He managed just one win - in February 2015 - winning the princely sum of $2,871 for victory in a one-mile claiming race. He was to race another 15 times, placing third on four of those occasions, before it was decided he'd finally done enough racing and it was time to move on.
Soon after, Immortal Wink returned to South Florida, where his first career had begun, and he embarked on a second career, the one you'll see in the photo at the top of this article, and the video near the bottom.
He made his way to the Florida Thoroughbred Retirement and Adoptive Care program. The now 11-year-old is part of the vocational program at Second Chance Farm at Lowell Correctional Institution in Ocala, where female inmates work hands-on with retired racehorses.
Immortal Wink receives top-quality care while helping to teach life and vocational skills to the women in the program.
And he will be one of the stars of the show tomorrow as Gulfstream Park makes history by playing host to the 50th Clasico Internacional del Caribe for the first time.
Celebrating the best of Thoroughbred racing in Latin America and the Caribbean, Gulfstream Park's Championship Meet highlights the sport's equine athletes from all different backgrounds.
Which is where Immortal Wink comes in.
See the YouTube video below, in which Gulfstream television host and analyst Acacia Courtney takes a look at the program and Immortal Wink's part in it, and you'll begin to appreciate what an important role he is now playing for society.
The Clásico Internacional del Caribe (Caribbean Derby) over a mile and an eighth features the best 3-year-old colts and fillies from the member countries and territories of the Confederacion Hipica del Caribe (including Panama, Venezuela, Mexico, Puerto Rico, Columbia and Dominican Republic). Four other international races are part of the program: the Copa Velocidad (Caribbean Sprint Cup) (6f), Copa Dama del Caribe (Caribbean Ladies' Classic) (8.5f), Copa Invitacional del Caribe (10f), and the Confraternity Cup (10f) for 3yos and older.