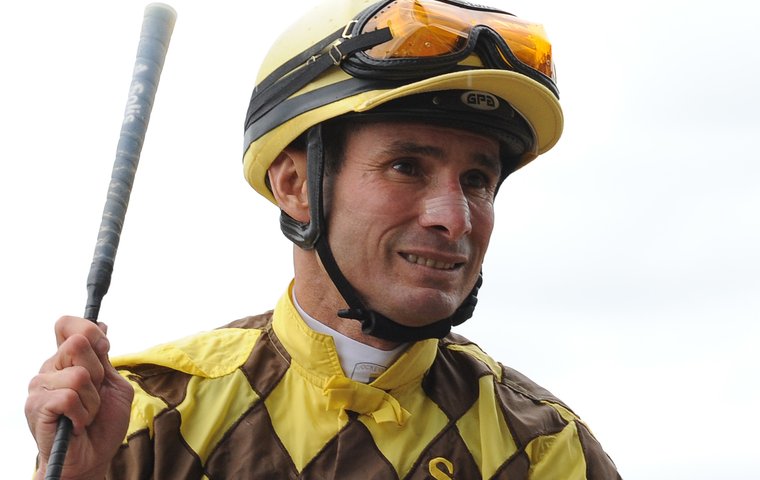 At the end of last month, jockey Alex Solis announced his retirement from the saddle, putting to bed a career that has seen him finish first in 5,035 races, secure nearly a quarter of a billion dollars in earnings (placing him tenth on the all-time list in the U.S.), clinch (what was then) the world's richest race, and anointed into racing's Hall of Fame.

Solis grew up in Panama, where he started his career, becoming champion apprentice before he relocated in 1982 to Florida. There, Solis made a swift and significant impression, winning the Gulfstream Park riding titles in 1983 and 1984, and accruing the nickname, 'El Maestrito'. But it wasn't until his move to California, in 1985, that his career kicked into high gear.
In the years after the switch, Solis claimed three Breeders' Cup races (the Sprint with Kona Gold in 2000, the Turf with Johar and the Classic with Pleasantly Perfect, both in 2003), a Dubai World Cup with Pleasantly Perfect in 2004, a Preakness Stakes with Snow Chief in 1986, along with 81 other G1 victories across North America. Multiple riding titles and a George Woolf Memorial Jockey Award came his way, too.
In 2015, Solis joined the California Horse Racing Board (CHRB) as a commissioner – a move that coincided with diminishing returns in his riding career. In 2010 he rode 100 winners. Last year, he rode 10. This past August, Solis underwent hip surgery.
The following is an edited version of a much longer, more discursive conversation he and I had late one morning recently, an army of noisy tractors trundling before us harrowing the track at Santa Anita after morning training. The edits were made for brevity and clarity.
Daniel Ross: What goes through an athlete's mind, especially an athlete who's reached the pinnacle of their sport, when they're contemplating retirement?
Alex Solis: It's that loss, that emptiness that you get – how you're going to replace that feeling of winning a race. It's like an addiction – it's hard to replace. At the same time, when I decided that I don't have the heart or the motivation to do it anymore, I wanted to retire, yes, but I wanted to have something else. I love this sport. I want to stay in the industry. As soon as I got closer to when I was going to announce my retirement, that's when it really hit me: something I'd done for 37 years ended. And I'm telling you, it was very sad. It was like something died inside of me. But at the same token, I understood that something else will come up.
How do you replace that thrill of riding winners?
That's the million-dollar question. I don't know. I haven't gone through it yet. But, everybody who knows me knows how passionate I am about the sport. I love the industry, I love the people, and I love the horses, of course. And I'll search the industry for ways to make horseracing better, and to replace that feeling of competition.
A little bird tells me you're thinking about training. Any truth to these rumors?
There could be. I want to make a decision that I can feel in my heart that I want to do. I spoke with Gary Stevens [who trained briefly], and he said, 'look Alex, I only won one race!"
So, he advised you against it?
No, not at all. He said, doing all the hard work and winning that race, it felt like winning the Kentucky Derby. And, when he said that, I was thinking it could be a way to get back that same feeling of winning as a jockey. I spoke with my family and spoke with Richard Mandella, asked if I could work with him, see if [training's] something I'd really love to do. I've been going out about four days now to Richard's barn. A month from now, you should ask me again what I think. I'm not ready to tell anyone that I'm definitely going to [train].
Four days in, what have you already learned from Mandella?
You have to pay attention to the little details.
What one thing throughout your career are you most proud of?
The races that I have won, the horses that I have ridden. I can't choose one thing because that wouldn't be fair – there are a lot of people that have helped me. I don't want to mention just one. But I think that I have conducted myself the proper way. That's not an opinion I have of myself. I heard this from other people when I announced my retirement. All the things I've read, they were very nice and positive. I never saw myself in that way. I just went on with my career and did what I knew in the way that I knew how. There were no scandals, no drug problems, and I'm proud of that. I feel like I've left a good image for new riders, I guess – provided a blueprint for how to conduct yourself.
If you could go back and change one thing, what would that one thing be?
I guess the one thing that comes to mind would be Silver Charm and Captain Bodgit coming down the stretch in the Derby.
(Here's a short recap of what went down that first Saturday in May, 1997: Solis settled Captain Bodgit, the post-time favorite for the race, off the pace, before he set sail down the straight, joining Gary Stevens on Silver Charm. The four were locked in a bruising duel to the wire, Solis and Captain Bodgit coming off second best)
If I could change that, I would stay away from [Silver Charm], knowing what I know now – how competitive he is, what a fighter he is. Coming down from the quarter pole, when I started to make my move, I thought I could really win this race. At the eighth pole, I moved and passed Silver Charm by about a neck. He came out, I came in. Gary and I were riding hard. Still, I thought I was going to beat him. But, when we got to the sixteenth pole, Silver Charm, being such a warrior, Silver Charm came back again and I couldn't believe it. I was devastated because I thought that was going to be my Kentucky Derby win. Hopefully in the future I'll win it some other way. Who knows?
Snow Chief was another Derby favorite you rode. Unlike Captain Bodgit, however, Snow Chief didn't make any kind of showing in the race. What do you remember of your association with the horse who would provide your lone Triple Crown victory, in the 1986 Preakness?
He was a warrior. He was a great horse – didn't have the best pedigree, but he was as talented as any horse I've ridden. When I worked him a week before the Derby, I was concerned because he wasn't handling the track. He was a horse that would go out and work :34 like nothing. That day, he worked in :36, but not like himself. He was spinning his wheels. Churchill Downs is a weird track, and he ran horrible. But [trainer] Mel [Stute] did such a great job and didn't panic, brought him back in the Preakness and he won. He won like a champion.
I've read that Charlie Whittingham was instrumental in persuading Mel Stute to run Snow Chief in the Preakness after the horse's dismal Derby showing. Do you remember that?
Everyone admired Charlie Whittingham, and when he said something, you listened to it because he was such an incredible horseman. If he had that conversation with Mel, I'm sure it helped Mel make that decision. If it happened, good for Mel and good for us.
From hero of the hour in the Preakness to villain of the peace in the 1992 Pacific Classic, when you rode 39-1 shot Dare And Go to beat the mighty Cigar, putting, in the process, an end to Cigar's 16-win streak.
I remember going into the race, [Dare And Go] was training real good. Richard Mandella's assistant at the time lived with me down at Del Mar, and he kept telling me, 'wow, this horse is training better and better.' It set up really well for him – there was a fast pace. When I got to the 3/8th pole and I ask him full throttle, he took off. I knew Cigar was still running, he was such a great horse, but when my horse got to the quarter pole he was rolling, I thought I had a really good chance.
I remember, at the 16th pole, when I blew by [Cigar], the grandstand went silent. When I pulled up, I was the only one yelling and screaming. That was the only race where I've come back from the grandstand and I was booed. They were booing me – and I won! They were mad. But it wasn't my fault. It was my job. We made history.
The wrong kind of history?
The wrong kind of history that was good for my pockets!
What was it like to be part of a golden era for jockeys in California?
I think I've been very blessed because when I left Panama in 1982, I went to Florida, and when I got there, at the time there was Angel Cordero, Jorge Velasquez, so many great jockeys, and I was a little kid, 17 years old. I rode as an apprentice that year and I finished leading rider. To me, that was amazing because I'd watched these guys from back home on TV in Panama. I was very proud of that. But my dream was to ride in California because my idol, Laffitt [Pincay], was there.
So, I came here in 1985, and I remember walking into Hollywood Park, into the jock's room, and the first person I saw was Bill Shoemaker, and I went 'oh my god, this is a dream come true.' To the left was Laffit Pincay. To the right there was Gary Stevens. There was Eddie Delahoussaye. Chris McCarron. I feel blessed to have ridden alongside those guys because people who know me know I study the game – study the riders, how to improve myself. That's the only way I could compete, to improve myself, watch them compete, make myself better.
Is Laffit still your idol?
Definitely.
Which trainers you've ridden for do you hold in the highest regard and why?
That's a tough one. I've ridden for some great trainers, from Richard Mandella to Bruce Headley to Charlie Whittingham. I rode for Bobby Frankel. I rode a little back east for Allen Jerkens. Shug McGaughey. You learn a lot from them – it makes it fun. Just being in those barns. If you pay attention, you learn so much, and you see how these horses develop each time you go back and work them.
Each of these figures approaches the art of training differently. Mandella doesn't train like Headley, and Headley doesn't train like Jerkens did. What do each of these trainers bring to the table that's different to the rest?
The way I see it, they train each horse individually, and are able to see what it is each horse needs. Nowadays you see a lot of guys going through the same routine with each of their horses, but the good trainers you'd often see them doing things different to keep the horse interested. They're real horsemen.
You've got a guy like Bruce Headley who breaks his own babies, who does everything, and who does it completely differently to anyone else I know. But the horses I rode for him never made a mistake. They were focused on what they needed to do, training wise and running wise. They weren't afraid. He made them mentally strong. He had so many great horses and won so many great races.
Same with Mandella. There's a sixth sense these guys have – the ability to see something that others would miss. It's hard to teach. It's a lot of fun to be around these people because it makes you appreciate racing and horses.
You've been very candid about how your bad fall at Del Mar in 2004, when you suffered fractured vertebrae and multiple broken bones, severely dented your confidence. And you've said that you turned successfully to motivational teachers like Jack Canfield and Anthony Robbins for help.
I think I came back to Santa Anita after the fall, and I remember I felt good. I was riding winners. I did good. But, when I got to Del Mar, something weird happened in my body. It really messed with my heart and mind. I was riding and winning races, but I wasn't riding the same. I didn't know how to deal with it. I was a little scared, and I knew I needed help.
Thanks to Chris McCarron, he introduced me to Anthony Robbins. I read his book and I used to listen to his tapes when I went hiking up in [the mountains], four or five times a week, and it really helped me to understand myself.
How did they help you, specifically?
Life is very tough, and it's made even tougher if you don't understand yourself. For me, I think a lot of the time, you try to suppress your fears instead of just dealing with them. But it's just a thought in your mind. We as humans have stupid fears, worrying that something's going to happen, and you don't sleep. But what happens? You get up the next day and nothing happens. You've just let your mind control you.
I always tell my kids, 'you get in charge of your mind – you do the thinking. Don't let your mind control your life.' Because when you let your mind and your fears take over, it's like a runaway train. Now, I do a lot of meditation. I listen to my books driving – I tell my kids, it's the university of my car.
The industry faces many challenges. What one concern takes priority?
That's a million-dollar question. We need to find a way to bring young people to the racetrack, and we need to catch up with technology, and find a way to sell our product differently, get people back into the grandstands. Look at the Breeders' Cup at Del Mar. I didn't go to the racetrack because I couldn't ride there. I was really sad. So, I watched it at home in my house. I was watching NBC. The way they shot it, the way they reported it, it was amazing. Each shot, of the horses, of the grandstand, they showed how beautiful it was. I said, if a person has never watched a horse race, if you're flicking through the channels, you'd stop and want to watch it. There's so many things we can do [to harness new technology].
As a CHRB commissioner, you appear to have paid extra attention to medication issues. Are the current drug regulations in California strict enough? If not, where do they need tightening?
They're strict, but stakeholders have to work together to make them more precise. Better. We've got to keep working on it. It's a never-ending job. For one thing, man is naturally competitive, and we're going to find ways to have an advantage. We [the commissioners] need to keep focused on that. I believe we have some really good rules, but that doesn't mean we're going to stop making it better for the horses. It's not easy – it's a lot of hard work and time.
Between the time spent on your work as a commissioner, and your potential training career, how else do you fill your days?
I always had it in the back of my mind that I wanted to write about horseracing. Recently, I was driving back from a CHRB meeting at Del Mar, and I thought to myself, I would like to go back to school. So, I called Pasadena City College and told them I wanted to get into some classes. The woman on the phone, she said, 'you can still enroll, but today's the last day.' For the last three months, I've been taking classes in English, writing, grammar and speech. I've been doing that three times a week. It's been a bit of a challenge – I'm the only 53 year-old sitting in a class with a bunch of kids old enough to be my own children. It's a little intimidating.
I read that, when you left Panama, you promised your mother that you would earn enough money to buy her a home. Did you stay true to your word?
Yeah. First thing I did. I brought her a house and some land. They [his mother and father] have a house in [Panama City] and a house in the Mountains.