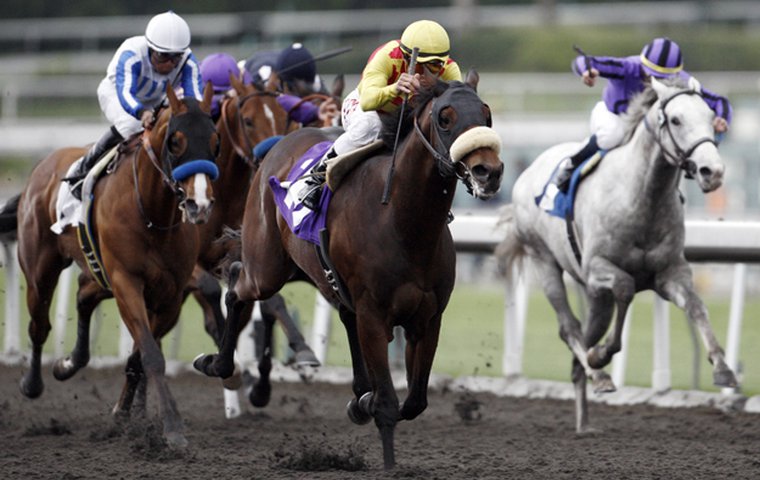 With his recent election into the National Museum of Racing's Hall of Fame, reaching the 5,000 career wins milestone, and now an appointment to the California Horse Racing Board, it seems logical to conclude that jockey Alex Solis is in the twilight of his riding career. Don't try telling that to the veteran rider, however: Solis believes he is riding as well as ever.

After graduating from jockey school, the Panama City native began riding in his home country in 1981. He moved tack to the United States the following year, and quickly found success with fellow Hall of Famer Snow Chief, whose phenomenal 1986 campaign saw six victories in nine starts.
In just 11 weeks, Solis and Snow Chief won the G1 Florida Derby, G1 Santa Anita Derby, and G1 Preakness Stakes, and also finished off the board in the G1 Kentucky Derby. When Snow Chief added the G2 Jersey Derby just nine days after the Preakness, he sealed his bid to be the 1986 Eclipse Champion Three-Year-Old Male.
Since Snow Chief's iconic racing days, Solis has dealt with a string of heartbreaking defeats but also ridden some of the most prominent horses in the country. He finished second in the Kentucky Derby three out of four years with Captain Bodgit in 1997, Victory Gallop in 1998, and Aptitude in 2000. The sting of Aptitude's loss was eased when Solis guided regular mount Kona Gold to victory in the G1 Breeders' Cup Sprint over the Churchill Downs track later that year.
In 2003, Solis won back to back Breeders' Cup races; first when his mount Johar dead-heated with High Chaparral in the G1 Breeders' Cup Turf, and then 42 minutes later in the G1 Breeders' Cup Classic aboard $7,789,880-earner Pleasantly Perfect.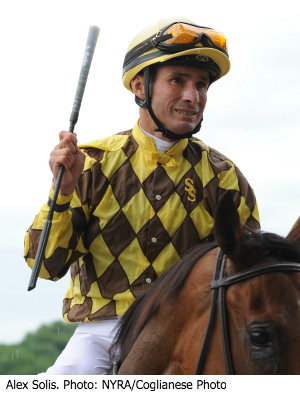 "I have 34 years experience of riding races," Solis said, "and I've been behind so many great horsemen. I thought with all my work on the backside, that being on the California Horse Racing Board would really help us all."
Such a radical career move is not unprecedented for Solis, who served on the Jockeys' Guild board of directors in his first foray into the more political side of horse racing. He also tried changing tacks several times; going from California to the East Coast in 2010, and then to Woodbine Racetrack in Toronto for the 2012 season.
"I really enjoyed my stay in Canada," Solis said. "There were a lot of wonderful things about it and it was a good experience. But they are a completely different country with their own rules. It is very hard to get a working visa."
Solis was relegated to riding only horses owned by American-based owners, which severely limited his business. Despite that restriction, he still guided eventual Sovereign Award Champion Grass Mare and Three Year Old Filly Irish Mission to victory in the Woodbine Oaks and Breeders' Stakes. The latter is a 12 furlong contest against males.
Although Solis eventually had to abandon the plan to stay at Woodbine, he doesn't regret the experience. "Doing things like that just brings more structure to my career and my personal life," he said. "It was a good time." Solis is now back riding in California again.
Governor Edmund G. Brown Jr. announced Solis's appointment as a commissioner to the CHRB on April 30, following Vice Chair Bo Derek's resignation after serving nearly seven years. The announcement caused some to question the integrity of remaining in the saddle while serving, but Solis is adamant there is no conflict of interest.
"I'm honored to be appointed to this position," he said. "When I was first asked to consider it, I had to think about it for a while. In time, I knew that with all my experience I would be able to bring a different point of view from any other commissioner, but there are still six others, and it's not like I voted for myself."
While many of the commissioners are horse owners, there has never been a horseman straight from the track on the board before. "I will bring in a different aspect of the sport," Solis said. "I spend so much time on the backside of the track with the grooms, the exercise boys, and the hotwalkers as well as the trainers and other jockeys. I will be able to educate everyone a little bit more, and maybe bring the other board members a little closer to the sport."
Although the 51-year-old Solis has ridden only 12 winners this year, he has seasonal earnings already more than $768,000. He has had quiet seasons in the past, such as a 19-win year during his 2012 season in Canada, and only added 23 victories in 2014, the same year he was inducted into the Hall of Fame. Business may have slowed, but Solis hasn't.
"Things haven't changed," he said. "I'm a person that loves to get on horses in the morning, then I go do my training by running up in the mountains. All I have to do differently now is make a little more room in my schedule to read on the issues being presented in upcoming meetings and learning the agenda for the board. For 20 years I was involved in the Jockeys' Guild board, too, which is different from the CHRB but the structure to my schedule is still the same."
Although Solis has numerous racetrack issues he would love to tackle during his tenure, he would rather take it slow before stepping on any toes. "At this point I want to take my time and get acquainted with the rest of the board and their discussions first," Solis said. "I only want to bring benefit to the sport of horse racing. I don't want to benefit myself."
The next CHRB meeting will take place June 25 at Los Alamitos Race Course.