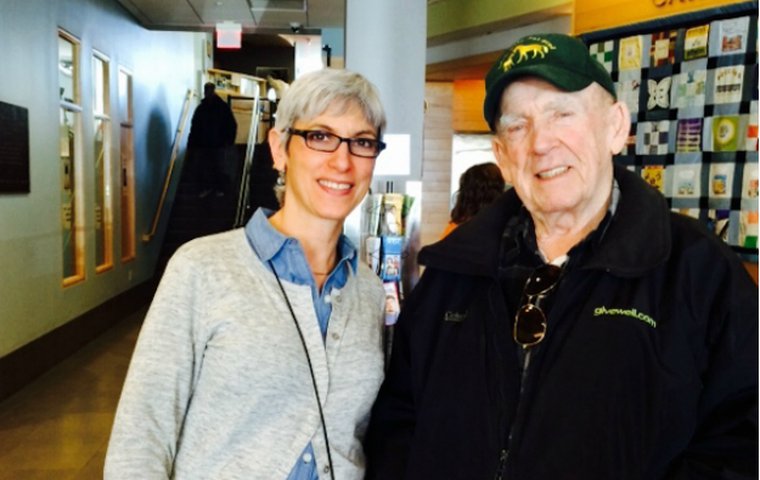 The dented red van leaves the parking lot of a desolate and decaying Rockingham Park in New Hampshire at 7 a.m. on Mondays and heads some 30 miles south while battling bottleneck traffic all the way to Suffolk Downs. There, more passengers who used to ride, train, and care for the now-departed Thoroughbreds are waiting in the bitter cold and biting wind for pick-up outside the locked stable gate.

At the wheel is 78-year-old Jim Greene, the co-founder and executive director of The Eighth Pole, a non-profit organization serving the health care, substance abuse, and other needs of the New England backstretch community. Their destination is the Jean Yawkey Center on the campus of Boston Medical Center, where the passengers are patients of the dedicated doctors, dentists, and nurses at the Boston Health Care for the Homeless Program (BHCHP).
"If it wasn't for the trip today, I'd be lying by the side of the road somewhere dying," said June Lilley, who since the age of 12 has been a fixture on the backside and got her groom's license right out of high school 40 years ago. "There are some things you just can't pour rubbing alcohol on and wrap with a horse bandage."
Because of the cooperative effort between the program and The Eighth Pole, Lilley was able to see Dr. Claire Carlo, who diagnosed her hernia, prescribed medication, and ordered in-patient surgery at a Boston hospital.
For 17 years the bilingual physician has treated workers from the now-shuttered backsides, alongside BHCHP founding physician and President Dr. Jim. O'Connell, who is universally regarded as the nation's leading expert on health care for the homeless.
Their job has become exceedingly more difficult since Rockingham ended live Thoroughbred racing in 2002 and Suffolk followed suit at the end of the 2014 meet in early October.
No longer can they offer weekly medical, eye, and dental clinics on the backside, and even worse, the record-breaking snowfall and winter cold took its toll on those most in need of acute care.
"This winter has presented more challenges," Dr. Carlo said. "Jim couldn't bring our patients to us because of the snowstorms on a number of occasions, and once people assumed we wouldn't be here even though we were. A lot of these people from the track have been my patients for a long time and I consider them my friends. I worry about them when they're not here, although they can always get in touch with me, and it makes the necessary follow-up care even more difficult."
The Eighth Pole, co-founded and co-administered by trainer Shirley Edwards, took its name from the racetrack motto, "If you can make it to the eighth pole, you can get the rest of the way home." It was Greene and Edwards, winners of the 2002 Dogwood Dominion Award and a former recipient of a grant from the Thoroughbred Charities of America, who recognized the backstretch community qualified as homeless and were entitled to benefits along with excellent care given in a dignified and respectful manner.
"There is very little that we created other than the access. We're the bridge over which these people find us and then find access to these services," said Greene, a Thoroughbred owner who walks the walk as a self-described recovering alcoholic and addict. "Shirley and I figured out between 1989, we when started, and 1992 that you can't help people get sober if you can't help them deal with their other problems, and their biggest problem was health care. If you have diabetes and feel crummy all of the time and your teeth are rotting, why would you quit drinking? So we went out and got the doctors."
They got the best.
O'Connell, who is also an assistant professor of medicine at Harvard Medical School, was awarded the 2012 international Albert Schweitzer Humanitarian Award and was once described in a Boston Globe editorial as the city's version of Mother Teresa. Dr. Colleen Anderson, who received her training at the University of Michigan School of Dentistry and Harvard, is one of three full-time dentists aiding the under-served backstretch workers.
"We care for 12,000 to 13,000 unduplicated homeless people in our program every year, and every one of our clinicians has fallen in love with our patients from the racetrack," said Dr. O'Connell, who oversees a staff of 450. "They are such hard workers and they're the best to take care of because they never complain about the small things and appreciate everything. They only seek help when they reach the point where they can no longer function.
"Our racetrack patients are a microcosm of the homeless population at large, which has the gamut of injuries and illnesses including heart failure, diabetes, hypertension, chronic obstructive pulmonary disease, mental disorders, and more than their share of cancer," he said. "We also treat a lot of infections, pneumonia, cellulitis, hepatitis, HIV/AIDS, and other diseases in our 104-bed unit where we admit those needing sub-acute or acute care."
Greene, who makes the weekly drives because he knows many of the patients don't have subway fare from Suffolk to the clinic, recalled that The Eighth Pole served 174 racetrackers, 48 of whom are trainers, last year. This year, 48 people have come through the program to date and his phone keeps ringing off the hook. Edwards, a trainer who is at Tampa Bay Downs for the meet, has her line burning as well as she arranges and coordinates patient visits and the filling and delivery of prescriptions.
Many of the New England people who were employed by year-round racing are older now and didn't move on to another circuit when the tracks stopped live racing. After a great many outfits dispersed some or all of their stock at the end of the Suffolk meet, opportunities for work dried up.
"We have a ton of people with serious, serious medical issues," Greene said.
The Eighth Pole has some somber issues of its own. It used to receive funding from the ownership groups of Rockingham and Suffolk, but now must rely upon a few individual owners and trainers who asked to remain quietly generous.
"It killed us when the tracks stopped running," said Greene, who donated the $30,000 award from a Boston Philanthropic organization in 2012 and the $5,000 Dominion Award back into the program. "If I do a little, a lot of people can get a lot, and it's that simple. If Shirley and I didn't do it, the bond between the medical people and our group would be broken."
But who will carry the torch after Greene, who has had his share of health issues in recent years, and Edwards can no longer?
"I don't know who will. Don't get me started on who won't," he said with fire in his steel blue eyes. "I get very upset when people say what we're doing is welfare. It is a matter of right for our people to have quality health care, and it is the responsibility of us to be there for them and be accessible to them. We have to keep going."
With the future of live racing at Suffolk Downs very much uncertain, Dr. Carlo is apprehensive about what lies ahead for her racetrack patients.
"There isn't a program like this for them anywhere else and I am concerned about them," she said. "I worry what they are going to do for work if there is no live racing."
Meanwhile, Lilley is simply grateful.
"I couldn't get medical care this good if I had private insurance and went to a fancy private hospital," she said. "Thank God for Dr. Carlo, Dr. O' Connell, and The Eighth Pole."