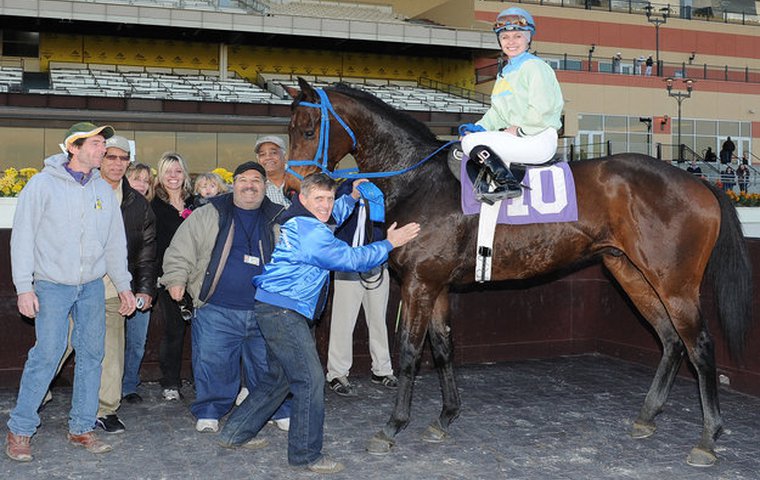 There's nothing new at all about a family being involved in horse racing. It's actually been a fabric of the sport for centuries. What starts with a mother or father as a love for the game, its competition and its majestic animals can often become even more fervent when passed on to sons and daughters.

The Davis family surely embodies that unwavering passion.
What started in the 1980s when young Robbie Davis was one of the leading riders in New York, has now become a family affair with three children of Robbie and his wife, Marguerite, riding on the same New York Racing Association circuit as their dad traveled.
While the Ortiz brothers, Irad Jr. and Jose, are two of NYRA's top jockeys and can lay claim to the title of New York's first family of racing, the cheery Davis siblings have them outnumbered in a highly unusually scenario. Longtime New York observers believe sisters Jackie and Katie and their brother Dylan are the first trio of siblings to ride in New York at the same time since the heyday of the four Turcotte brothers in the 1960s and 1970s.
The day they all rode in the same race - and Dad had a runner too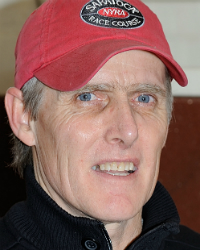 Keeping it all in the family, while Robbie (left) retired from riding in 2002, he now works as a trainer for a small string of seven horses he owns, and on Nov. 29 something rare at any racetrack happened when a race featured all three Davis siblings as well as a horse trained by 54-year-old Robbie.
This equine saga centers on the endearing story of a close-knit family with racing flowing like a river through its veins. It features three young riders battling fiercely to achieve footholds on the nation's richest and most competitive circuit. Yet it also tells the emotional tale of parents' love for their children and the inherent stress and anxiety involved in watching them embrace a profession while having first-hand knowledge of just how dangerous that job can be.
"It's hard to explain to someone who hasn't been around it, but once riding a racehorse gets in your blood, it never leaves," said John Santagata, who works as the agent for Jackie and Katie and is the brother of retired jockey Nick Santagata. "You feel the power and it can become addictive. It's a hard drug to kick. Yet it's also a tough life. It's not easy. There are so many sacrifices. It's dangerous. I have four sons and all of them turned to be too big to be riders and all I can say about that is 'Thank God'."
Robbie and Marguerite Davis were married in 1985 and had six children.
Robbie's Grade 1 riding career
As their three sons and three daughters were growing up, their father was in the midst of a riding career that spanned 1981 through 2002. He never won a Triple Crown or Breeders' Cup race but was a popular figure on the New York circuit. He won Grade 1 stakes such as the 1998 Jockey Club Gold Cup with Wagon Limit and piloted Maria's Mon, Ghazi, Mecke and As Indicated, among others to Grade 1 victories. He won 3,382 races in his career, compiling earnings of $115.7 million.
Though their father's career exposed all the children to racing from the day they were born, the oldest of them, Kristin (30) decided to attend college and eschewed a racetrack life. Their two oldest sons, Robbie Jr. (27) and Edmund (26) grew too large to become jockeys, though Robbie Jr. owns a share of one of his father's horses and Edmund works as an exercise rider and assistant trainer for his father.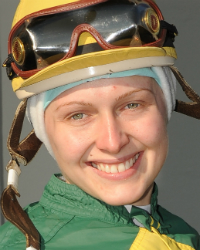 Their second-born, Jackie (28, left), studied fashion for a year at Hudson Valley Community College and then followed her heart and became a jockey in 2008.
"I told my dad I blame him for it," Jackie said. "I'm my father's daughter. I told him it's his fault all three of us went this route. He made us love horses and raised us to become the kind of people who would fight for we want. All six of us, whether we're in racing or not, we're that way."
The youngest child, Dylan (22), and Jackie's younger sister Katie (24) followed her to the racetrack a few years later and are now in their formative years as riders.
Help from Wesley Ward
"It's pretty remarkable to have three children become jockeys," Robbie said. "It actually shocked me. I wasn't really prepared for it to happen, but they're all doing great."
According to Equibase statistics through March 16, Jackie has won 503 races in 4,363 starts with earnings of $9,644,584. She won the African Prince Stakes at Suffolk in 2013, but a far more meaningful victory for her came in Dec. 2011, when she rode Sandyinthesun to a 39-1 triumph that accounted for her father's first win as a trainer.
"Jackie is doing pretty well on a very tough circuit," John Santagata said. "People in New York, Massachusetts, New Jersey and even Pennsylvania have taken to her. We've been blessed and lucky so far."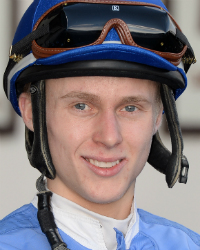 Dylan (left) joined her in 2012, and, through a big boost from trainer Wesley Ward in his early years as a jockey, has 244 wins from 2,223 starts. He won the 2015 Ladies Handicap at Aqueduct and has been graded stakes placed with career earnings of $7,131,961.
"It's uncanny how much Dylan looks like his father on a horse," said television analyst and former NYRA jockey Richard Migliore, who rode in New York from 1980 until 2010. "The way he hand-rides, the way he whips, the whole package. I watch him and I say, 'That's Robbie. That's who I used to ride against'."
Katie, an apprentice with a seven-pound weight allowance, started in 2013 and has 15 wins from 314 starts and earnings of $550,434.
'If I can't win a race, at least I want to beat my sisters'
Last fall marked the first time the two sisters and their brother rode together at NYRA on a regular basis and so far they have all been in the same race on 12 occasions, with Jackie winning two of them and Dylan one.
They're hard-working kids," Santagata said. "They're also good horsemen. Not every jockey is a good horseman, but they know about horses and that comes from being around horses all their lives. Having Robbie as their father is a huge help because he's always talking to them, teaching him. He's living the life with them and trying to make them better. He's been there, done that."
"I rode the same way as if they weren't in the race," Dylan said about those three-way tussles, "but it was pretty cool to have them in there. I ride every rider the same way. I give them protection when they need it and I know when to be aggressive. But, with my sisters, it makes me more competitive. If I can't win the race, I at least want to beat them. It's just fun to be out there with them."
For Jackie, who broke the ice as a jockey among the siblings, seeing her brother and sister alongside her in a race produced mixed emotions.
"I get excited and I'm proud of them," she said. "It's a lot of fun because we're very competitive. We joke a lot and we each try to beat each other. Yet at the same time I'm nervous because it's my little sister and brother. I don't want anything to happen to them."
Hoping they get that Gone West feeling
Robbie has experienced an even wider array of emotions watching his children follow in his path. More than seven years into the journey, while he still holds his breath during their races, he has accepted it and has become fully supportive of his children's choices.
"I know it's in their blood and they love it," Robbie said. "So it's exciting to see them succeed."
He wishes all three of them can one day experience what he felt in 1987, when he won the Gotham Stakes with Gone West, a regally bred son of Mr. Prospector out of the Secretariat mare Secrettame. Owned by Hickory Tree Farm and trained by Hall of Famer Woody Stephens, Gone West had been purchased as a yearling for $1.9 million.
"There's nothing in the world like riding a good racehorse. If you can do it, it's the greatest feeling in the whole wide world. There's nothing like it. Nothing. Getting to ride a horse like Gone West in the Gotham was the best. If they can just get a taste of riding a horse like Gone West, they'll know what I'm talking about. Just a little taste of that, and they'll know they reached heaven."
Why Robbie is tempted to start riding again
The belief in those words can be seen in the sparkle in Robbie's eyes when he talks about his children's riding careers and mentions how it has sparked some thoughts of the family patriarch making a comeback, even if he's in his mid-50s.
"I want to go out there and beat them. I never expected it, but I'd love go out there with them. I miss it real bad. I don't know what kind of business I could get, but I miss it," said Robbie, who came out of retirement to have one mount in 2011 and five in 2013 and was unplaced in all of them.
"I would like to buy 10 horses, hop on one, give one to each of the kids and then go out there and take a whack at them. It would be so much fun. I would seriously consider it. I'm still on horses every day. I love riding them. In the winter I did nothing but win, and it's hard to sit still now."
Jackie, who shares an apartment near Belmont Park with her parents, admits she's egged her father on a bit.
"We've been teasing dad to start riding again so we could all ride in a race together," she said. "I don't think it will ever happen, but it's funny to think about."
Yet for all of the excitement involved in watching his children, there have also been countless times when Robbie's blood pressure has skyrocketed while watching his children face the same frightening collection of dangers he encountered through more than two decades as a jockey.
Some people might see a jockey's life for all of the glamour and rich rewards associated with it. Yet Robbie knows all too about well the dark side of his former profession – the injuries, the pressures, the weight maintenance - and still bears deep emotional scars from it.
While, amazingly, he never broke a bone as a rider, his life was shattered on the afternoon Oct. 13, 1988, when he was involved in a deadly spill that still haunts him.
The deadly spill that still haunts him
After starting his career in his native Idaho by riding quarter horses and then moving on to Turf Paradise and Louisiana Downs, Robbie arrived in New York in 1982 as a wide-eyed young man with wild dreams of making a name for himself in a famed jockey colony that included the likes of Angel Cordero Jr., Jorge Velasquez, Eddie Maple, Jeffrey Fell and Jacinto Vasquez.
Mike Venezia was not a major star on the circuit, but he nevertheless won more than 2,000 races in his career, as well as stakes such as the Alabama, Gotham, Carter and Secretariat. Beyond that, he was a popular leader in the jockey's room, serving for six years as the head of the Jockeys' Guild. It didn't take long for Robbie to develop a deep respect for the veteran rider. As time passed, Davis embraced Venezia as if he was a brother to him.
On that fateful day in 1988, Venezia was riding Mr. Walter K., with Davis behind him on Drums in the Night. Then, in a moment that will never leave Davis, Mr. Walter K. broke down and Venezia fell off the horse, rolling directly in front of Davis and Drums in the Night. With no time to react and avoid the fallen rider, Drums in the Night stepped on Venezia, killing the 43-year-old rider instantly.
"To this day, my dad gets emotional anytime someone brings it up to him," Katie said. "It's terrible for him, even though it wasn't his fault. He has such a big heart and it changed it life."
Devastated by the tragic accident, Robbie decided to get away from racing to help with the grieving process. He packed up some belongings and, along with Marguerite and their three young children, spent five months traveling west to Idaho as Robbie struggled to find some inner peace.
Finally, in March 1989, Robbie felt strong enough mentally and physically to resume riding, but instead of returning to the East Coast he decided to forge a new career in California, where he remained until returning to New York in 1992 for the final 10 years of his career.
"I was a baby when it happened, but after riding and living through spills and everything that goes along with it, I can't believe how dad even came back from that horrible experience," Jackie said. "And to have such a great career after it, I just don't know if I could do it."
First taste of parental angst
After all those years and experiences on the back of a horse, it's no surprise that Robbie – or any other jockey for that matter – would have misgivings about a child embarking on the same potentially perilous career.
"As a former jockey, you have so much more knowledge about the game than you did when you started out," Migliore said. "You know how tough it is, how dangerous it is. Back then you were a kid and you thought you were invincible. Now, later in life, as a parent you want it easier and better for your kids. I was happy my kids were too big to be jockeys. They grew so quickly it never became a question.
"It has to be very tough for Robbie to watch his kids go out there. My heart would be in my throat every time they rode. When you're out there, it's like you're immune to what's going on because you're in the middle of it. Now you're removed from it, so you get worried about the riders when something happens. If that was my kid and he was in the middle of seven horses and they were bunching up, I just don't think I could watch it. I couldn't do it."
For Robbie, his first racetrack taste of parental angst came in 2006, when Jackie told him she wanted to leave college and become a jockey.
"That was a shot in the gut," Robbie said. "She was four-foot nothing and loved playing with kids. She'd be the perfect first grade teacher. I didn't expect her to go this route. I know she's a tough cookie, but I told her she's 99-1. You'll never make it. You have tiny little hands. You're not strong enough. And she told me, 'Either you're with me or you're not.' My mouth hit the floor. I couldn't sleep for three days. I was a total wreck, so I threw the kitchen sink at her. I wanted to make it rough for her, hoping she'd give up."
Praise from Chris McCarron
In order to get her father's blessing, Jackie had to become part of former rider Chris McCarron's initial class at his North America Racing Academy in Kentucky. She followed her father's wishes and was accepted into that first class, but she wanted no special treatment and did not tell McCarron that she was the daughter of a rider McCarron knew quite well.
"I wanted to do it on my own," she said. "When Chris realized who I was, he called my dad and said, 'You're crazy. Why are you letting your kid become a jockey?' Chris knew my dad, and they had such respect for each other that he wouldn't let me in unless dad approved it. Thankfully he told Chris he was okay with it."
A few months later, Robbie received another call from McCarron that stunned him.
"Chris told me she was the best one there," Robbie said. "I thought he was kidding."
After working as an exercise rider for trainer Allen Jerkens to complete her education at the academy, Jackie embarked on her riding career and registered her first victory on Nov. 5, 2008, at Aqueduct. After that, it didn't it take long for Robbie's resistance to fade away. He even agreed to serve as her agent for a short while.
"You really can't think about how dangerous it can be," said Marguerite, who helps Robbie run their small Belmont Park stable. "You root for them and if, God forbid, something happens, you have to be there to support them and help them work through it.
"As a parent your job is not done until the day you die."
Accident that sent Katie back to school
Part of Robbie's initial reluctance to Jackie's new career was knowing that Katie and Dylan would most likely follow her, giving him not one, but three children to nervously watch on the racetrack.
"It's tough," Robbie said. "It's like sitting in the passenger seat of a Lamborghini and letting your kid drive it. You just grab on to something and close your eyes. There's nothing you can do about it. My kids have ridden for me and you give them a leg up and you're excited. But then it's hard as a parent. You say, 'Go kick their butt,' but then it's 'Be careful.' What do you tell them?"
Dylan also attended McCarron's school, excelled there and, with the help of Ward, put together a successful tenure as an apprentice.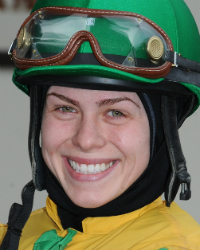 Katie (left) followed a different road to the racetrack.
"I started riding with show horses at fairs while I was in middle school. I realized right then and there this was not for me. I wanted to go fast. I loved the thrill of it. I wanted to be a jockey. Dad wanted me to finish high school, but I watched my sister ride at Suffolk Downs in Massachusetts and she took me under her wing. I dropped out of high school. I was rebellious against my father. I knew what I was doing, but I was young and wild. I went up to Boston to work horses and then a horse ran off with me the wrong way. He reached the gap and I jumped off him and got skinned from head to toe in the gravel. It was terrible. Jackie felt awful and was so upset about it.
"That was what convinced me to go back to school."
After receiving her diploma, Katie resumed her career and worked closely with her father, learning from him the fine art of race-riding, such as using her hands properly to control a horse.
Heart-stopping moment at Aqueduct
Now the three siblings are together in New York and their racetrack bond keeps the entire family as close as ever. Of course, there have been some tumultuous and heart-stopping moments.
The most frightening one took place on Jan. 17 at Aqueduct, when all three siblings entered the same starting gate for the 10th time.
Turning into the stretch, Katie was riding 33-1 shot Tottie Royer along the rail and was confident that she had enough horse to win the race. But directly ahead of her, Thirty Percent fell, tossing jockey Anthony Suarez. A split second later, Tottie Royer stumbled over Thirty Percent, hurling Katie over his head. Immediately after Katie hit the ground and rolled into a ball, Dylan and Humbolt Street came upon her and the fallen horses. Humbolt Street tried to jump over them, but his leg clipped the rail and Dylan was knocked off his mount.
At home, Robbie flew into a panic as he watched the frightening spill unfold on television.
"I was watching Katie because I had been telling her she has to ride on the inside on the inner track. I saw her go flying off the horse and I came out of my skin and was climbing the walls for about 15 minutes after it happened," Robbie said. "I immediately went down to my knees and said prayers. It brought back so many memories for me. It's something that you can never prepare for. Thank God my wife was with me because I thought a horse landed on Katie."
When Marguerite heard Robbie yelling, she rushed into the room. She was just as scared as Robbie, but after all those years of watching her husband involved in similar incidents, she maintained her composure and tried to calm his nerves as they lived through their worst nightmare: awaiting word on what happened to their children.
"He was screaming, saying 'I can't take this … It's bullcrap.' I told him to calm down and relax. Getting upset won't help anything," she said. "Once he found out they were both okay, he finally took a deep breath. I mean, what are the odds of two of them going down?"
The benefit of heeding Dad's advice
Back at Aqueduct, Dylan was the first to get to his feet. He felt a sharp pain in his shoulder, but he knew Katie had also fallen and he immediately ran over to his sister.
"It happened in the blink of an eye," Dylan said. "I had no option but to go straight into it. I balled up like my dad taught me and waited until there was quiet to get up so I knew there were no other horses coming. I got up and knew my shoulder was messed up, but I didn't care. I just held it with my other arm to keep it in place and ran over to Katie. When I got there her eyes were still closed and I asked if she was okay. When she heard me, she shouted 'Dylan!' and started laughing and giggling and saying I love you."
Brother and sister rode to the hospital together for evaluation, and true to their nature, soon they were laughing about the incident, knowing all three riders and their horses had escaped serious injury (Suarez suffered a fractured sternum). Katie, by heeding her father's teaching and balling up, rolled under her horse and came away with only a bruised calf.
Dylan suffered a shoulder injury, and while the initial prognosis was that he would need surgery which would sideline him for several months, his labrum was not torn and he was sidelined for only five weeks.
"We dodged a bullet," Robbie said.
Even better, five days later racing's inherent rollercoaster of emotions took the family on a much different ride.
For Katie, the spill was her first during a race, and while her physical injuries were minor, she had to deal with the mental side of the equation.
"I actually got pretty lucky in the spill, but it was difficult to go through it," she said. "Then my dad told me I can't back off. I have to get right back on some horses."
When a claimer victory was like winning at the Breeders' Cup
Telling that to his youngest daughter wasn't easy for a protective father, but Robbie knew how much riding meant to Katie.
"As a father, it's the hardest thing to tell your daughter, but she has to shake it off and get on the next horse," he said. "This is what we have chosen to do. It's our life."
That life saw Katie notch a victory aboard Stonehearted Lover in her second mount after the fall.
"It felt so good," she said.
Especially for Robbie, who felt as much joy over that win in a $25,000 claiming race as he did from any of his own Grade 1 wins.
"That's what makes the game so great," he said. "One day you're down in the mud and the next you're feeling like you're on top of the mountain without a worry in the world. It was like winning the Breeders' Cup. I can't describe it. I was just so proud of her."
Pride, support, comfort, they are all part of loving families in all walks of life. You'll find those feelings in doctors, lawyers, police officers, construction workers, and at the racetrack as well. It can be found in people doing what comes so naturally to them, and loving almost every minute of it.
Just ask the Davis family. Racing, as it has done for families for centuries, has taken them on the ride of their lives. It has kept them together, even through the twists and turns of those poignant days when a complex sport can either spark a joyous celebration or fray a parent's nerves.
Sometimes it can even do both in the very same race.