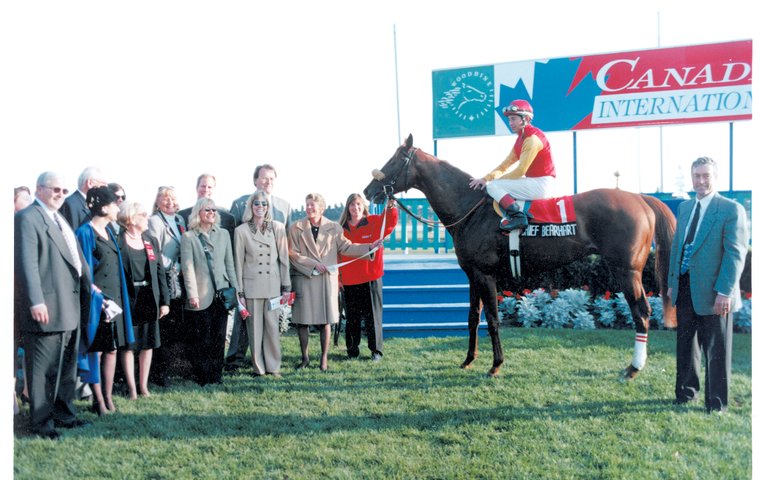 Chief Bearhart darted between horses like a red flame, swinging four-wide to charge alongside millionaire Flag Down. The finish pole on the Hollywood Park turf course beckoned ahead, but to reach the wire first, the mighty Chief Bearhart had to outrun Germany's brilliant champion, Borgia.

The two tussled briefly, but Chief Bearhart lunged ahead, capturing the 1997 Breeders' Cup Turf (see video below).
Just three weeks prior, Chief Bearhart had won the G1 Canadian International at Woodbine Racetrack, and he remains the only horse to sweep the prestigious double. A new challenger will get a chance to try when the $800,000 Pattison Canadian International is run on Sunday (October 13). Local runners such as dual G1-winner Johnny Bear will take an international line-up in the 1½ mile contest, to be run as part of an outstanding card featuring four Graded races.
Just one year before Chief Bearhart's sweep, Singspiel came close by winning the International then wheeling back to be second in the Breeders' Cup. Few horses have attempted the double since then, but 2017 International winner Bullard's Alley finished a close sixth last year, beaten only four lengths.
Campaigned under the popular red and gold colors of Canada's Sam-Son Farm and trained by Mark Frostad, Ontario-bred Chief Bearhart carried a lot of hype, thanks to his pedigree. The son of Chief's Crown was out of Canada's Outstanding Broodmare Amelia Bearhart, a stakes-placed daughter of Bold Hour. Before Chief Bearhart started his career, Amelia Bearhart had already produced G1 winner Explosive Red, stakes winner Ruby Ransom and the stakes-placed Memorized.
But when he debuted at Woodbine as a 2-year-old in June, 1995, Chief Bearhart finished fourth as a 10/1 outsider. Malcolm Pierce, then Sam-Son Farm's assistant trainer, who now has taken over the reins of their racing operation, remembered the horse as "quirky". "He really wasn't that big, but he always acted like he had some talent from the start. He got better as he came along."
Chief Bearhart did not run again until he resurfaced in March at the Fair Grounds in Louisiana, breaking his maiden by four lengths over a mile on the grass. Despite his obvious prowess on the turf, that winning effort put him squarely on the Canadian Triple Crown trail. Chief Bearhart ran third, beaten only two lengths, in the Plate Trial Stakes, then finished fourth as the favorite in the Queen's Plate itself.
He skipped the second leg, the Prince of Wales, in favor of an effortless allowance win on the grass, which primed him for the final leg of the Triple Crown, the Breeders' Stakes. Stretched out to 12 furlongs and at home on the grass, Chief Bearhart rolled and crushed the field by 9½ lengths.
Kelly Vanderaa groomed Chief Bearhart during his 3- and 4-year-old campaigns, and noted he could be anxious. "During the time [that I groomed him], I watched him mature into a handsome, confident, and talented race horse. He was actually quite a nervous horse. You just needed to take your time around him and gain his trust and he would be okay."
'A true mile-and-a-half horse'
One month after the Breeders' Stakes, Chief Bearhart had his first go at the Canadian International, finishing second to Singspiel. He did contest the Breeders' Cup, held at Woodbine that year for the only time, but finished 11th in a race known mainly for Singspiel's loss to Pilsudski and the ill-advised entry of Rick's Natural Star. "He knew when he won a race and he knew when he lost as well," Vanderaa said. "He would sulk for a day or so when he was defeated. He could also be a little cheeky, he would try to get a quick nip in every once in a while." His efforts throughout the year earned Chief Bearhart his first of six Sovereign Awards.
Chief Bearhart entered his 1997 campaign, stronger, bigger, and more mature. "He was a true mile-and-a-half horse," Pierce said. "He loved a route on the grass."
Chief Bearhart wove together a season that included victories in the 12-furlong G3 Elkhorn Stakes at Keeneland, and the G3 King Edward Breeders' Cup Handicap and Sky Classic Handicap at Woodbine. He even ventured to Arlington Park to finish second by a head in the G3 Stars and Stripes Breeders' Cup Turf.
But it was the Canadian International that placed him squarely on the map, when Chief Bearhart took the lead early in the race and outran subsequent millionaire Down The Aisle in a flashy display of speed. Woodbine's longtime track announcer, Dan Loiselle, remembered the race: "He was a horse that came from off the pace, where you were always wondering if he was going to get there. I called him 'The Chief' when he made his move around the turn, and as he came to the wire, I said something like, 'Put a Grade 1 feather in the cap of Canada's Chief Bearhart.' He was a dramatic runner and a great horse."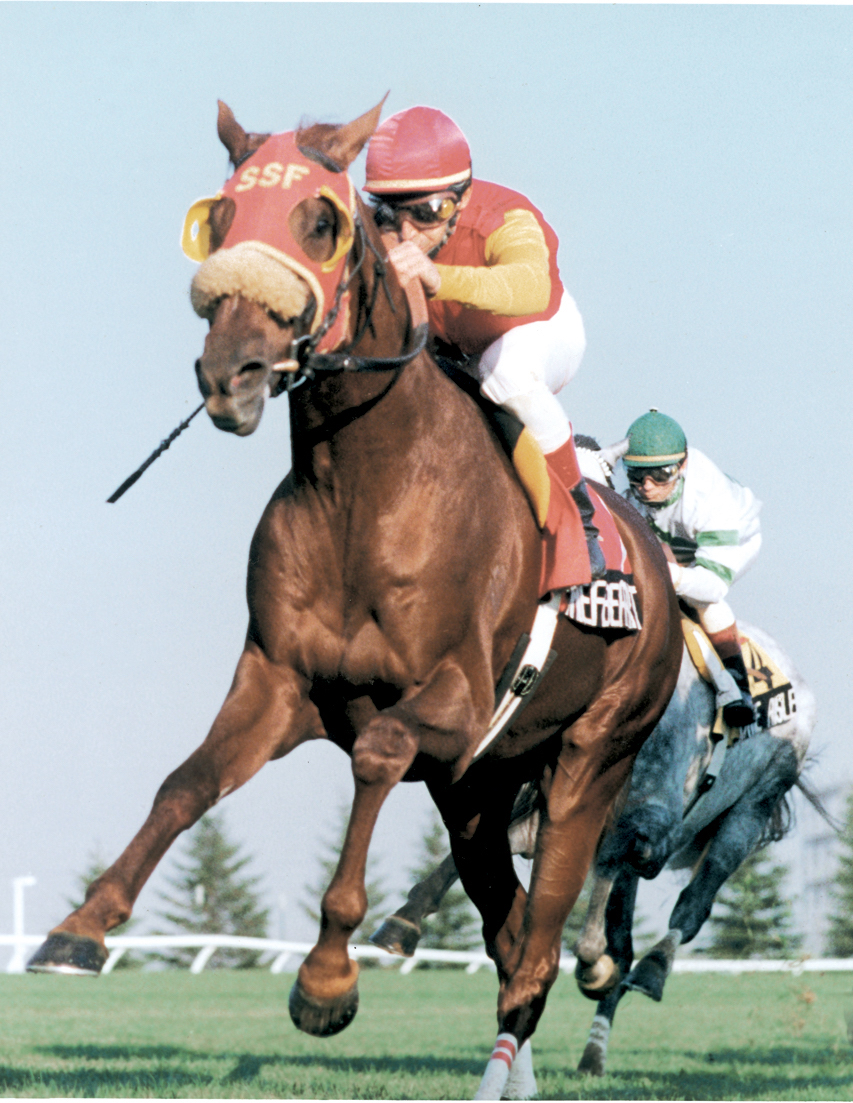 Then came the Breeders' Cup, which nearly ended up disaster.
"He didn't have a mean bone in his body," Vanderaa said. "Even when he was sharp and coming up to a race, he would never try to hurt anyone. But he was a tough horse to take over to the races."
"I was at Hollywood Park to help saddle him, and he was a handful," Pierce recalled. "In the barn he was a nice horse to be around, but he could be tough on the track. We took him into the tunnel to the track and he banged himself up against the wall. I thought with the way he was acting, he couldn't win. That's why it was amazing he won, despite his antics."
Loiselle and other media members were gathered in Woodbine's press box for the race. "He threw himself against the wall going to the track," he said. "I thought he would be scratched. Obviously he had already run his race before coming out onto the racetrack, and it seemed like Canada's hope for the Breeders' Cup was eliminated. But jockey Jose Santos got him home, and he went on to be a two-time Horse of the Year."
"He was a little claustrophobic," Vanderaa explained. "He was not comfortable in closed spaces and dark spaces. What happened at the Breeders' Cup … kind of makes him out to be a bit of a crazy horse, which he wasn't. He was all class, and I think that is one of the most important descriptions about him."
'That was the breaking point for him'
The entire experience went wrong from the beginning. "He really didn't have much of a shot on his way over to be saddled. There was a delay while the stewards decided whether to let him run because he had toe grabs on his hind shoes. He had to have the toe grabs on his hind shoes grinded off. That has the potential to upset even the calmest of horses. All the horses had to go in these very dark stalls before heading to the front side. I asked if I could just walk him around outside the stall instead, but they wouldn't allow it.
"He handled it like a champ [but] he was extremely strong walking over. We were being dragged over; Malcolm took him for a while to give me a break. It was a very long walk over. I was shocked when they told us to go into the tunnel and would not allow a pony to be with him. That was the breaking point for him and that is why he slammed himself into the wall. Once the saddle was on and he was out in the open again, he settled. It did not affect focus once he hit the track. He was a true professional and showed his class."
Sweeping the International/Breeders' Cup double stands out in Pierce's mind as quite the feat, especially considering the latter race was in California. "It's a lot easier to win in your own backyard," Pierce said. "You have a home advantage, especially when you have a horse that good like he was. Going to California when our weather is cool and their weather is warm, well, it's much easier for horses to ship and win at Belmont or Churchill Downs. It's a feather in his cap that he was able to fly from Toronto to Los Angeles, be a handful to tack up, and still win that race."
The chestnut powerhouse returned to the track in 1998, winning the G1 Manhattan Handicap at Belmont Park before running second in the Canadian International and fourth in his Breeders' Cup defense. He then left North America to try the rich Japan Cup, finishing fourth, and, although he did return to the United States, he ultimately ended up back in Japan to begin his breeding season in 1999. Chief Bearhart, with 12 wins in 26 starts and earnings over $3.3 million, was retired.
"I am very thankful and grateful for being allowed to look after a horse of his caliber," Vanderaa said. "It was an honor and a privilege to rub him. I had the experience of a lifetime."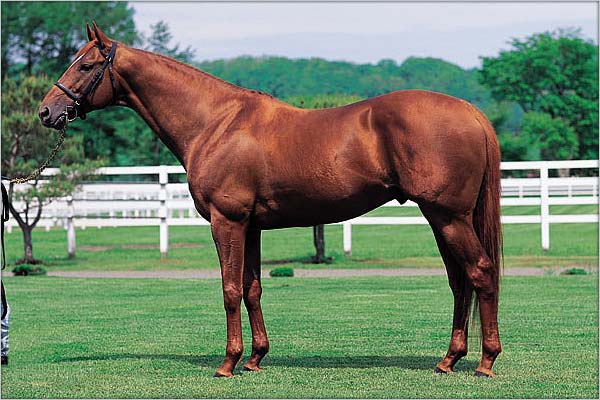 As a stallion, he produced some of the country's top horses, including champion steeplechaser Merci A Time and champion 2-year-old colt Meiner Recolte. He even had a New Zealand champion in Shikoba, their top 3-year-old filly in 2006. Chief Bearhart had 408 winners from 608 starters and progeny earnings over $72 million.
In April 2012, the 19-year-old stallion fell ill. He fought until September 18, when he passed of acute heart failure at the Japan Bloodhorse Breeders' Association Shizunai Stallion Station. His domineering ways over a route on the grass are well remembered; Chief Bearhart was inducted into Canada's Horse Racing Hall of Fame in 2002, and Pierce still thinks of the talented runner.
"I was around a lot of good horses back in the day," Pierce said, citing Hall of Famer Dance Smartly as one of the best, "and it really taught me something. Chief Bearhart is right up there with some of the top ones. He had a big heart."