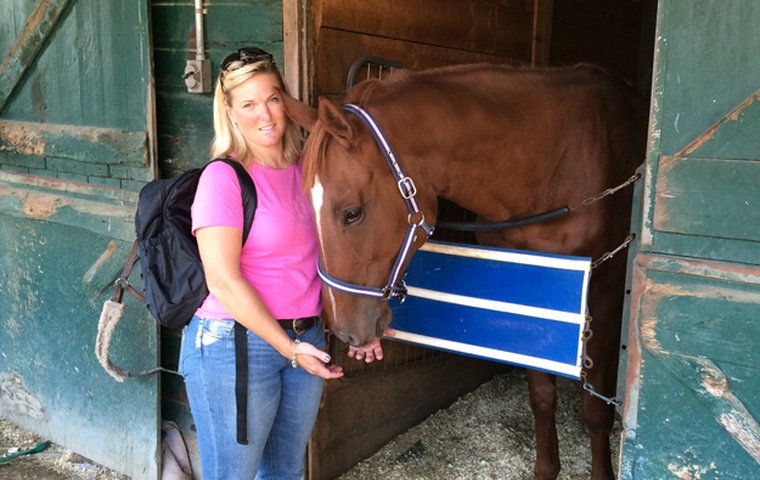 Suffolk Downs in East Boston, Massachusetts, is set to close its doors for good on Oct. 4, potentially creating an equine crisis in a state and region with no nearby racing circuit to absorb hundreds of horses who will be displaced. Lynne Snierson reports on the organized aftercare efforts helping to ensure a better outcome.

When Suffolk Downs announced that live Thoroughbred racing had reached the finish line, many feared it meant the end of the line for horses not fast or good enough to make it to the next track.
"It is unprecedented that these horses don't have another place to go," said Diana Pikulski, vice president of the Thoroughbred Retirement Foundation (TRF). "Our industry is rallying to make sure the horses are going to be okay."
Suffolk's owners were forced to pull the plug on the 79-year-old track on Sept. 16 when its gaming partner, Mohegan Sun, was bypassed for the single area Boston casino license by the Massachusetts Gaming Commission, which green-lighted a rival proposal from Wynn Resorts to develop a $1.6-billion casino located only two miles from the stable gate.
The last day of live racing is Oct. 4 and the backside will close by mid-month, displacing horsemen who have not had a New England circuit since Rockingham Park's last Thoroughbred meet in 2002. While some can scatter to other venues along the East Coast, those with mostly Massachusetts-breds in the barn or on the farm cannot.
Moreover, the overnight program was comprised of low-level allowance tests and cheap claiming races for horses who were already clinging to the bottom rung of the ladder. There were approximately 700 horses housed at Suffolk when the closure was announced last month.
"It's tough to find good homes for so many of them at once," said Pikulski, who added that the TRF does not have the resources to accommodate all in need. "It's going to take a major new effort."
That push is underway at Suffolk, which was the first North American track to institute an anti-slaughter policy.
The New England chapter of The Communication Alliance to Network Thoroughbred Ex-Racehorses (CANTER) has an established excellent working relationship with Suffolk and its horsemen and has increased its efforts by hosting additional on-track open houses for available horses and posting their photos and descriptions on the group's Facebook page. The volunteer group also spread the word throughout the wider equestrian community.
Dover Saddlery President and CEO Stephen Day, who has re-homed eight Suffolk off-track Thoroughbreds (OTTBs) and retrained them for careers in the eventing world, was one who got the message and then put his money where his heart is.
Everyone who purchased a horse through CANTER received a gift of a leather halter, lead rope, and a $20 Dover Saddlery gift certificate packaged in a grooming tote, and the well-known riding apparel, horse care, and stable supplies company also publicized the story on its blog geared to the show horse set.
At the same time, Daily Racing Form Breeding reached out to the racing industry with a story publicizing the event including a link to CANTER New England's website.
The synergy created helped to avert disaster.
"I was very concerned," said Kim Rigolini of CANTER New England. "At the end of every meet, we always have to find a place for horses and this year, there are a lot more who are in need. It's almost crisis management. But with all of the publicity, we've had a huge response and an amazing number of people have rallied to help."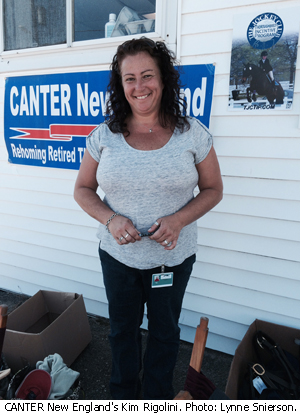 Rigolini said that interested parties from as far north as Canada and as far south as the Carolinas came to the CANTER open houses at the track to purchase horses on the weekend of Sept. 27-28, and there have been inquiries from people as far west as Texas. By noon on the 28th, she had 35 bills of sale in hand and the count keeps rising.
She said that the horses in the showcase were all priced "above meat" at $1,500 or higher. Nonetheless, some changed hands for less.
Lelo Reeves, who heard about the Suffolk situation from her barn manager, bought Roses for Arlene for $750 and is adding the 16.3 hands high, unraced 5-year-old New York-bred to her band of 25 show horses.
"I never thought I'd own a chestnut mare," said the accomplished Groton, Massachusetts, horsewoman while shaking her head. "But I like her temperament and her size, and she moves beautifully. Hopefully, I'm going to event her. I'm not partial to chestnuts, but I think she's going to change that. She seems like a diamond in the rough."
Trainer Diane Cerundolo was bittersweet about parting with the mare.
"It's sad. She's getting up in age, but she's a great horse," Cerendolo said. "She loves everyone, especially kids. She's a gorgeous animal with a beautiful gait. This is the right thing for her. She's found what I think is a good home and she'll go on to have a nice career."
Tommi Deierlein bought Hebop, a 4-year-old Florida-bred chestnut gelding who last raced here in a $5,000 claiming affair and earned $24,833 in 21 starts. She put him and two others on a trailer headed to Gansevoort, New York.
"This was great opportunity to go look at all of the horses at once and I saw about 100 today," she said. "Hebop is a gorgeous little gelding and he moves nicely. We're going to try novice eventing. The other two are going to ReRun [a Virginia-based Thoroughbred adoption organization]."
Fran Clark from Little Compton, Rhode Island, already has two Suffolk OTTBs purchased through CANTER, residing at her farm. But she was willing to open her heart and her barn.
"I can offer horses a nice place to live," she said. "Most people in the show world want warmbloods, but that leaves a big glut of beautiful, young Thoroughbreds who need a good home and a second career. As my husband said, 'we don't need another horse.' But they need us."
Even though many of the Suffolk horses are getting a fresh start, there are others still hoping for their happy ending.
"Unfortunately, some are broken and can't even be ridden," Rigolini acknowledged.
But they won't be forgotten.
"It's not like the old days when a track closed down and there were a bunch of abandoned horses on the backside," Pikulski said. "We're beyond that. Taking care of all the horses is not going to be easy, but it will not become a humane issue."
Michael Blowen, the founder of Old Friends retirement farm, cut his teeth in racing working on the backside while he was a writer for the Boston Globe. He agreed with Pikulski.
"I am doing my damnedest to find a place for these horses and am working with ReRun, CANTER, New Vocations, and [local horsewoman and equine welfare advocate] Lorita Lindemann," he said. "This is very sad on so many levels. I'm taking a look at all of the numbers, and we'll see what the situation is at the end and what we can do to help them."
Galloping Out, the Illinois retirement group, reached out as soon as the news of the track's impending closure first broke and offered to take any Illinois-bred on the backside. ReRun in Pennsylvania made a similar offer for their state-breds. ReRun in Virginia took two horses, and a representative from the CANTER chapter in Michigan said that her group will take any horse in any condition who is still unwanted after the dust settles.
Although the Thoroughbred Aftercare Alliance (TAA) has not established a special fund dedicated to helping the Suffolk horses, it did appraise its accredited organizations, including Rerun in Virginia and CANTER in Michigan, of the situation.
"We got the word through the TAA and we brought home four wonderful horses last weekend and another is coming next weekend," said Beverly Bochetto of Blue Skies Riding Academy near Atlanta, a tax-exempt charity. "We flew up there and Lorita met us at the gate. When the people we got the horses from helped us load them on the trailer and it was time to say good-bye to them, they were crying. It was really sad. But I promised them that each of these horses will have a lifetime home with us. We got them all free, but we highly value each of them."
"We're in good shape," Suffolk Vice President of Racing Sam Elliott said after the showcase. "With everyone stepping up, there hasn't been as much demand this year for TRF applications. Things have been positive. I thought we were going to have a big problem, but so far we're not. I hope I'm not proven wrong."
---
CANTER New England is still working diligently to find good homes for horses needing them. Each horse has a post, with photographs and descriptions, on the group's Facebook page and additional horses will be listed as they become available.
Volunteers will be Suffolk Downs on Saturday, Oct. 4 to assist prospective buyers by appointment only. For more information, email adoptions@canterne.org