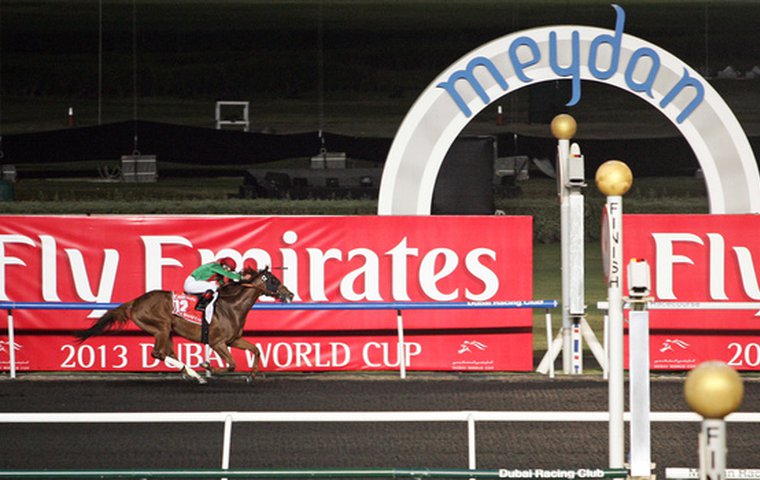 On the eve of the 2014 Dubai World Cup meeting, Steve Moran wonders why there are just three U.S.-trained horses nominated for the big, and in prize money terms, most lucrative race meeting in the world.

Just three U.S. runners at the world's richest race meeting. It's a staggeringly low number from a country that, until recently, was a major player on the Dubai stage and saw more than 54,000 domestic starters last year.
In contrast, Hong Kong - which breeds no horses and has a Thoroughbred racing population of approximately 1,200 - has eight runners, all with serious chances. The Europeans and the Japanese have strong hands too. Aidan O'Brien alone will send out more runners than America.
Atop the list of U.S. entrants for Dubai World Cup night is G1 Sheema Classic hopeful Twilight Eclipse, a multiple graded stakes winner in the U.S. and a world record-holder for 1 ½ miles on turf. The supporting members of the U.S. trio are the modestly accomplished South American-import Berlino Di Tiger (Al Quoz Sprint), and Zee Bros (Golden Shaheen), twice beaten in Dubai already this season.
It is not normally impossible to entice Americans with money, and there is $23 million on offer at Meydan on Saturday, with even third or fourth place in some of the races being worth more than first place in most of the G1 contests at home. So, where are the good American horses who could be in Dubai this week? And why have they stayed away?
Is it because – Animal Kingdom aside – U.S.-based runners have performed below expectations in recent years? Is it Meydan's Tapeta surface? Are trainers intimidated by more stringent medication requirements or fearful their horses will not "go on" after a taxing trip to Dubai?
The perception may be yes, but the truth is, at the very least, debatable.
Surface Uncertainty
It's certainly fair to guess that the majority of American trainers (and bettors) prefer good old-fashioned dirt to the synthetic Tapeta surface installed at Meydan, which opened in 2010 replacing Nad Al Sheba Racecourse. American-based runners won eight of the 14 World Cups run on the dirt track at Nad Al Sheba.
The idea that Tapeta alone has been responsible for what amounts almost to an unofficial boycott of the meeting by connections of American dirt horses took a major knock only last year when the 2011 Kentucky Derby winner, the Graham Motion-trained Animal Kingdom, took the top prize.
"I think there was, before our win last year, a growing perception that Americans can't win in Dubai - which was absurd," Motion said. "We had done so well when the World Cup was on the dirt. We had more than held our own. But I think, since it went to synthetic, there was a growing perception that it was now very hard to do.
"It kind of amuses me a little bit," he continued, "because I think Americans feel like not only should they go over there and run for $10 million, but they should also go over there and run on their preferred surface, which is dirt. To me, the fact that it's now on synthetic makes it a truly international race because everyone's on a kind of neutral surface."
The Tapeta surface is testing. That was arguably evidenced last year when a "two miler," Red Cadeaux, ran second in the World Cup, probably because he just kept coming when the build-up of lactic acid had stopped many of his middle distance rivals. Some trainers have voiced their unhappiness with the Tapeta track, which they describe as "sticky" or "heavy," and it's one that has produced four World Cup winners riding the speed. No horse has figured sitting back and sweeping home with a late, wide run.
Any definitive judgment on the Tapeta must be premature though. As former Daily Racing Form editor George Bernet - no lover of Tapeta, which he enjoys referring to as "brown colored turf" - points out, racing is serendipitous. At the very least it can be cyclical. Perhaps this year the Americans just didn't think they had a horse good enough, or one in good enough shape.
Dubai devotee and Trakus business manager Pat Cummings notes that the experience at Presque Isle Downs in Pennsylvania should have trainers perhaps rethinking any aversion to Tapeta.
"Believe it or not, Presque Isle's Tapeta has more valuable races on it than Arlington Park's Polytrack. The Presque Isle Downs G2 Masters Stakes has produced four of the last five winners of the G1 Breeders' Cup Filly & Mare Sprint: Informed Decision ('09 Santa Anita on all-weather), Musical Romance ('11 Churchill Downs on dirt), Groupie Doll ('12,'13 - both Santa Anita on dirt). Kind of crazy, but true - Presque Isle Downs has only ever had Tapeta in its fairly short life, and their signature race has yielded the Breeders' Cup Filly & Mare Sprint winner so frequently," Cummings noted.
One might be tempted to conclude that a reluctance to compete now in the major non-turf races must be based to a great extent on reservations about the Tapeta surface, as that's the only thing that's changed since the halcyon days when the U.S. won eight World Cups between 1996 and 2009. But the dislike of Tapeta seems now to have combined with fear of the alleged "Dubai Bounce."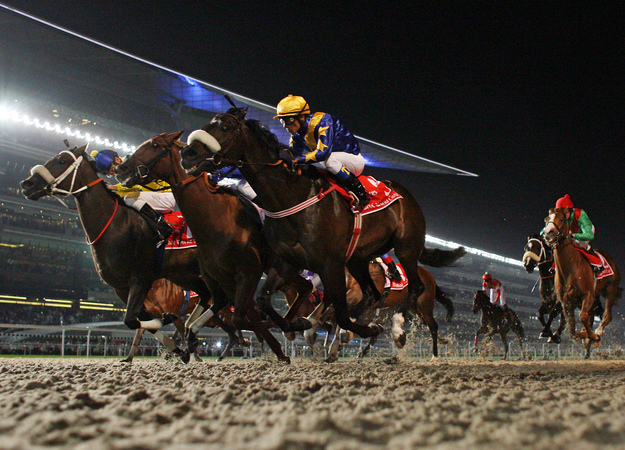 Bounce worries
There was evidence even before the move to Meydan that Americans had begun to doubt the wisdom of a trip to the Gulf.
This derived from a belief - some would call it a myth - that the home campaigns of the best American horses in any given year were actually jeopardised by a trip to the desert in early spring. In fact some went so far as to see even victory in the Dubai World Cup as a career cadenza.
Whether that view was even partly justified, or whether it was merely the case that many of the American horses who distinguished themselves on the Nad Al Sheba dirt had already reached their lifetime peaks at home and would have begun a decline in any case, is a matter for (probably endless) debate.
According to Bernet, it's always been a well-established handicapping angle that horses who've been to Dubai are "terrible investments" back home, especially first-up. That was no doubt born of the fact that Silver Charm and Pleasantly Perfect came home and were beaten as odds-on favourites first time out. But both horses were to win again, as have the majority of high-class visitors to Dubai. They weren't forever failures post Dubai, just a betting risk immediately on their return.
According to trainers, the idea of the bounce may be overplayed.
Richard Mandella, a former Dubai stalwart with a World Cup winner to his credit in Pleasantly Perfect (2004), has no fears about taking a horse to Dubai.
"I regret not having one [this year], because I've loved every trip I've taken there," Mandella said. "Yes, it is a tough trip. It takes something out of a horse, but nothing that would give me a feeling that I shouldn't try it - if I had the right horse.
"I've taken some very old horses over there, so it wasn't like they were 3-year-olds with five more years left in them," Mandella said. "The Tin Man (2nd , Dubai Duty Free, '06) was…[eight], Siphon (2nd Dubai World Cup, '97) was [six], Pleasantly Perfect might have been six. They were horses that had quite a career under them already. But for the money that's there, and the excitement of going…I can't tell anybody else what to do with their horses, but if I had one that was good enough and ready to go, I'd be going."
Motion, too, dismissed the notion of a post-Dubai bounce.
"I think it's overplayed," Motion said. "My horses, I have not noticed them to suffer for it. It is laid out so well for us to get there. I've had two extremely different horses do it in the last two years. A horse like Lucky Chappy (7th UAE Derby, '12), who was a really slight horse, I thought he came back from it just as well as Animal Kingdom did when we went to England. I never noticed any repercussions from those horses. You're not going to get back and run them off the plane when you get back to the states, you're going to want to give them 60 days…[but] from my experience, I don't see it."
Medication Misgivings
Outsiders will always proffer the view that American trainers are reluctant travellers simply because of stricter medication rules than in the U.S. But that's always been a consideration. Have there been post-Al Zarooni warnings delivered unofficially this year? That's something we're unlikely ever to learn.
"I think the medication issue puts people off," Motion said. "If I had a bad bleeder, it would make me nervous about going over there for sure. But, you know, again, we've gone over there and done well without it, just like Wesley [Ward] has in England. It's kind of a crutch, isn't it, having the medication, and I think we all worry about going without it. But we all seem to survive without it. Again, it's about taking the right horse."
Reality Check
Perception is one thing, but a closer look at the U.S. runners in the Dubai World Cup since 2010 helps to debunk the paranoia.
Apart from Animal Kingdom, the U.S. was represented in the World Cup by Royal Delta and Dullahan last year. Royal Delta also failed at Meydan the year before, so you could reasonably conclude Dubai was not her 'thing.' Maybe it was the Tapeta. Maybe she just didn't travel. But the experience definitely didn't destroy her, as she proved by returning home to win two G1 contests before her retirement.
Dullahan, who might be described as a synthetic specialist, didn't fire. But he was a late closer - not the sort of horse you want for this race. He went home and got beaten less than a length (on turf) upon his return.
Game On Dude failed in 2012. But this habitual front-runner drew the outside barrier and was taken back - out of his pattern and comfort zone. He's won ten races since, including six at the G1 level. So to put it mildly, for him the Dubai experience was hardly catastrophic.
In 2010 and 2011, the U.S. was represented by the noble Gio Ponti (and a couple of longshots). Gio Ponti was as brave as ever, finishing in the top five both times, and beaten less than two lengths. Not bad for the superior turf performer taking on the world's best on a foreign surface - and hardly disastrous failure. Given that 11 of his 12 wins were on grass and his great 'mile' record, he probably should have been running in the 9-furlong G1 Dubai Duty Free Stakes on the turf anyway. He, too, was a G1 winner post-Dubai.
Perhaps we all expected the World Cup to be the preserve of the U.S. and/or Godolphin every year. The bottom line is that 15 of the 18 World Cup winners have been U.S.- or UAE-trained. The fact that two of the past four runnings are among the exceptions shouldn't necessarily raise alarm bells. But it seems they have.
The rich Sprints tell the same story. U.S. sprinters won nine of the 10 runnings of the G1 Golden Shaheen on the dirt immediately pre-Meydan. Post-Meydan, the score is six runners for one win, one second, two fifths and a sixth. Hardly a domination, but hardly abysmal failure either.
Should we judge this collective post-Dubai record of World Cup winners as good, bad, or simply inconclusive? Similarly, how do we judge the nine U.S.-trained winners of the Golden Shaheen in the 2000-2009 period? Dual winner Caller One won in the States after his first Dubai win, as did Our New Recruit and Benny the Bull. Big Jag, Proud Tower Too, and Kelly's Landing didn't win again. Saratoga County and Big City Man didn't race again.
And what do we make of the six U.S. Golden Shaheen runners since Tapeta? The 2010 winner, Kinsale King, went home and won an allowance race on…Tapeta. The 2011 runner-up, Euroears, claimed the G1 Bing Crosby on his return. Admittedly, only one of the other four (unplaced runners in the past two years) has won again, and that's United Color who stayed in Dubai. But is that conclusive proof that performance necessarily deteriorates after a trip to Dubai? Hardly.
What does the future hold?
Despite evidence to the contrary, the sense of a negative perception remains, and was underlined by the media coverage of last year's Dubai World Cup winner.
The Associated Press led its Dubai World Cup story last year with: "Animal Kingdom showed that an American horse can win the world's richest horse race on an all-weather track, pulling away down the straight Saturday in the $10 million Dubai World Cup."
So, an American horse hadn't won the meeting's main event since 2009. Well, that's hardly a drought of death-by-thirst proportions.
"With the World Cup on the Tapeta, I think Gio Ponti showed, and then Animal Kingdom has shown, that we can be really competitive if we run the right horses," Motion said. "I think it's all about taking the right horse really."
It's fair to say that some Americans have struggled to master the all-weather surface, and it's a fact that post-Meydan relocation, no American-based horse had been in the top three finishers in the first three years - until Animal Kingdom.
That dramatic triumph appears though to have done nothing to convince other American trainers to follow Motion's enterprising lead. If the 2014 entries are any guide, then the outlook is not bright for future U.S. participation in Dubai. And if that's perceived as an issue either by the Dubai Racing Club or by U.S. owners and breeders, then the negative perceptions, which the evidence would suggest are somewhere south of the reality, will have to be overcome.
For his part, Mandella summed it up well.
"I think in racing we think too much about all this stuff. If I have a good horse, I'm going to take a chance at it, if the owner is interested."
---
Additional reporting by Ashley Herriman
Tomorrow: We look at the strange case of the Dubai Duty Free and wonder why a $5m turf race that could have been designed with Americans in mind
will have attracted just two US contenders in the last four runnings.