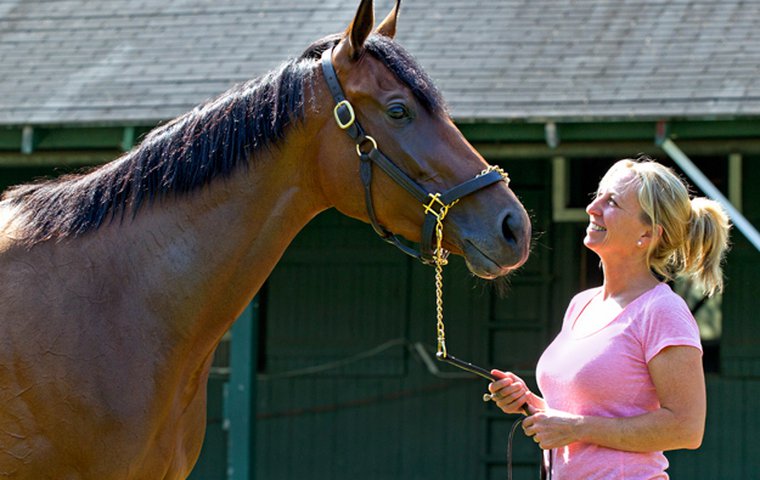 When Leah Gyarmati first went to the racetrack, she didn't go willingly. As a 16-year-old, she reluctantly took a job as a hotwalker in the Belmont Park barn of Hall of Fame trainer H. Allen Jerkens at the behest of her father, who wanted her to earn some money to pay her horse show bills. He also thought that the experience might quell her passion for horses.

Instead, she became so enthralled with life at the track that she questioned, on and off for years, following the college-bound path that she—and her family—assumed that she'd take.
While studying philosophy at Samford University in Alabama, she'd head home to Long Island during breaks and go back to Jerkens' barn, working her way up from hotwalker to groom to exercise rider to assistant trainer, the pull of the racetrack stronger than the pull of the classroom.
But it was a pull that she resisted, completing both an undergraduate and a master's degree in philosophy, then enrolling in a doctoral program in theology that she planned to complete while working mornings for Jerkens.
She laughs now, looking back at her naiveté.
"I got sucked right back in," Gyarmati said. "The racetrack is such an addictive place."
Known on the backstretches of New York's racetracks as something of a squirrel whisperer—it's not uncommon to find her bottle-feeding baby squirrels that have lost their mothers—Gyarmati tosses acorns to the Belmont squirrels as she talks. They clearly know her, and they approach as dogs do, knowing that treats await. A senior cat winds her way through the trainer's legs, greeting visitors before retiring to her long-time home in the tack room.
She'll never be known as Dr. Gyarmati, the Ph.D. a casualty of her passion for horses and for racing, but after more than a decade as a trainer on one of the toughest circuits in the country, Gyarmati has hit the highest level in her chosen career, preparing for the Breeders' Cup for a second straight year.
She saddled her first horse in 1999 but didn't get her first graded stakes win until 2013, when 2-year-old Sweet Reason won the G1 Spinaway at Saratoga. The filly finished second in the G1 Frizette a month later, vaulting Gyarmati from comparative obscurity in New York to the spotlight on racing's biggest stage.
She might have left the classroom behind, but her first Breeders' Cup was an education in and of itself.
"I don't want to say I was nervous last year," said Gyarmati recently, standing outside her barn at Belmont, which sits not far from the training track. "But I'd never been to Santa Anita, and I went really early more for my sake than the filly's, just to get my bearings and see how everything was done."
Situated with Sweet Reason at Santa Anita 10 days before the Breeders' Cup Juvenile Fillies, Gyarmati planned to take advantage of the 15-minute training window dedicated to Breeders' Cup starters, but a filly that likes to take her sweet time didn't make that particularly easy.
"She likes to stand [before training] for a really long time," said Gyarmati, emphasizing the "really" but with affection for her filly's quirks. "By the time she was ready to get going, all the other horses would be out there, and then there'd be a loose horse or something would happen, and we couldn't go through the paddock the right way. None of it was a problem, but this year, I know going in and I can maybe train around it."
And, she admitted, she felt the pressure of bringing the horse favored to win the race.
"All eyes were on her, and everything I did, somebody would second guess," she said.
It's been a long time since she's worked for Jerkens, but his old-school training methods, like breezing horses a slow mile, have stayed with her, methods at which some racing observers look askance. Their criticism isn't lost on Gyarmati.
"'Why she'd go so long?' 'Why'd she go so slow?'" she said, repeating some of the questions lobbed at her. "I felt like I was having to defend myself all along. I shouldn't have felt that way because it doesn't matter what anybody thinks: You do what you think is right and what you know to have worked in the past."
Sweet Reason finished fourth in the Breeders' Cup Juvenile Fillies last year. After notching G1 wins this year in the one-mile Acorn and the seven-furlong Test, she drew the rail in Saturday's Filly and Mare Sprint and was installed at 9-to-2 on the morning line.
The filly is owned by Jeff Treadway, as is the 2-year-old Wonder Gal, who followed in her stablemate's footprints by finishing second in the Frizette this year. As Sweet Reason did last year, Wonder Gal will run in the Juvenile Fillies this year.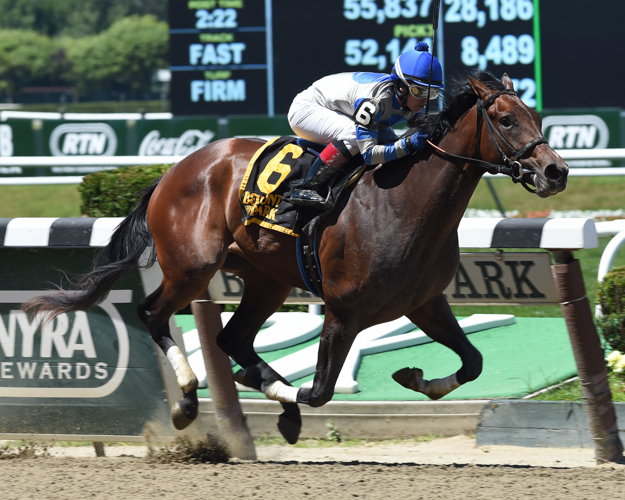 Gyarmati and Treadway also considered sending the 3-year-old colt Noble Moon to run in the Breeders' Cup Mile, but elected to keep him home in New York to run in the G3 Discovery at Aqueduct on Nov.1, the same weekend as the Breeders' Cup.
Gyarmati has a public stable of about 30 horses and several loyal clients, including the New York-based partnership Bona Venture Stables; she began training for Treadway in 2009, and her success in graded stakes races with his horses has led, in recent months, to more business…but not too much more.
"That's fine with me," she declared. "I really don't want to be too big. I don't know how people do this whole division thing, have 100 horses over there and 50 over there and 60 over here."
The recent expansion of her business has led to her taking some stalls at another Belmont barn, one that she can see from her shedrow.
"It's hard enough for me just having horses in another barn that's across the street," she said with a laugh. "I hate that I can't see what they're doing every time I'm here, that right now while I'm here talking to you, I can't stare at them. I don't know how you don't see them for a few days in a row."
Her hands-on approach has been evident in the way she's treated the injury suffered by Sweet Reason in the G1 Cotillion last month, in which she finished second. Struck near her eye by something during the race — despite multiple slow-motion viewings of the replay, Gyarmati can't see when it happened or what hit the filly -- Sweet Reason required round-the-clock treatment after she was released from an equine hospital.
"She had to be treated every four hours and I didn't trust anyone else to do it," Gyarmati said. "So I came to the barn at 6 at night, at 10 at night, at 2 in the morning. It takes about an hour because she needed four different treatments and about 10 minutes in between each one."
The injury put in doubt Sweet Reason's participation in this year's Breeders' Cup, but Gyarmati has been pleased with the filly's recent progress.
"She's been training great, on the muscle," she said. "But she's got to tell me she wants to go because it's not just the eye; I think we're out of the woods with that, though we still have to be careful with it and she's still wearing a protective bubble for training. But she lost about a week and a half [of preparation]."
In her 15th year as a trainer, Gyarmati has already broken her personal record for earnings, winning more than $1.8 million in purses in 2014. Her horses have finished in the top three a healthy 43 percent of the time, and knowledge of her skilled horsemanship is no longer limited to the New York circuit.
Not that she necessarily welcomes her higher profile. The woman who contemplated the quiet life of an academic, studying life's big questions through philosophy and theology, admits that she's excited about heading back to the Breeders' Cup, even as she acknowledges that this year, perhaps the scrutiny might not be quite so rigorous.
"There's always a lot of pressure," she reflected. "But I don't think I'll be the favorite in either of the races, so I don't think there will be as much as attention on my horses this year."
"So maybe," she added with a smile, "I won't get all the comments."