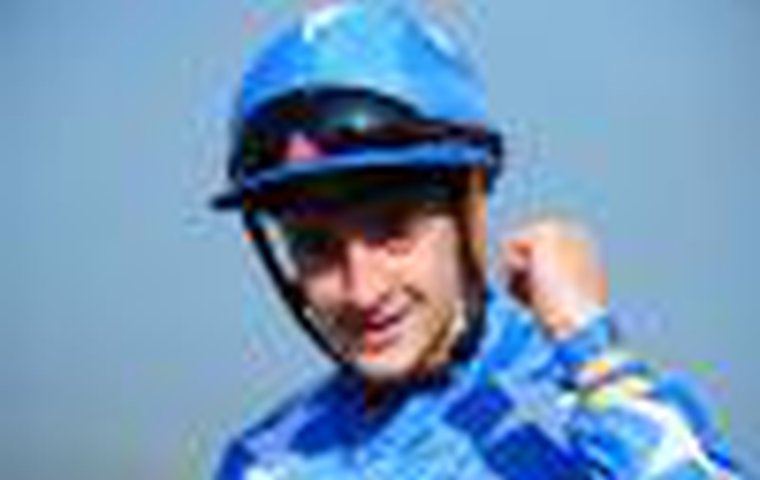 After a glorious decade of worldwide big-race success, French jockey Christophe Lemaire could have been forgiven for feeling a little low going into 2014 after losing one of the top jobs in European racing. John Gilmore reports on how he has started to bounce back.

In racing as well as life, opportunities arise when you're in the right place at the right time, which is just what happened to French jockey Christophe Lemaire.
Take Saint-Cloud Racecourse near Paris on the afternoon of Sunday, June 29. It was pouring rain for the G1 Grand Prix de Saint-Cloud, but it was absolutely the right place and the right time for the 35-year-old Frenchman.
Things hadn't been going well for Lemaire, one of the world's finest riders, a man with golden big-race moments to his name in the United States, Britain, Dubai, Japan, Australia, and Hong Kong, but whose fortunes seemed to be in decline after his contract as first jockey to the mighty empire of the Aga Khan was not renewed for 2014.
Of course, Lemaire had been very much in the right place at the right time when he landed that coveted job in the first place. At the end of 2009, Lemaire replaced Christophe Soumillon after he made an insulting comment about trainer Andre Fabre at the annual Deauville gala evening that August. It resulted in the Aga Khan terminating Soumillon's contract after seven successful years that included Prix de l'Arc de Triomphe wins aboard Dalakhani (2003) and Zarkava (2008).
Lemaire rode three G1 winners for the Aga in 2012, but successes at that level dried up in 2013, although it must be said that His Highness had unusually few horses of the required quality last year with his key French trainers Alain de Royer-Dupre, Jean Claude Rouget, and Mikel Delzangles. At the end of the year, the Aga Khan had a change of heart and reinstated Soumillon, at Lemaire's expense.
And the new season began in Europe with a rider who previously had the world at his feet, but was just not getting the top rides. He felt unwanted. He was beset by self-doubt.
So it was that he found himself at rain-soaked Saint-Cloud on June 29 riding Spiritjim for Pascal Bary in the G1 Grand Prix de Saint-Cloud over a mile and a half (2,400 metres). Ironically, the ride was normally Soumillon's, but he was claimed to ride Narniyn, who would finish fourth for the Aga Khan. Step forward Christophe Lemaire.
Under a typically inspired, cool-hands ride, caught long-time leader Noble Mission (the Lady Cecil-trained, Khalid Abdullah-owned full brother to Frankel) on the line to give the rider his 47th G1 victory in a manner reminiscent of his two previous wins in the race – Pride's late pounce to pip Hurricane Run in 2006 and Sarafina's defeat of Cirrus Des Aigles in a blisteringly timed finish in 2011.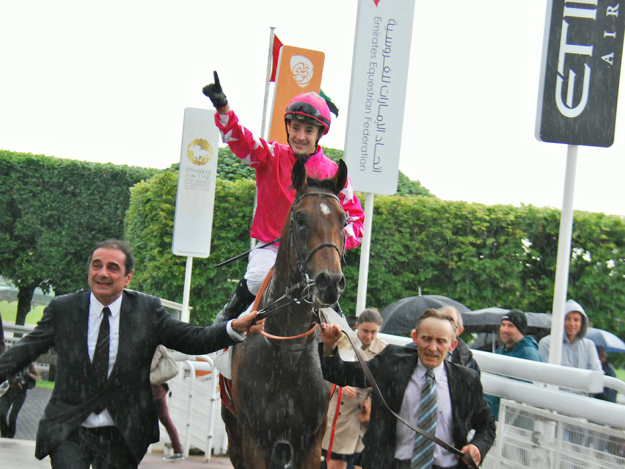 It was a very welcome change of fortune for Lemaire.
"Spending three months last winter in Japan, where all sportsmen are considered as stars, it was tough at first coming back to France for the beginning of this season," Lemaire said. "But, thanks to my agent Helen Barbe, I have been able to obtain regular rides from a variety of different trainers, including Fabrice Chappet, Mathieu Boutin, Madame Urs Suter, Tony Clout, and Pascal Bary.
"At first, when you lose a good job, it's difficult to pick yourself up again as the problem is sometimes in people's minds and, good or no good, you may become unfashionable and start asking yourself questions and perhaps begin to doubt your own ability," he continued. "But now, it's beginning to work out and I am not under any pressure. I can choose my rides and enjoy going on the gallops most mornings to help different trainers."
Lemaire, who is married with two children and is the son of outstanding French jump jockey Patrice Lemaire, certainly bears no ill will toward the Aga Khan.
"It was a fantastic experience and I was proud to wear His Highness's colours for four years," he said. "Even if I am no longer part of the team, I have a good relationship and can still talk to his Highness, having a great respect for him and he for me."
Lemaire's career had originally taken off in 2001 after finishing a three-year stint initially as an apprentice and then as a full professional jockey for a short period with Fabre. By the end of 2001, as a freelance, he had notched 25 winners. That winter he went to ride in India, where he had a successful spell that brought his talents to the attention of Chantilly-based jockeys' agent Helen Barbe.
The flow of winners in France increased, and Barbe and her bloodstock agent husband Patrick, who speaks fluent Japanese and sells racehorses in Japan, arranged for the jockey to spend three months each winter riding there. Lemaire is now very popular in Japan, where he has had consistent success, averaging around 30 winners each year. Last December, he won the G1 Japan Cup Dirt [now called The Champions Cup] at Hanshin on Belshazzar.
Lemaire's journey to the big time really picked up pace with two important rides in the summer of 2003. At Chantilly in July, he won the G1 Prix Jean Prat on Vespone for trainer Nicolas Clement, and two months later, he impressed when riding the Niarchos family's Denebola into third in the G1 Prix Morny. The following year he signed a contract to ride the Niarchos horses in France and rode for trainer Alex Pantall on the Paris tracks.
Lemaire's glorious association with the Niarchos-owned, Pascal Bary-trained Divine Proportions started a real purple patch. In 2004-05, the remarkable filly achieved an incredible nine victories from 10 races, including five at G1 level. Lemaire didn't look back. His five G1 victories in Japan include the 2005 Arima Kinen on Heart's Cry, with whom he also won the 2006 G1 Sheema Classic in Dubai. At the end of 2006, he was on Pride when she carried off the G1 Hong Kong Cup.
There was no stopping him. Back in France, he signed with the powerful Jean-Claude Rouget stable in 2007, though the Niarchos family had first claim on his services. With Rouget, he captured three French Classics in 2009 - winning the Poule d'Essai des Pouliches and Prix de Diane with Elusive Wave and Stacelita, respectively, for American owner Martin Schwartz; and the Prix du Jockey Club on Le Havre for French owner Gerard Augustin-Normand. After he switched from Rouget to the Aga Khan in the autumn of 2009, the Niarchos family still maintained first claim on him until the end of 2010.
Lemaire's 26 G1 wins in France include seven French Classics, but the Arc still eludes him. In England, he has won six G1s, including the 1,000 Guineas in 2008 on Natagora and 2,000 Guineas on Makfi in 2010.
He was most definitely in the right place at the right time in Australia in 2011, stepping in as a late replacement for injured Craig Williams to ride the Delzangles-trained Dunaden to victory in the Melbourne Cup after a ding-dong battle with Red Cadeaux.
Lemaire's CV also includes successes in the U.S. in 2012 on Bayrir in the Secretariat Stakes and Flotilla in the Breeders' Cup Mile.
Lemaire, who now has a contract to ride for Qatar's Sheikh Mohammed bin Al Thani, insists there is no secret to his success as a rider.
"There is no magic formula," he said. "But I have always admired Olivier Peslier and Thierry Jarnet, who have a good rhythm with the horse, riding with hands and heels, not using the whip too much, and I tried to copy them.
"In a way, my style of riding reflects my quiet temperament, helping me to relax during a race and make the right decisions of judging pace and timing a finish. I always give the horse the chance to respond when making an effort, without stressing the animal."
Retiring from the saddle may be a long way off, but Lemaire has already given it some thought.
"I would like to get into promoting the sport in some way, but definitely not training horses," he said. "For the moment, I am concentrating on trying to win as many races as possible this season and, if the opportunity comes along again to ride under contract for a big owner or stable, then that would be a bonus.
"Everything considered, I have been very fortunate. Racing has given me the opportunity to ride some top-class horses, work with a variety of different trainers and owners, travel all round the world, enjoy other cultures, and meet interesting people."