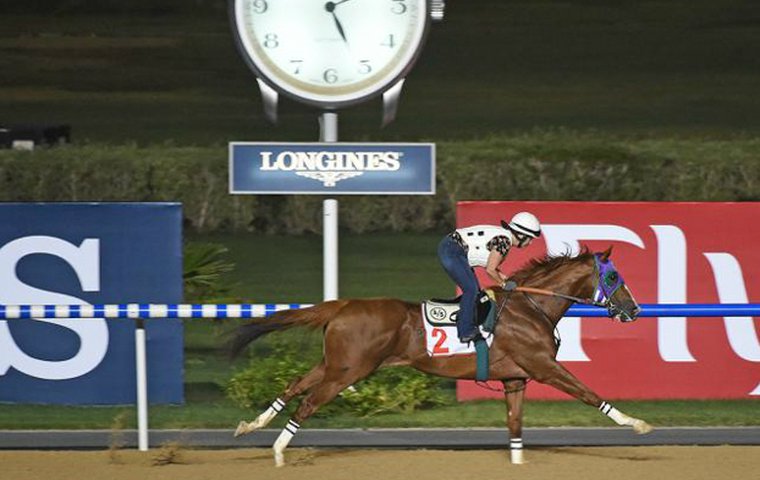 If the wisdom of changing Meydan's racing surface from Tapeta to dirt is to be judged by the fields attracted for Dubai World Cup Day 2015, then "a qualified success" is the honest verdict. Indeed, the World Cup itself looked like being an absolute barnstormer until injuries deprived it of the one-two from the 2014 Breeders' Cup Classic, Bayern and Toast of New York.

As it is, the World Cup has lured the Classic third – not to mention Kentucky Derby and Preakness winner – California Chrome, a Japan Cup winner in Epiphaneia, and the 2014 World Cup winner African Story.
If that's not good enough for you, then you can throw in a Breeders' Cup Sprint winner (Secret Circle), an Irish Champion Stakes winner (The Grey Gatsby), and the one-two from the most recent Breeders' Cup Turf (Main Sequence and Flintshire) in the supporting races.
A dozen different countries will be represented, and the U.S. itself will have a dozen individual horses flying its flag, as well as some association, past or present, with many others.
The Dubai World Cup card may not, despite its phenomenal prize money, rival the Breeders' Cup itself. But that it will be an event of great international importance this year is beyond dispute. And there would be no more popular winner of the $10 million centrepiece than California Chrome.
There were better horses around in 2014 than California Chrome – a few of them, anyway – but none tougher, and almost none more consistent, at the top level than the Art Sherman-trained colt.
He failed in his bid for the Triple Crown, but failed with honour, and came back after the Breeders' Cup to win at Del Mar before losing no caste in defeat at the hands of arguably the best active racehorse in the world in Shared Belief at Santa Anita in February.
One of those horses with claims to being better than California Chrome is Epiphaneia, who took a strong Japan Cup by four lengths from Just A Way and ran better than the result for a long way at Nakayama over Christmas.
The advantage may be with Epiphaneia in that respect, but it is very much with California Chrome in others. Epiphaneia has yet to race on dirt, whereas California Chrome is an old hand on it; Epiphaneia's best effort was at a mile and a half, while California Chrome's best form is at Saturday's distance of about a mile and a quarter; Epiphaneia lacks a run this year, but California Chrome, who has impressed on workouts on the Meydan track, looks to have had the perfect preparation.
Little surprise, perhaps, that California Chrome figures at around 6-to-4 and Epiphaneia at 7-to-1 with British oddsmakers.
Splitting them at around 7-to-2 is the high-class if seemingly fragile Lea, another representing the Stars and Stripes. Lea won three graded races on the trot at Gulfstream (though with a gap of almost a year between the second and third wins) before finding only Constitution too good in the latest Donn Handicap there.
Lea is likely to need another personal best to prevail in Dubai but is another for whom the distance represents a slight question mark.
African Story went down as one of the more easily forgettable winners of the Dubai World Cup 12 months ago, but that won't be the case if he becomes the first horse to double up in the world's richest race. That is possible, but certainly not probable, as odds of around 8-to-1 show.
He has at least shown form approaching his Tapeta best on dirt, beating Prince Bishop by a neck in the Maktoum Challenge Round 3 at course and distance earlier in March. Prince Bishop's best prospects of success seemed to be in getting out of the kickback and picking up the pieces late on, but a draw in stall one may have done him no favours (California Chrome gets stall nine of nine).
The scene does seem to be set for California Chrome to run his race, and running his race may well be enough for this doughty battler to win.
American prospects of winning earlier on the card are less obvious but nonetheless tangible. Like California Chrome in the big one, Main Sequencehas a good preparation for the Dubai Sheema Classic, having shown his trademark turn of foot to land the Mac Diarmida Stakes at Gulfstream Park in February.
He not only has to contend with Flintshire again, but with Harp Star and the high-class Hong Kong runner (but questionable stayer) Designs On Rome. Harp Star seemed to be given too much to do when sixth in the Arc and fifth in the Japan Cup last year, and the booking of Ryan Moore looks a major plus, so much so that she is favourite in the run-up to Saturday.
Main Sequence's days of being a reluctant underachiever while in Britain are a long way behind him now, and he looks a solid proposition to make the first three in the Sheema.
Between them, Salutos Amigos and the aforementioned Secret Circle look solid propositions, also, for close involvement in the finish of the Dubai Golden Shaheen. Salutos Amigos has come up short at the top level previously, but this is not a strong G1: the David Jacobson-trained gelding is ultra-consistent and seems primed for another big effort.
The Todd Pletcher-trained Mshawish is a lively contender for the Dubai Turf – if not as obviously so as the French-trained Solow and the British-trained The Grey Gatsby – but the other American equine raiders look up against it.
The word "Meydan" means "a meeting place, especially one where contests take place" according to one source. It fits the bill for the horses, and it fits the bill for the humans, too.
There are not many occasions in the racing year when it is possible to see jockeys of the brilliance of Ryan Moore, João Moreira, Christophe Soumillon, Joel Rosario, and Victor Espinoza duelling with one another, and with so much at stake. All in all, there is a great deal to look forward to in Dubai this weekend.
---
Simon Rowlands is head of international research and development at Timeform.