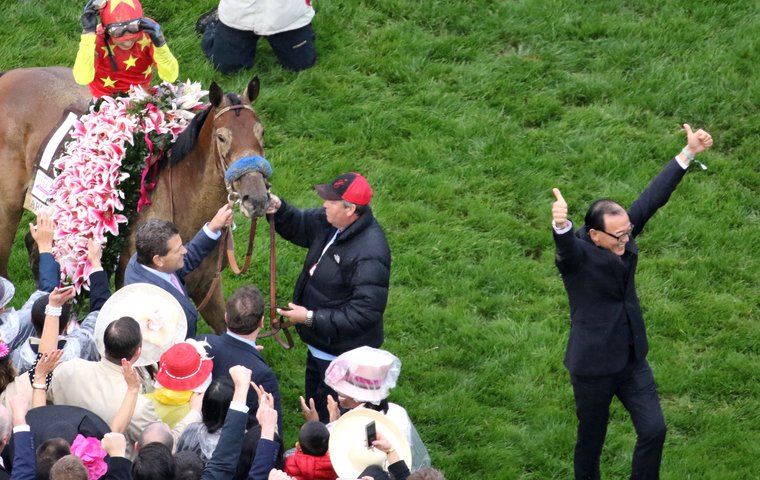 Kentucky Oaks heroine Abel Tasman is one of the main attractions on a superb Belmont Stakes day undercard on Saturday. The filly, who is set to go off favorite for the $700,000 G1 Acorn Stakes, is part-owned by the China Horse Club and is a significant illustration of the Club's effort to grow its influence in the United States, as Paul Haigh reports.

To answer the obvious question first: Abel Tasman is not named after the 17th century Dutch (male) navigator whose resume included the discovery of Tasmania and large sections of New Zealand as well as having the sea between them named in his honour.
The elegant daughter of Quality Road is named after the national park in New Zealand, which also commemorates the great seaman. It was a favourite place of Clearsky Farms founder Eamon Cleary, who made most of his fortune in New Zealand, and his sons who bred her thought she deserved the name. She rewarded them and her new co-owners, the China Horse Club, when she came from last to mow down the Kentucky Oaks field at a mud-spattered Churchill Downs on May 7.
The other thing we need to get out of the way is how she came to Bob Baffert after spending the early part of her career with Simon Callaghan. The fact is that a majority share in her had been sold to the CHC, and the CHC, in common with most owners, like to see their colours carried whenever their horses run.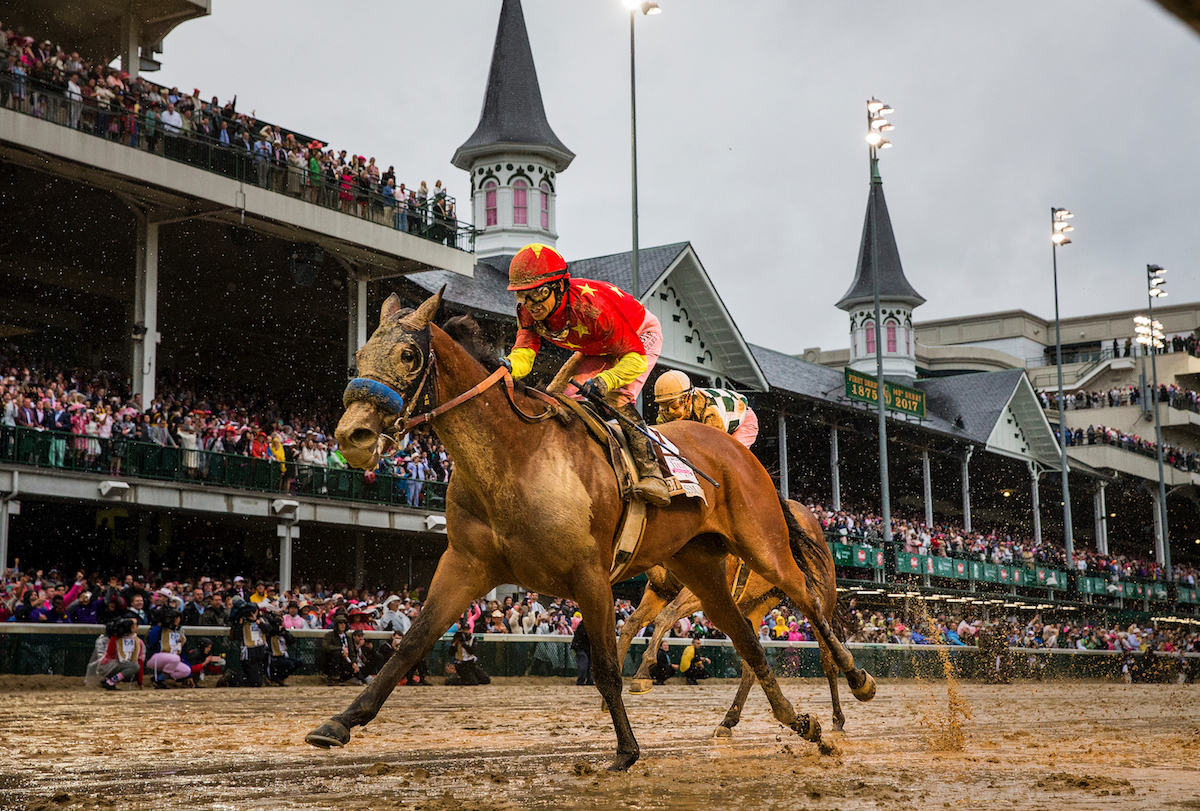 The generally accepted explanation for the transfer is Callaghan's inability to locate a set of CHC silks and his decision to let her run in her previous ones instead. But the probability is that the CHC had already been thinking about adapting the old adage about breeding ('Send the best to the best and hope for the best') to the preparation of their horses, and so to Baffert, world-ranked 2 in the TRC trainers' standings, she went.
The Club (which is itself #11 in the TRC global owners' rankings) has no criticism to make of Callaghan, who they confirm did an excellent job with her.
Baffert: She doesn't need the slop
The Kentucky Oaks was Abel Tasman's second start for Silver Locks Baffert. It was also the first time in the race's 142-year history that owners from the Chinese mainland had owned the winner. It was also the first time the CHC's red and yellow colours had been seen in an American classic.
Whenever a horse wins a big race on the slop, the question invariably arises whether he or she needed the conditions to show improved form. Certainly some of Abel Tasman's rivals, including Paradise Woods, who had beaten her 11¾ lengths on her last outing when the pair met in the Santa Anita Oaks, may have been inconvenienced by what was, meteorologically anyway, the least appetising Derby weekend for years.
You could also suggest, however, that the fact that she was pestered in front had as much to do with the way she folded. At Santa Anita she'd been allowed to lope along at her own pace. But at Santa Anita odds-on favourite Abel Tasman reached her distant second place by overcoming - there's no other word for it - what can only be described as an eccentric ride from Mike Smith: and Baffert is not convinced she needed the adverse conditions at Churchill to turn the tables, or even that she benefited from them.
"You just have to look at her previous form to see she doesn't need the slop," he said.
Strong athlete
The other question people ask whenever a horse has had a hard-fought victory is whether the race may have 'bottomed' her: that she'll never be able to produce that kind of form again.
Bob Baffert thinks that, in this case, there isn't a problem. "I was very impressed with her when she first came to the barn. She looked a strong athlete, and that's what she is. She had a hold-up in her work for about a week before the Kentucky Oaks, but I wasn't at all surprised by the way she performed, and she came out of the race really well. She came from last in that race and it wasn't a straightforward win as she stumbled early and then came wide into the straight.
"Okay, there was a pace meltdown, but she had to run by them and she gutted it out. When you're shipping a horse you never quite know how she's going to react, but she'd been training very well until she had that little time off sick, and then she trained well again.
"I feel she's a filly that's improving. Before the Kentucky Oaks she looked a picture, an absolute picture. We're still learning about her. At the moment, we know she comes well from off the pace, but that doesn't necessarily mean she has to. We feel she's better with blinkers. We're learning. I don't know if the one-turn mile of the Acorn is the best trip for her, but I think she can handle it."
Matter of awe
Baffert confirmed that the Breeders' Cup Distaff is the filly's long-term aim at the moment. "But the fact she's still improving and we're still learning about her means we adapt," he said. "If the improvement continues, then by the fall she could be very good indeed.
"Sure there was a bit of pressure before the Oaks because a lot of the China Horse Club guys were there and we didn't want to disappoint them, but she didn't let us down and she didn't let them down".
This has been a better than average month for the CHC, and the CHC doesn't really do average months. The spending power of the two or three hundred Chinese billionaires it comprises – the exact number is never divulged - is already becoming a matter of awe.
They may have made a rare if slight mistake in investing in California Chrome before his defeats by Arrogate. But the defeats will not have dented Chrome's stud value by much, and now they have Arrogate's trainer, and jockey Mike Smith, on their side with what may be the best 3-year-old filly in America
Added confidence
This was their 15th G1 worldwide in the four years since they burst on the western scene with a shared victory in the Derby at Epsom with Australia. But that was a bit different as the opportunity to buy into Australia was a gesture of confidence by Coolmore. Abel Tasman's purchase came on their own initiative at the recommendation of their bloodstock expert, Michael Wallace.
On the track the impressive exploits of the promising Heart's Cry colt Yoshida, owned with regular partner WinStar and trained by Bill Mott, will have given them added confidence of success in their unconcealed dream of 'conquering' America.
More significantly from a political point of view, back home in China the Shanghai Entrepreneurs Association made an award to CHC chairman and founder Teo Ah Khing, which showed the Club has the backing of China's business community. And, even more significantly than that, came a solidly approving article from the Xinhua News Agency commending Teo and the Club for their aims and achievements in the Thoroughbred industry.
Any Sinologist will recognise that an approving article in Xinhua is actually a statement of approval by Central Government. If anyone still had any doubts about CHC's upward march, they may have involved the nature of its relationship with Beijing. This endorsement, a first for the industry, should have removed those doubts.