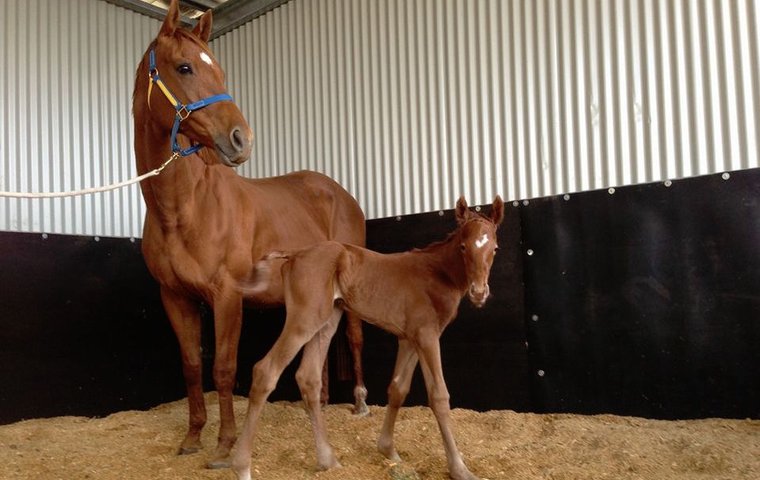 "My mate has a mare for sale, are you interested in another one?" Wicklow Lodge's Jeff Cullen was asked by a friend four years ago. "Not really," was the reply, the Queensland breeder just having spent his budget on his newly acquired farm's three foundation broodmares.

But he was happy to listen, and his ears pricked in response to this description of the mare. "She was Show A Heart's best daughter from his first crop."
"That would be Winaura?"
"How did you know?"
Keeping a close eye on the racetrack is a priority for the astute breeder and Cullen had keenly followed the progress of the debut crop of the four times G1 winner Show A Heart.
A fan of the horse, he had also bred a filly from the flashy chestnut's debut crop but had lost her during the process of a not-so-nice divorce.
He had enjoyed following the Show A Hearts and, when Winaura debuted over 1000m at Eagle Farm in October 2005, Cullen was watching.
Striking a particularly hot 2-year-old race, Winaura was a gallant third to another first starter, Gold Edition, a filly who certainly made her name known in subsequent seasons, winning 13 times at black-type level, including two G1 sprints.
A running family
Franking that form with a dominant Doomben victory at her next start, Winaura was thought highly enough of to travel south to take on Melbourne's best juveniles in the G3 Maribyrnong Plate at Flemington. Sadly, she was below her best, having not had an ideal flight down, but she showed enough dash to lead a smart field, something that stuck in Cullen's mind.
Speed she again showed when winning another three metropolitan races before being retired to stud.
In an era where black-type reigns supreme, good city winning mares can so often be undervalued by the market. But Winaura had five winning siblings and her dam, Miss Bonnie Can, was also a metropolitan winner.
It was a running family, one which just needed a bit of luck to break into the big time.
Which is where Jeff Cullen comes in.
'Just a nice foal'
Breaking his vow not to buy any more mares, he could not resist Winaura. He went to visit her, made an offer and took her home. She was not in foal at the time, so he was able to get her an early cover.
Written Tycoon, currently world ranked 45 in the TRC global sires' standings, happened to be in Queensland that year and, as a proven sire of fast, tough horses, he had plenty of appeal for Cullen, whose aim has always been to breed horses who not only sell well through the ring but can compete on the track.
On August 29, 2013, Winaura foaled a neat chestnut colt - just that, no superlatives used to describe him. "He was just a nice foal," Cullen recalled, "not one who you would call outstanding."
Cullen followed the Wicklow Lodge tradition of naming foals with the same first letters as their dams. Winaura is Emma, her son was christened Eddie. And such an impression did he make as he grew that he became more fondly known as Fast Eddie.
Taking the handsome chestnut to the 2015 Gold Coast March Magic Millions Yearling Sale, Cullen had high hopes of hopefully fetching six figures.
The one who caught the eye
"I thought he was an A$80,000, maybe a $100,000 colt," he said, admitting he was on the disappointed side when A$67,500 was the winning bid.
However, importantly for Winaura's future, her son was in good hands - those of Bjorn Baker, who had arrived at Warwick Farm from New Zealand just a few years previously.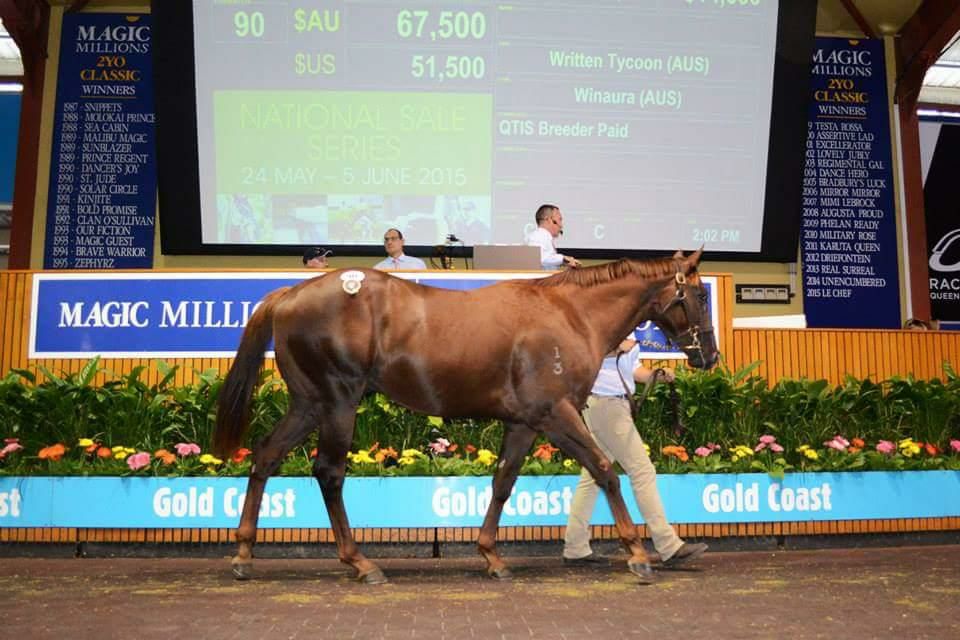 Barry Bowditch, the Magic Millions Bloodstock Manager, had visited Cullen's Wicklow Lodge before the sales to have a look at a Love Conquers All filly out of Cullen's multiple city winning Beautiful Crown mare Believe 'N Achieve.
But it was not she who really caught his eye, rather the colt, the son of Winaura, in the next paddock.
Fast forward to the sales, with Cullen getting daily reports as to who was inspecting the colt. Barry Bowditch's name was there. Several times.
And, on behalf of Bjorn Baker, the chestnut was purchased. And his trainer knew pretty early that the horse, given the rather memorable name of Winning Rupert, was above average. He had trialled well before making his Sunshine Coast debut in late April last year.
Non-existent challengers
It was not the ideal run in transit for a horse having his first start, Winning Rupert doing a bit of work out wide from a tricky gate. But this was no ordinary horse and he saluted by a soft 3/4 length, racing somewhat greenly.
The G2 Champagne Classic was next for Winning Rupert, and again he was too good - this time by a narrow margin, but this was a young horse still learning his craft.
Given a decent spell, Winning Rupert thrived during the break and on his return at Eagle Farm on December 3 was an odds-on favourite in a 1200m 3-year-old contest.
At the 400m, he was two lengths in front and, soon after, five - with jockey Jeff Lloyd looking over his shoulder for the non-existent challengers. The winning margin 5 3/4 lengths.
An even shorter priced favourite stepping up to stakes company for the first time, Winning Rupert gave his rivals windburn in the listed Gold Edition Stakes.
Lots of publicity
It was 5 1/2 lengths this time - in 1.07.97 seconds. Compare that to the Doomben 1200m record of 1.07.99 held by the globetrotting star Takeover Target. Or to Black Caviar's 1.08.85.
Winning Rupert closed out 2016 with an easy win in the G3 Vo Rogue Plate at Eagle Farm, and he is odds-on favourite for his main aim for this preparation, the A$2 million Magic Millions Guineas, a highlight on the world's richest sales-based incentive raceday at the Gold Coast on January 14.
Jeff Cullen doesn't think he will go to watch. "I don't want to be the one to put a mozz on him," he laughed, though he was delighted to visit Winning Rupert at the stables recently, proudly posing for a photo with the rising star.
"He's a bloody beauty," he enthused, adding that he has been amused by the amount of publicity generated, Cullen undertaking radio and newspaper interviews - "it's amazing what one horse can do."
Cullen does not have the typical racehorse breeder background story. There was no racing blood running through his veins. It took the involvement in pony club of his sisters to spark his equine interest. One day, a horse owned by a friend of his sisters was stolen from the pony club grounds, prompting his parents to buy their own property near Cranbourne, Victoria.
From thereon, there were horses and horse people around; the Cullen family enjoying the picnic racing circuit with Cullen's friends Rod and Michael Kent kicking home winners.
Learn quickly to survive
The idea of being a jockey appealed to Cullen and, being just 4ft 8 and 43kg when he left school, it seemed a viable option.
Apprenticed to Ken Newman, trainer of 1990s Australian star Hareeba, Cullen never made it to the track, within just 12 months being too heavy to ride. But he got aboard some nice horses in track work and learned plenty working for the likes of Jack McGreal.
As an avid rugby league fan, Cullen's father was keen to move to Queensland on retirement and that is where the family headed. The shift was nicely timed, coinciding with the opening of a new race track at Caloundra.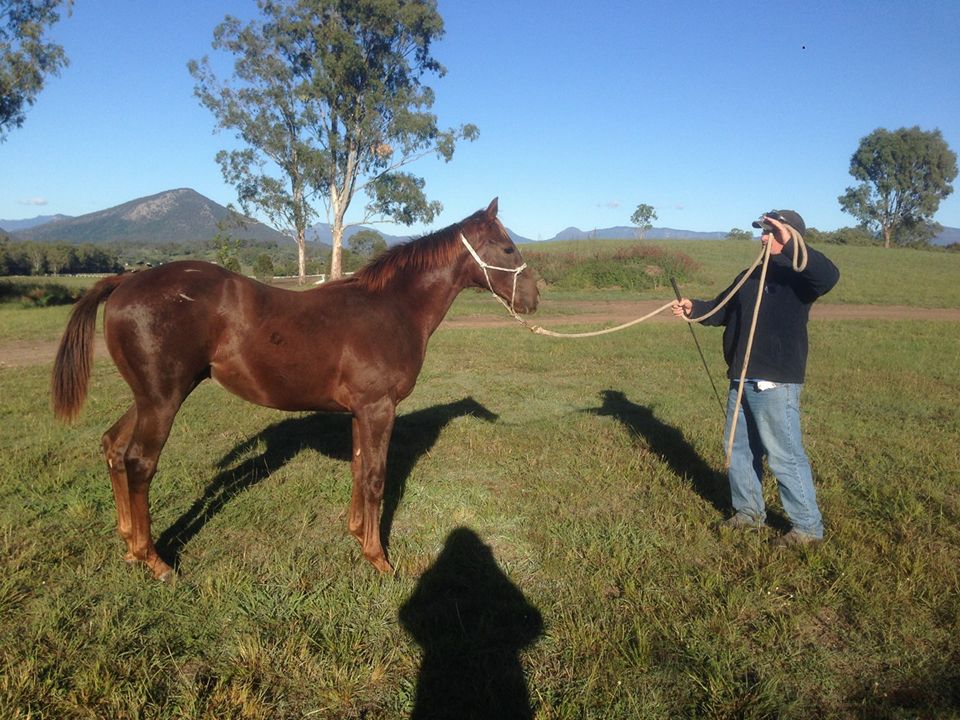 And so Cullen continued to ride track work, progressing to picnic riding, a circuit that was, well, rather rough and ready.
"I remember riding at a course where the running rail was made of packing tape," he laughed. "It was all pretty raw, and I realised that I had to learn pretty quickly how to race ride to survive."
A bit stouter these days, Cullen is always amused when his partner, Tracy, takes great delight it telling incredulous friends that he used to be a jockey.
Bonding with foals
Tracy is a good fit for Cullen, sharing his love of horses and being around them. Horses respond well to her, the well related Hearts And Arrows a particular friend who just loves a scratch and a pat.
This one-on-one time with horses is something that Cullen values. He is a firm believer in bonding with foals right from birth.
"In that first 24 hours, we go right over them," he said, adding that further time is spent with them as they grow. "We have found that the horse you make in that first few months is the one you end up with in the years to come."
Cullen counts himself lucky to have spent time with some terrific horses, with Wicklow Lodge having the capacity to house 50 spellers. At different times he has had G1 winners Dissident, Solzhenitsyn, Buffering, Mid Summer Music and Politeness - as well as the Magic Millions winner Karuta Queen - in his paddocks.
And he has learned much from them, noting that good horses "just have something about them".
Horse of the year Dissident is a favourite. "You only had to look at him to know that he was quality," he said.
He also sees that special something in a colt born at Wicklow Lodge on September 12. A Sizzling half-brother to Winning Rupert, a foal who Cullen thinks is a better, stronger type.
"He has a hand on Winning Rupert at the same age, he is just an outstanding foal. We've had Magic Millions reps out here and they've told me he is a horse who will just sell himself."
With Winaura back in foal to Written Tycoon, Cullen has plenty to look forward to. There has even been talk of Royal Ascot for Winning Rupert.
"I might go," he said, "but I'm not sure what I'd look like in a top hat!"