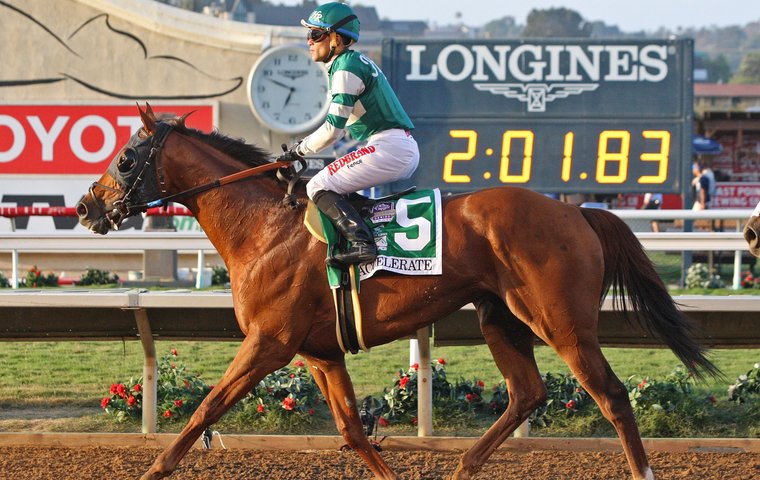 Accelerate has already beaten Justify once this week - he was named 2018's third best horse (two pounds behind joint top-rated Winx and Cracksman) at the Longines World's Best Racehorse awards in London yesterday (the Triple Crown winner was three pounds back in joint eighth). Whether he finishes ahead of him again - in the race for the Horse of the Year title at the Eclipse Awards tonight - and then goes on to take the richest race in North America on Saturday, his story is already one that has his connections bursting with pride, as Bob Ehalt found out.

There are times when it can take years, or even decades, for history to formulate its view of someone.
Yet for a newly turned 6-year-old horse named Accelerate, what happens over the next 48 hours at Gulfstream Park will forever shape his legacy among the top Thoroughbreds of this era.
Everything will be known by the time Snoop Dogg begins his post-race concert at the Pegasus World Cup on Saturday evening. By then, Accelerate could be Horse of the Year and/or winner of the third edition of the $9 million Pegasus. Or he could be none of the above, explaining all of the emotions and intrigue rolled into the next few days when trainer John Sadler's chestnut son of the world's 15th-ranked sire Lookin At Lucky will take center stage for the final time in a career that can have a few distinctly different endings.
Deserved acclaim
"Accelerate deserves the acclaim. He's competed all year and carried the extra weight and won at a mile and a quarter several times," said Kosta Hronis, who along with his brother, Pete, owns and races Accelerate through Hronis Racing (ranked 17 in the TRC Global Owners' Rankings). "He's done everything he can and everything we've asked of him. We're super proud of him."
That pride comes from a spectacular 2018, when Accelerate won five Grade 1s, capped by an impressive one-length victory over Pegasus rival Gunnevera in the $6 million Breeders' Cup Classic. Yet where he rates alongside such recent greats as California Chrome, Arrogate, Gun Runner, and even Triple Crown winners Justify and American Pharoah will be determined first by what happens tonight at the Eclipse Awards and then Saturday afternoon when he battles top-flight competition in the mile-and- an-eighth Pegasus.
Accelerate, with six wins and a second in seven 2018 starts, is a cinch to be named the champion older male at the Eclipse Awards dinner. Whether he can beat Justify and emerge as the Horse of the Year is shrouded with considerably more doubt.
The four Triple Crown winners in the Eclipse Award era (Secretariat, Seattle Slew, Affirmed and American Pharoah) were all named Horse of the Year at three. Though Justify's undefeated, 6-for-6 career for trainer Bob Baffert came to end after the Belmont Stakes on June 9, the chances are quite good that he will, rather fittingly, maintain that perfect mark in Horse of the Year voting for the heroes of the spring classics.
"We can't complain about Horse of the Year," Hronis said. "Justify created a lot of excitement by winning the Triple Crown. Our sport tends to really promote the Triple Crown, so he probably brought more fans and money into the fold and I'll look at that as a positive. I have to look at this with a broad view because I've got a lot of horses and I'm in it for the long haul. Whatever is good for the sport is what I want to focus on and support.
"I think Accelerate has earned people's respect. It will be a long time before another horse wins all four of those California Grade 1 races like Accelerate did. I don't believe anyone can cast a wrong ballot if they vote for either horse. The Triple Crown speaks for itself and so does breaking the Curse of Apollo, and if you want to reward a 5-year-old who stayed on the racetrack and did what Accelerate did, that's fine, too. He hasn't avoided anyone. We ran in every race we pointed to. If people want to talk about the competition he faced, I understand, but I can't make the competition any better. We faced whomever was there to run against us."
While both Accelerate and Justify had spectacular 2018 campaigns, Accelerate was the antithesis of his younger rival. Justify was nothing but brilliant in his six career starts, but his star flamed for only a short period. His entire career lasted less than four months.
Accelerate, meanwhile, was a sterling example of the virtues and good things that can come when quality horses who miss the grind of the Triple Crown are kept in training past their 3-year-old season and are allowed to develop and mature.
Yes, folks, there is indeed both life and glory beyond the Triple Crown.
The big picture
"Solid horsemanship practices allow you to have horses that run at four, five and six," said Sadler (world-ranked 23). "The standard when I started training was to have your horses run well for a long period of time, so that was always my goal, to look at the big picture. When you have a good horse, you want him to run well for as long as possible."
Unraced at two, Accelerate's career began for Hronis Racing and Sadler on April 17, 2016, at Los Alamitos in a rather renowned maiden race that will be discussed in more detail later. By year's end, he was a G2 winner and finished third in the Breeders' Cup Dirt Mile.
His 4-year-old season in 2017 featured a lopsided win in the G2 San Diego at Del Mar over a rather well-known rival who will be discussed later, but he concluded the year with a ninth-place finish in the BC Dirt Mile at Del Mar and a mark of just one win in eight starts.
Kosta Hronis said he received offers from overseas farms to breed Accelerate, but he resisted the temptation and decided to give him one more year of racing to reach his full potential.
"We always complain about horses leaving too soon. [In 2017], I got some offers to make Accelerate a stallion out of the country and I didn't take them. I thought he still looked good on the racetrack and we kept going," said Hronis, whose stable was the leading owner at Del Mar in four of the last six years.
"He had always competed really strongly for us. [The 2017] Breeders' Cup was not great but we discovered a little foot issue after the race. We expected big things from him in 2018 and he seemed to get better with every race."
Stroke of brilliance
Keeping Accelerate in training proved to be a stroke of brilliance.
Accelerate at five was a completely different horse. He began the year with a handy victory in the G2 San Pasqual, which put him on his toes for the famed Santa Anita Handicap, a.k.a. the Big 'Cap. In that mile-and-a-quarter G1 classic, Accelerate came of age and posted a decisive 5½-length victory.
"When he won the Big 'Cap so impressively I thought it would be a big year for him," Sadler said. "At four, we weren't sure if he wanted a mile and a quarter, but when he so physically matured at five, we saw how good he was going to be. I'm based in California and the Big Cap was one of the races I've always wanted to win."
Accelerate then shipped east to Arkansas, racing outside California for the first time in his career, and wound up a neck shy of Pegasus World Cup rival and 2018 BC Dirt Mile winner City Of Light in the G2 Oaklawn Handicap.
Back in California, Accelerate posted a second G1 win at ten furlongs by cruising to a 4¼-length score in The Gold Cup at Santa Anita and then turned in a monstrous performance in the G1 Pacific Classic at Del Mar, winning by a lopsided 12½ lengths as 2/5 favorite.
With an eye towards the BC Classic at Churchill Downs, Accelerate registered a modest 2¼-length victory over Dubai World Cup and Pegasus World Cup runner-up West Coast in the G1 Awesome Again at Santa Anita as a 3/10 favorite.
His dominance in California undisputed, Accelerate then headed east again for the Breeders' Cup and an incredibly important test for both horse and trainer. While Accelerate needed a victory to keep his Horse of the Year hopes afloat, for Sadler the 2018 Breeders' Cup hovered over him like a Sword of Damocles. It seemed a golden chance to end the ugliest statistic tied to a career that currently features 2,435 wins and earnings of more than $117 million.
In the fifth race of the Nov. 3 World Championships card at Churchill Downs, Sadler sent out the 4/5 favorite in the BC Dirt Mile, Hronis Racing's Catalina Cruiser. Yet that undefeated 5-year-old finished a badly beaten sixth behind City Of Light.
By the time the BC Classic rolled around, Sadler was an improbable 0-for-44 in the Breeders' Cup as Accelerate stepped into the starting gate, numbers and a turn of events that no doubt explained why Accelerate was 'only' a 5/2 favorite when he seemed to tower over his 13 rivals on paper.
But just like the 136-year-old Curse of Apollo that Justify snapped by winning the Kentucky Derby without a race at two, Sadler's jinx bit the dust in 2018. Accelerate proved best by making a wide move for the lead on the turn under jockey Joel Rosario and posting a one-length victory over 30/1 shot Gunnevera that assured him of at least one Eclipse Award.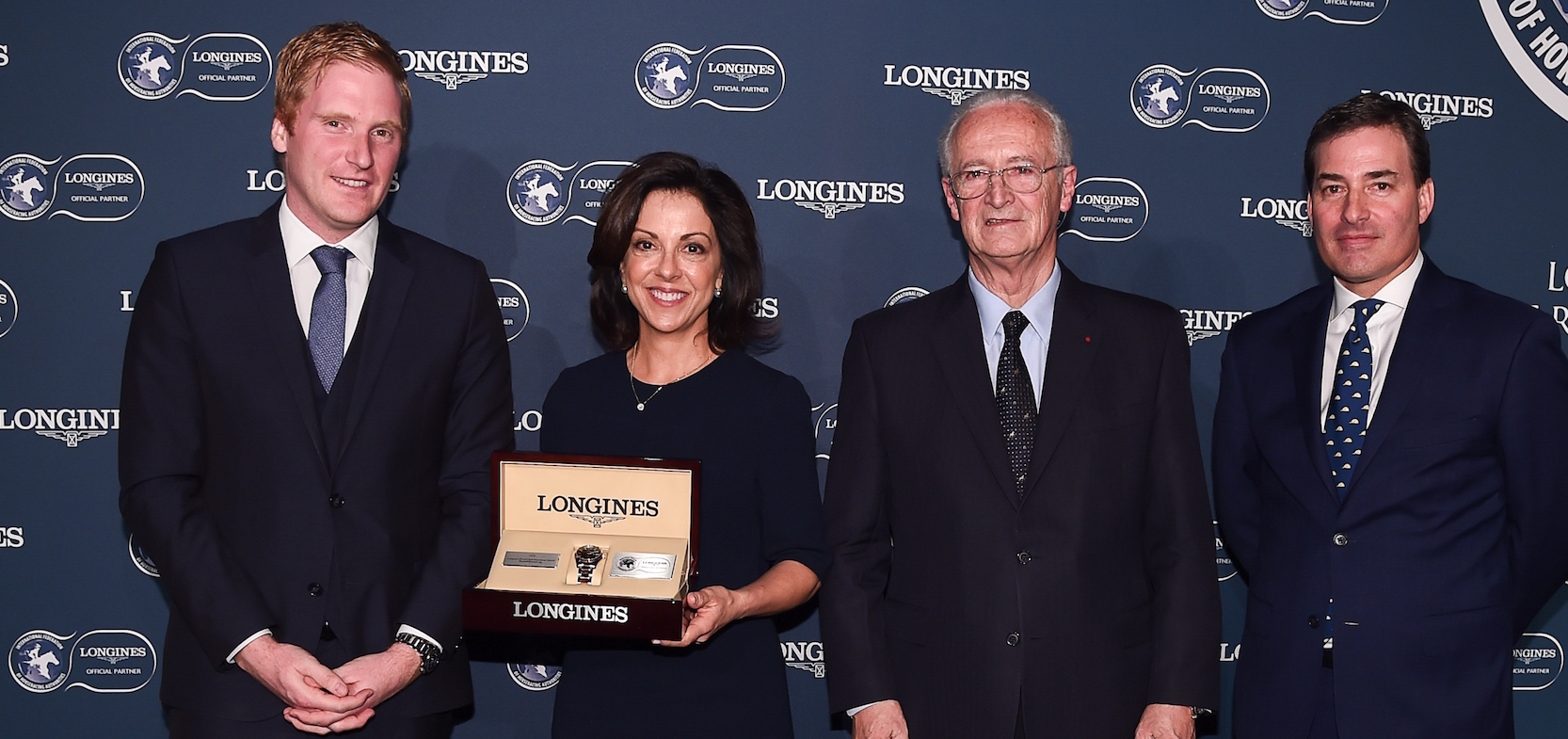 "Accelerate has meant a lot to me. I've been a 30-year veteran and we hadn't won a Breeders' Cup race until last year and he didn't just win any Breeders' Cup race, he won the Breeders' Cup Classic," Sadler said. "It was tremendous for the barn, all the help and the clients who support me. It was a ten, and the Breeders' Cup is the one stamped on my brain. I've enjoyed it every single day since then and think back about it when something reminds me of it. I carry it with me all the time."
For Hronis, much to his surprise, the BC Classic managed to top the Pacific Classic in terms of awe woven into euphoria.
"I always thought the Pacific Classic was going to be THE win of the year, the way he handled the track that day and won by more than 12 lengths, but no doubt THE win was the Breeders' Cup Classic," Hronis said. "I always described the Breeders' Cup as the World Series inside of the Super Bowl. It's our greatest day of racing and he won the great race of the day. It was remarkable and so wonderful.
"It was so satisfying to win the BC the way he did and now I am looking forward to the Pegasus, but it's the same thing as the Breeders' Cup. I keep hearing about everyone else."
Sweet memories
Those sweet memories have accompanied Sadler and Hronis to Florida, where they will send out Accelerate for the final time. Win, lose or draw in the Pegasus – and the Horse of the Year balloting – Accelerate will begin life as stallion at Lane's End Farm next month, leaving behind far more pride than regret.
"There's no sadness. I'm proud of his racing career and I'm glad he can move on to his next career. The fact he's still very healthy and is still a very good racehorse makes me happy to know he's walking away from the racetrack healthy," said Hronis, who raced the multiple G1-winning filly Stellar Wind with Sadler. "He had a great career, but he's a 6-year-old and it's time now for him to look forward to his life as a stallion.
"Last year was beyond what we ever dreamed of. For him to do what he did, and compete the way he competed while carrying extra weight at a mile-and-a-quarter distance was a great tribute to him and the way he maintained his form. He was happy and healthy. John kept him in such great shape."
Suitable starting spot
In a Pegasus field that includes City Of Light and Gunnevera, along with Cigar Mile winner Patternrecognition and Audible, who was third in the Kentucky Derby, Accelerate was pegged as the 9/5 morning-line favorite, a lower price than his final odds in the BC Classic.
He drew post five, a suitable starting spot in a nine-furlong test that can be treacherous for horses breaking from the outside posts, and Sadler is as confident as ever in the horse who ended all of those questions about his "o-fer" in the Breeders' Cup and owns a career record of ten wins from 22 starts with earnings of more than $5.7 million.
"We have good spacing. I've always felt I could get him ready to run a good race with the right amount of time, and there's a nice gap between the Breeders' Cup and the Pegasus," Sadler said. "He's been training up a storm."
Even if Horse of the Year honors elude Accelerate, Sadler knows the Pegasus could add even more of a glow to his horse's legacy. A victory would basically give him a 12-month period from February through January with seven wins in eight starts and six victories in G1s, five of them coming in his last five starts.
'We would have loved to run against Justify'
That streak of five straight G1 wins to close out his career would match 2018 Pegasus winner Gun Runner's feat during his Horse of the Year season. Yes, his Horse of the Year season. Timing is indeed everything in life.
"I think Accelerate will be remembered very, very well as an Eclipse champion. When you look at what he accomplished, at the Grade 1 races he's won, history will be good to him no matter what," Sadler said. "If he's not Horse of the Year, finishing second to an undefeated Triple Crown winner will not hurt his legacy.
"We would have loved to run against Justify, but it was not to be. We have no regrets. Justify is the favorite [for Horse of the Year], but there's no polling. We'll find out when we find out. It's two really good choices. I won't be upset how it turns out. I think each horse lifts up the other."
As much Justify and Accelerate never faced off, Sadler's colt did take on the other two great American colts of the last two years.
Early clashes with two other future champions
He was just a neck behind Gun Runner in third in the 2016 BC Dirt Mile as both horses finished behind the victorious Tamarkuz.
He also pulled off a shocker in beating Arrogate in the 2017 San Diego, when one of the brightest stars in Baffert's recent string of champions suffered his first loss after consecutive G1 wins in the Travers, Breeders' Cup Classic, inaugural Pegasus and Dubai World Cup elevated him to Hall of Fame material.
Yet that wasn't Accelerate's only victory over Arrogate.
Remember Accelerate's career debut?
When he finished second by a half-length to someone named Westbrook, he also crossed the wire a neck ahead of another first-time starter named Arrogate. Yes, Arrogate. Think about it. Two future Breeders' Cup Classic winners and Eclipse Award recipients debuting in the same maiden race, at Los Alamitos in April of their 3-year-old season, no less, and neither of them could win it?
Though there's no official record, a single maiden race producing two first-time starters who would go to earn more than $22 million combined would have to be a record.
Think about it. What are the odds of happening?
"Someone would have given you 10,000-to-1 that two champions would come out of that race. It shows you the greatness of horse racing. You don't know what's going to happen," said Sadler, whose BC Classic winner finished behind Arrogate in the 2017 Pacific Classic.
"I often look back and chuckle at that. Los Alamitos is our in-between meet and you would never think two horses who turned out to be as great as them would start in the same maiden race there. Horse racing has a lot of stories and that's one I get a real kick out of."
So, after beating Arrogate in his debut, Accelerate will try to close out his career by beating a Triple Crown winner in a beauty contest and then winning a $9 million race.
Doing both might be asking a bit much of any horse, but if Accelerate can add even one of those laurels to his resume in the next few days, it would figure that even a harsh critic such as history will have some rather nice things to say about him.