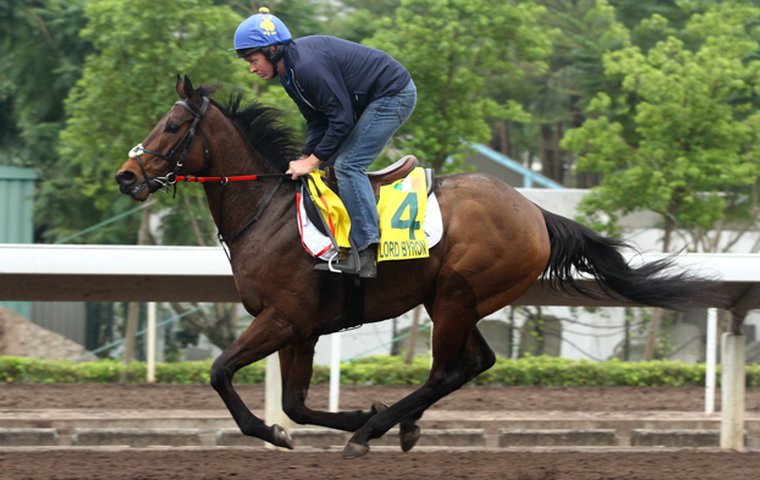 June 10, 2020, update: This story is about the remarkable Irish sprinter Gordon Lord Byron, who died at the age of 12 on Tuesday (June 9, 2020) after collapsing during routine work. He won 16 races, including three G1s, three G2s and a G3, and more than €2 million in prize money over a 108-race career. This article was written nearly six years ago, when the horse, already being described as a veteran, and already with an astonishing backstory, was about to run in the Hong Kong Sprint in December, 2014 (he finished fourth).

So where do you start and where do you end with the Gordon Lord Byron story?
Start at the start anyway, start in November 2008, when Irish trainer Tom Hogan's secretary Jessica Cahalan took a day off work, went to the foal sale at Goffs with €1,700 in her pocket and a pinhooking project in her eyes and picked the little Byron foal up for €2,000.
"She had to put the extra bit on her credit card," Hogan said.
The pinhooking thing did not work out for Jessica. We were deep into recessionary Ireland at the time, just after the Celtic Tiger had roared its final roar and returned to the Asian grasslands from whence it had come, tail between its legs. Thoroughbred foals were plentiful, and funds and people to buy them were scarce.
Her horse failed to sell as a yearling, so Jessica got him broken and riding with the intention of selling him at the breeze-up sales at Goresbridge. Alas, he wasn't accepted into the sale. As a last resort, she put him in training with her boss.
"Of course, that was back in the days when we thought we could afford a secretary," Hogan said.
Hogan loved Gordon Lord Byron from the moment he saw him. One gallop was all he needed to convince him that he could have happened upon a good one. He knew what he was looking at too. Steeped in horses, it was from Hogan's current base just outside Nenagh in County Tipperary, Ireland, that his father bred Glencarrig Lady, who won the Cheltenham Gold Cup in 1972, and Rose Ravine, who won the Stayers' Hurdle at the 1985 Cheltenham Festival.
Too much potential
Hogan himself had trained some good horses before, such as 2008 County Hurdle winner Silver Jaro, and Common World, who won the G3 Grosser Preis der West LB at Dusseldorf in 2005 and the G3 Gladness Stakes at the Curragh a year later. That said, Gordon Lord Byron always had the potential to go even higher.
The story continued on an innocuous Monday evening at Roscommon in July 2010, when the youngster made his racecourse debut. They fancied him, they had a few quid on him at 20-to-1, and they travelled to Roscommon filled with optimism. Racing in the colours of Jessica's father, Morgan Cahalan, however, the young horse jumped awkwardly from the stalls. He was wrong from just about the moment that he started racing, and jockey Ben Curtis pulled him up before they had gone a furlong.
The story could have ended right there at Roscommon Racecourse on that Irish summer's evening, but it didn't. Hogan saw too much potential in the horse to allow him slip away without a fight. A fractured pelvis was the diagnosis, so the trainer took his horse home, put tyres on the floor in his box so that he couldn't lie down, and gave him all the care, attention, and time that he needed for the bones to mend and for the horse to get back to a place from where he could set about fulfilling his immense potential.
The trainer's patience was rewarded. Gordon Lord Byron got back to the racetrack a year later and won twice on the all-weather at Dundalk in the autumn. The following year, he won twice in the early part of the season in Ireland, then went to York and won a Listed race, and, into the big league now, he went to Haydock and finished second in the G1 Sprint Cup.
A potential G1 horse on their hands for sure, the Prix de la Foret at Longchamp on Arc weekend was the obvious next step. It was the perfect race for the horse, a fast-run seven furlongs, but they didn't have the money to put him into it. The horse had not been entered in the race, he hadn't done enough by the time the entries closed to justify an entry, and the supplementary entry fee was €25,000. Tom Hogan didn't have it, Morgan Cahalan didn't have it, and the prize money from the Sprint Cup had not yet hit their accounts.
So Hogan went to the Goffs Orby sale on the hunt for a sponsor. The sale started on Tuesday, with the deadline for supplementary entries for the Foret looming on Thursday. The trainer approached just about every international owner at Goffs he knew and, eventually, he found a willing partner in Adolf Schneider. The Swiss owner put up the entry fee, Gordon Lord Byron went to Paris and, sent off the 5-to-2 favourite and racing in Schneider's colours, he duly landed the prize and more than €170,000 in prize money.
If the story had ended there, it would have been a good story – small trainer happens upon horse nobody wanted, nurses him back to health, wins G1 – but it didn't. Hogan brought his horse back to Haydock in September 2013 and won the Sprint Cup, then went back to Longchamp and finished second to Moonlight Cloud in the Foret.
At the start of this season, the trainer brought his horse to Australia, just about as far away from Nenagh on the globe as you can possibly go without going around the other side, and won the G1 George Ryder Stakes at Rosehill. In so doing, he became just the second Irish trainer (of three) to send out a winner in Australia. He is in good company too, with Dermot Weld responsible for a brace of Melbourne Cup winners, Vintage Crop and Media Puzzle, and Aidan O'Brien sending Adelaide to Moonee Valley six weeks ago to win the Cox Plate.
This autumn, Gordon Lord Byron finished second again in the Sprint Cup and second again in the Foret, before going to Ascot and winning the G2 British Champion Sprint Stakes under an excellent ride from Wayne Lordan. Just when you think this story is nearing an ending, you turn the page and find another chapter.
Gordon Lord Byron has taken his trainer and owners Morgan Cahalan and Dr. Cyrus Poonawalla to the international races at Hong Kong for each of the last two seasons. In 2012, he finished fourth in the Mile, beaten two and a quarter lengths. In 2013, he again finished fourth in the Mile, beaten two lengths. This year, this Sunday, he is set to join compatriot Sole Power in the Sprint. Six furlongs could suit him better than a mile. Victory would give him his fourth G1.
On Monday in Dublin, at the annual Horse Racing Ireland awards, Tom Hogan's exploits with Gordon Lord Byron this season were rewarded with the coveted Outstanding Achievement award for 2014. The award was well deserved but, interestingly, 2014 is not over yet.
The story continues.