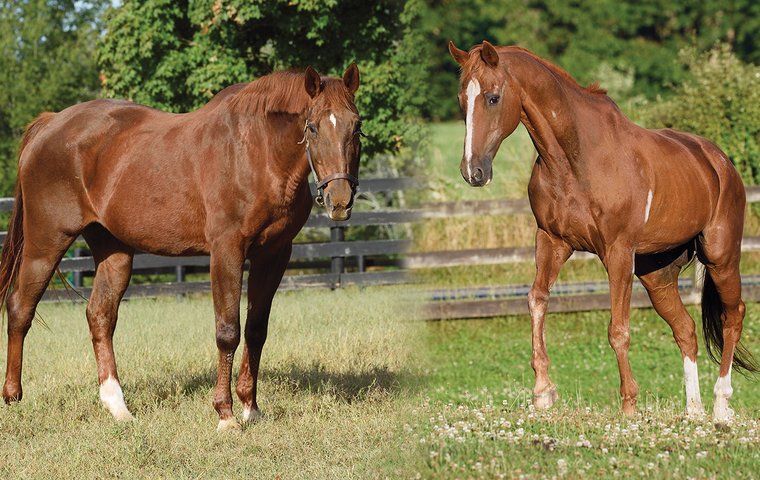 A new 2020 calendar features the last living sons and daughters of 1973 Triple Crown winner Secretariat. It is the third in a series of fund-raising calendars celebrating Secretariat's legacy through his remaining offspring. The proceeds will benefit equine industry groups.

"I am very grateful for the support of the industry and of the racing fans – especially Secretariat fans – who have embraced these calendars," said writer-photographer Patricia McQueen, who created the calendar series as part of her research work on Secretariat as a sire. "The first two calendars have raised more than $11,000 for the designated charities, funds sorely needed to provide homes and special care for horses in need."
On the cover of the new calendar are the two oldest known living offspring of Secretariat, the mare Ball Chairman and the gelding Border Run; both are 31 this year.
Ball Chairman is the dam of G1 winner and sire Perfect Soul, while Border Run is a full brother to Terlingua and Pancho Villa. Also included are 29-year-old Secret Of The Sea, one of the final Secretariat foals born in the spring of 1990, and 30-year-old Trusted Company, who surfaced late last year and is a newcomer to this calendar series.
With so few known sons and daughters left, the Living Legends Class of 2020 also includes six grandsons notable in some way to Secretariat fans. Two are true living legends themselves – 30-year-old Horse of the Year and sire phenomenon A.P. Indy, and 27-year-old Istabraq, a legend over the hurdles in the UK and his native Ireland.
The others are Holy Roman Emperor, the best of Secretariat's later grandsons as both a racehorse and as a sire, and two of the last three runners out of Secretariat mares – Tobias, who has raced in 2019, and Brigantes, who retired after his last race in 2017. Along with Brigantes is his half-brother, High Action, a G2-winning steeplechaser.
There is one more very special horse featured – Secretariat himself. Thanks to the generosity of the Tony Leonard Collection, a photo of the Triple Crown winner by the late, great photographer appears in the 2020 calendar.
All profits from the sale of the calendar are allocated to two worthy organizations, each of which has been a caretaker of at least one of the last known Secretariats. They are Bright Futures Farm, an equine rescue and sanctuary accredited by the Thoroughbred Aftercare Alliance, and Victory Alliance Ranch, an equine rescue and sanctuary supporting veterans and special needs children.
The calendars are available for $25 each here. Free shipping within the U.S. is included. Media contact: Patricia McQueen, (508) 788-1367.