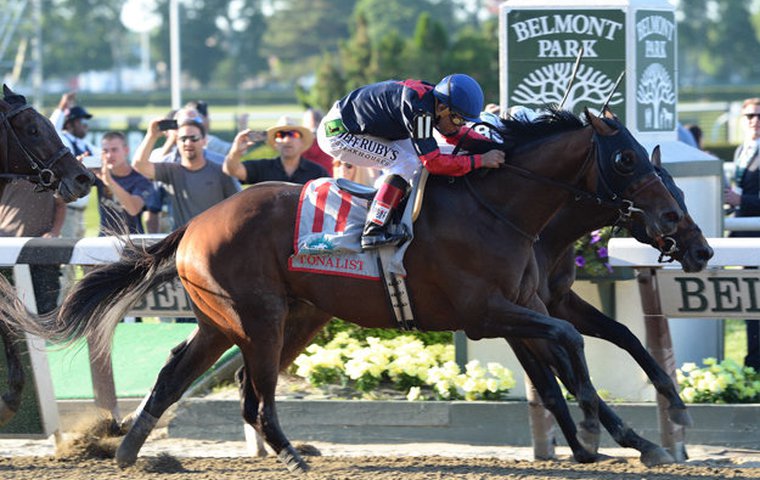 A few months ago, we set out to write year-end stories that attempted to address the year that was in Europe, the United States, and Australia. We didn't aim for a uniform approach to this project -- the goal was to comment on and find themes among the stories that shaped the year without attempting to recap every single event that might be considered notable. In the end, all three TRC editors (Ashley Herriman in the U.S., Chris Smith in Europe, and Jessica Owers in Australia) approached the project in different ways, but as we think about the new year, this exercise has helped us reconcile the one drawing to a close.

Read 2014: The year that was in Australian racing

So many things that happened in North American racing in 2014 could be marked as events that defined the year: California Chrome not winning the Triple Crown; the infamous People for the Ethical Treatment of Animals (PETA) video; the tragic deaths of exercise riders Mourad Boudraa and Juan Vazquez, and apprentice jockey Juan Saez as a result of on-track accidents; the closure of Suffolk Downs; the Breeders' Cup Classic start controversy; the emotional retirements of Tom Durkin and Rosie Napravnik. That's an incomplete list, but single events so rarely tell the whole story or define the whole year. Perhaps 2014 will instead be remembered as…
...The year that racing got smaller?
This year saw the closure of Suffolk Downs, effectively closing the book on live Thoroughbred racing in New England. It was the first year without California's Hollywood Park, and Fairplex Park's racing dates were reassigned to Los Alamitos, ending a 71-year tradition of live racing at the Pomona track. A creative solution finally ended the stalemate in South Florida that pitted Calder Race Course in direct competition with Gulfstream Park - now Gulfstream's parent, The Stronach Group, operates racing at both facilities (with Calder rechristened Gulfstream Park West). In Ohio, there was shuffling - Beulah Park shuttered, but was supplanted by what Penn National Gaming officials must hope will be a leaner, meaner facility - with Video Lottery Terminal (VLT) gaming - in Mahoning Valley Race Course. Elsewhere in the state, River Downs was refurbished and rebranded as Belterra Park - and VLTs were added there, too. Consolidation was prominent, but if a racetrack disappeared, it only reappeared as part of a gaming and entertainment complex. The theme of contraction extended to operational tracks across the nation - in West Virginia, Charles Town and Mountaineer cut dates and have requested further cuts for 2015; Virginia's Colonial Downs did not host a live Thoroughbred meet due to a still unresolved dispute with horsemen; in Illinois, Hawthorne Race Course axed dates and stakes from its fall calendar, and both Hawthorne and Arlington Park will race fewer days in 2015. The circumstances behind these closures and date reductions are complicated and vary by state, but common threads run through many of the causes - increased casino competition both within states and from neighboring states, the reappropriation of VLT money intended for racing to other purposes, declining horse populations that cannot support historic racing date structures. The ground continues to shift, but 2014 may prove to be a watershed year in contraction and consolidation.
...The year that aftercare got bigger?
In early 2014, the Thoroughbred Aftercare Alliance (TAA) was named recipient of the Special Eclipse Award honoring extraordinary service, individual achievements in, or contributions to the sport of Thoroughbred racing. Formed in 2012, the TAA awarded its first grants in 2013, and the model it has promoted - acting as an accrediting body for Thoroughbred aftercare facilities and a fundraising arm to support those facilities - has gained more traction in the intervening year.
After giving $1 million to 23 accredited facilities in 2013, earlier this month the TAA announced $2.4 million in grants to 42 accredited facilities for the current year with money coming in from sales companies, buyers, consignors, stud farms, and other industry stakeholders. In this year's Breeders' Cup Betting Challenge, Daily Racing Form handicapper Matt Bernier effectively played for the TAA, with DRF donating his $61,000 in winnings from the tournament to the organization. The group has capitalized upon momentum toward increased responsibility for horses from all of racing's stakeholders and their growth in 2014 reflects an industry-wide commitment to do right by our equine athletes.
Also in 2014, the Retired Racehorse Project hosted a second successful Thoroughbred Makeover event at Pimlico Race Course in Maryland, and announced that in 2015, the event would relocate to the Kentucky Horse Park in Lexington, Kentucky. The group, founded in 2010 by Steuart Pittman, aims to increase demand for retired Thoroughbreds by helping to rebuild their reputation as versatile athletes, and moving the event to Lexington the month before Keeneland hosts the Breeders' Cup stands to put the group and its mission in the national spotlight. Considering the strides made by these young organizations - and the many others dedicated to this cause - aftercare in 2014 became a natural part of the conversation rather than the topic everyone was avoiding.
...The year racing became more convenient to watch?
Between NBC Sports expanding their commitment to televise 18 Breeders' Cup Challenge races in 11 telecasts from June to October - and that was in addition to the main event and the Triple Crown - and FOX Sports signing on for the inaugural "Jockey Club Tour on FOX" with nine racing telecasts, racing got an awful lot of network airtime in 2014. The New York Racing Association took a bold step in launching the first dedicated Thoroughbred racing channel on the Roku platform, where advance deposit wagering (ADW) customers with NYRA Rewards can watch a live, high-definition stream of NYRA races. The organization also released an HD streaming app for ADW customers. Horse Races NOW partnered with Xbox 360 to make the free app - which allows users to view live races and replays - available for a second-screen experience through Xbox 360. Via TVG, Keeneland, Del Mar, and Woodbine all were broadcast in HD for the first time in 2014. This year it was easier to watch the races - often in HD - and that's good news for everyone.
...The year we embraced transparency?
OK, this is probably just wishful thinking, but the Breeders' Cup start controversy seemed to leave all parties in agreement on one subject: the need for a more easily understandable and visible officiating process. Whether you agreed or disagreed with the decision, you mostly just wanted it explained better (and sooner).
On the equine welfare front, PETA released a video alleging mistreatment of horses in a major racing stable, with racing industry participants firing back on social media using the hashtag #FullStoryPETA and showing - in pictures - just how much racing as a whole cares about its horses. Social media has been the catalyst for much of this increased transparency, and while movement toward a more open sport didn't start or end in 2014, maybe some of the events of the past year will have pushed us closer to it.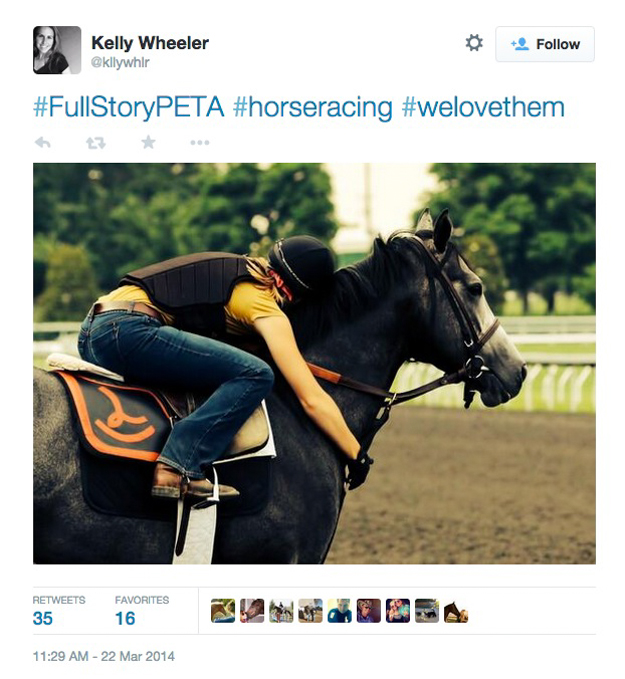 ...Not the year that we settled our differences on medication.
2014 surely will not be remembered as the year America's medication debate came to a harmonious conclusion. The National Uniform Medication Program has made a lot of progress this year in major racing states like New York and California, but a fully streamlined set of regulations is not yet within our grasp. Our fractured regulatory structure bears much of the blame for the fact that these important rules have not yet been wholly embraced in every racing state, but at least there is progress to appreciate. Perhaps the biggest issue is not being able to name the biggest issue - is it inconsistency, is it testing inadequacies, is it furosemide, is it corticosteroids, is it cobalt, or thyroid medications, or unregulated compounded drugs, or any one of the other substances that made headlines in 2014? The past year has provided more questions than answers.
To my mind, there was no single event to define American racing in 2014. Like any year, there were bright spots and low patches, victories and losses, but if we can collectively approach 2015 armed with even a few of last year's lessons, we're sure to be better for it. Happy New Year.