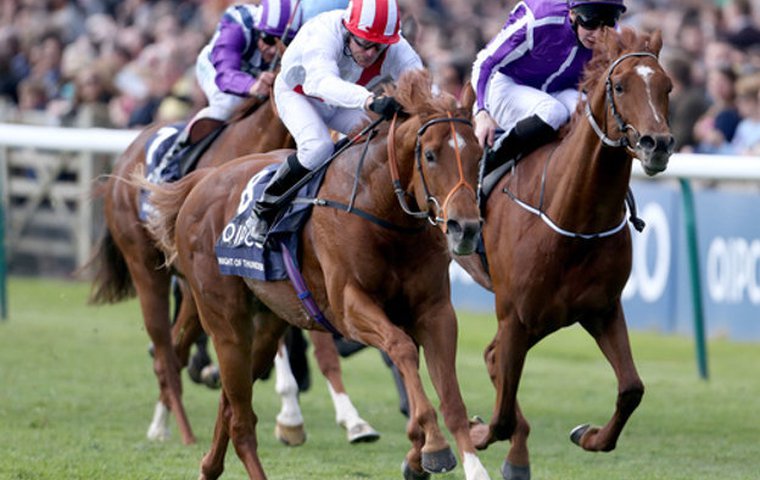 Eight conclusions to draw from the year in Europe

A few months ago, we set out to write year-end stories that attempted to address the year that was in Europe, the United States, and Australia. We didn't aim for a uniform approach to this project -- the goal was to comment on and find themes among the stories that shaped the year without attempting to recap every single event that might be considered notable. In the end, all three TRC editors (Ashley Herriman in the U.S., Chris Smith in Europe, and Jessica Owers in Australia) approached the project in different ways, but as we think about the new year, this exercise has helped us reconcile the one drawing to a close.
Read 2014: The year that was in Australian racing
Read 2014: The year that was in US racing
----------
It's so difficult to make the most of an outstanding crop
It was a pretty good year for flat racing in Europe - but it left you with the feeling that it ought to have been even better.
As James Willoughby pointed out here in August, we were blessed with a "golden generation" of 3-year-olds, with Cartier Horse of the Year Kingman, Epsom and Irish Derby winner Australia, and Hamdan Al Maktoum's superb middle-distance filly Taghrooda high above what in an ordinary season would have constituted a perfectly acceptable top cohort, led by admirable runners such as Charm Spirit, The Grey Gatsby, Kingston Hill, Night Of Thunder, and Sea The Moon.
The trouble was, aside from a bizarre 2,000 Guineas when Kingman and Australia competed in what amounted to separate contests on either side of the wide Newmarket straight, finished a head apart and were both mugged on the line as Kieren Fallon conjured an extraordinary late diagonal plunge from Night Of Thunder, the big three never locked horns.
The trainers (John Gosden of Taghrooda and Kingman, Aidan O'Brien of Australia) did their jobs pretty exactly. Three exceptionally gifted horses had brief, successful stints on the track (22 runs between them) during which they showcased much of their talent, and now their proper careers can begin. There was nothing left for them to prove, the argument goes.
Except that really there was.
Taghrooda was a tremendous filly, but there was another who was better. And would we truly appreciate the extent of Treve's greatness if she hadn't been given her chance to win the Prix de l'Arc de Triomphe for a second time? How far up the all-time list could Taghrooda have climbed if she'd been allowed another season (or two) on the track? Buried in her may be a level of ability worthy of comparison with the very best, Dahlia or All Along for instance, maybe even Treve herself ultimately, but that part of her will remain unexcavated, so such comparisons can never be made.
Australia was indeed a special horse, but despite proving himself capable of winning most Guineas (over a mile), despite two easy Derby victories over a mile and a half, despite giving the best older horses a hiding over 10 furlongs, you got the feeling the surface was barely scratched. Could he have matched Taghrooda - or even Treve - over a mile and a half? Could he have put it up to Kingman over a mile? Would either of them have been able to cope with him over 10 furlongs? Could he have been worthy of a listing alongside the most sacred of the greats on the Ballydoyle honours board?
Kingman, who took his revenge on Night Of Thunder in spectacular fashion at Royal Ascot, had shown himself to be an outstanding specialist miler, certainly the best in Europe. But nothing more. Would another season have brought him something approaching the kind of public adulation that another in the same ownership, Frankel, achieved just two years earlier? Could he have replicated his form over an extra two furlongs? How would he have fared against Australia over whatever distance you care to name?
None of the camps ducked any obvious challenges in 2014. They just had schedules that could not coincide. In the case of Kingman and Australia, maybe a late-summer contest over nine furlongs for a vast purse would have provided a fit, but of course such a race does not exist, even though it's a distance that perfectly suits the type of Thoroughbred now being produced.
But perhaps such thoughts are naive and irrelevant. Perhaps, in the business of horse racing, the chicken of engaging the public by identifying and celebrating the best ultimately doesn't matter quite as much as the egg of planning a schedule for the breeding shed.
Prospects glorious for Goodwood as Qataris up the stakes again
The chances of European racing being able to produce a super-race such as the one mentioned above have arguably grown stronger in the past three or four years because of the spectacular support of the Qatari investment company QIPCO, and boy did QIPCO sock it to 'em earlier this month.
The announcement that £4.5 million in prize money will be on offer at Glorious Goodwood (July 28 - Aug. 1) under a 10-year deal with the Qataris will surely elevate what is essentially a pleasant summer gathering of reasonably high-class competition right to the premier division of elite international festivals.
At a stroke, the meeting's two G1s have become different races. The feature, the one-mile Sussex Stakes, is catapulted from a perfectly healthy £300,000 to £1 million and the 10-furlong Nassau Stakes for fillies and mares trebles in value to £600,000. They are now among the most valuable events of their kind in the world as newly bulging prize funds become a feature on every one of the meeting's five days.
The benefit of QIPCO's sumptuous generosity has already been felt via the British Champions Series, Arc weekend, the Irish Champion Stakes, and at many other race days, although none have brought about quite as striking a change on the playing field as the Goodwood deal.
What is now the Qatar Goodwood Festival is suddenly not far behind the five days of Royal Ascot (£5.3 million total prize money in 2014), Britain's richest festival, and can expect to start exuding similar international appeal, which is quite a step forward in a jurisdiction so notable for its meagre prize money.
The lesson of a lopsided Derby market
What do you know about these seven horses: John F Kennedy, Ol' Man River, Highland Reel, Gleneagles, Sir Isaac Newton, Giovanni Canaletto, and Giuseppe Piazzi? Probably not much yet - only one of them (Gleneagles) has even run in a G1 so far - but it's a sure thing you'll be familiar with quite a few of them by next June.
They are seven of the first 10 in the betting for next year's Epsom Derby, and that fact alone illustrates perfectly a strange disconnect that appears to be taking place in the thinking that ultimately guides the development of the Thoroughbred in Europe.
Six of the seven are trained by Aidan O'Brien, and six of them are sons of Galileo (Ol' Man River is by Montjeu). They include the first, second, third, and joint fourth in the market for the historically breed-shaping classic. And, Gleneagles apart (six runs), they have raced just 11 times between them. This shows two things: Once again the top 2-year-old races failed to highlight any dominant juveniles; and these days, Coolmore seem to have the field pretty much to themselves when it comes to mass producing animals with the potential to excel over a mile and a half.
In the past six years, O'Brien finishers have occupied exactly half the first-four places in the Epsom Derby. Like this:
2009 - 2,3,4
2010 - 2,4
2011 - 2,4
2012 - 1,3
2013 - 1,4
2014 - 1
Indeed, Coolmore have won the last four renewals (they also owned Pour Moi, the Andre Fabre-trained 2011 winner), and their stallions have sired the winners of all but three of the last 10 runnings (Montjeu has four, Galileo three). That has to constitute something of a trend, don't you think?
So, while the bloodstock world generally continues to follow the breed-for-speed doctrine, the operation that has produced the most influential stallions of the time is virtually alone in balancing that by having a race over a mile and a half uppermost in its sights.
Maybe there's a lesson there somewhere.
The Juddmonte legacy just keeps getting stronger
Whether he concentrates his breeding efforts these days on the Epsom Derby or not, Kingman's owner Khalid Abdullah maintains an easy grip on his status as one of history's greatest owner-breeders, and 2014 has certainly done nothing to harm his standing.
Kingman would have been enough of an achievement on his own to enhance that lofty status, and he now sits alongside other giants such as Frankel, Dancing Brave, and Rainbow Quest at the summit of the extraordinary Juddmonte pantheon. But the Saudi prince's body of work for 2014 also includes two other fine contributors: Flintshire and Noble Mission.
Andre Fabre trained Flintshire for an autumn campaign in which he finished second in both the Arc and the Breeders' Cup Turf and then gained handsome compensation by grabbing the $1.14-million first prize in the Hong Kong Vase.
Frankel's full brother, Noble Mission won three G1s, the last of which - the $2 million-plus Champion Stakes at Ascot in October - produced one of the two most memorable moments of the year (the other, because of the story behind it, being Treve's second win in the Arc).
Noble Mission's heroic, gruelling battle with the resurgent Al Kazeem is surely most observers' most memorable race not just of 2014 but for many, many years, gaining as it does enormous extra legend because of its emotional content. Noble Mission's finest hour, in the same race that provided his illustrious brother with a thrilling swansong in 2012, brought a kind of bittersweet happiness to the whole of British racing because of the still poignant memory of the colts' much-loved trainer, Sir Henry Cecil, who died in 2013, and the shy dignity of his widow, who has now decided to make a go of running the famous stable herself.
Don't underestimate The Grey Gatsby
Perhaps the most under-appreciated horse of 2014 was The Grey Gatsby. At this stage, he is remembered mostly as being the beneficiary of Joseph O'Brien's unfortunate ride aboard Australia in the Irish Champion Stakes in September, but you should remember that the son of Mastercraftsman was also an impressive winner of the Prix du Jockey Club (French Derby) and twice wupped the best older horses over a mile and a quarter.
The colt's Yorkshire-based trainer, Irishman Kevin Ryan, is arguably the victim of similar under-appreciation despite many successes, but the pair of them should get plenty of chances to prove a point or two in 2015 as The Grey Gatsby stays in training.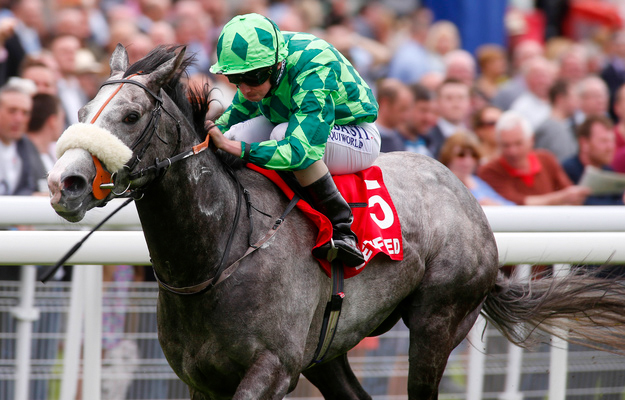 Varian emerging as a real contender
Another classic-winning son of Mastercraftsman who will be competing again in 2015 is St Leger winner, Epsom Derby second and Arc fourth Kingston Hill, star of a fabulous season for up-and-coming trainer Roger Varian, who took over the Newmarket yard of the late Michael Jarvis in 2011.
Varian chalked up four G1s in 2014, three of them from 2-year-olds, including Dewhurst Stakes winner Belardo, so is handily placed to go on again and start mixing it with Gosden, Hannon and company in the upper echelons of the British training ranks.
The BHA is packing a different punch
Off the track, the most significant development came in the way British racing is being run from the administrative base of the British Horseracing Authority.
Chief executive Paul Bittar, who has received both praise and (possibly unfair) criticism in fairly equal measure during his three years at the helm, announced his departure - for largely unspecified reasons - in August.
By then, work on a reshuffle to create a new-look non-executive board was already under way, and that came to fruition in December, when six new directors with little profile in racing were appointed, mainly for their expertise in regulation, media and communications, government relations, law, human resources, welfare, and betting. A new chief executive was also named, Nick Rust from bookmakers Ladbrokes.
Chairman Steve Harman, whose relationship with Bittar, it is believed, was never particularly warm, spoke enthusiastically of the changes. "I think it's a great shot in the arm for racing to have a board of this quality," he told the Racing Post. "I would say this is one of the best boards I have ever hired, and one of the best chief executives I've ever hired."
He said the BHA was now "starting to punch at the weight we need to punch."
Hopefully, all that augurs well for the trials to come as British racing goes into 2015 still searching for answers to the problems of small, uncompetitive fields, declining betting revenues, and funding generally.
The "racing right" on funding: a word of caution
It was all good news on the funding front when what BHA chairman Steve Harman hailed as a "landmark opportunity" was announced by the British Government in December.
The big gripe in the British racing industry is that it doesn't get enough back from betting. Its cut comes from the statutory Levy system, agreed between the sport and the bookmakers. The new announcement has paved the way for a replacement - known as a "racing right" but to be called the Horserace Betting Authorization - to become law. The plan is to speed through the consultation process and for the dotted line to be replete with the relevant signatures before the end of 2015.
Harman was quoted in the Guardian as saying: "We have a landmark opportunity to secure a modern, fair and sustainable funding mechanism, and generate future growth and more jobs in our industry, greater returns to our participants and a new partnership with the betting industry."
It may not be a good idea, however, to count too many chickens. Whichever way you slice it, the money racing will receive under whatever new system is agreed will come from the same source it comes from via the current one - the bookmakers. And, tucked quietly inside in their plush executive offices, well away from their racecourse PR, the bookies - who must sign up to the new method before it can become legal - treat racing as a damage limitation exercise. They see the sport as at best a kind of loss-leader (it's a struggle for them to make much profit from it but at least it helps keep up their profile), at worst an imposition that tends to compromise the bottom line.
They are more responsible to their shareholders than they are to Racing PLC, and they get much, much more value for them from higher margin products such as online casino games, virtual racing, and Fixed-Odds Betting Terminals (FOBTs), none of which involve paying anything corresponding to a levy to anyone.
Indeed, many of the newer online betting and gaming companies that have sprung up in recent years don't even take bets on horse racing.
Some estimates have it that racing's contribution to overall betting industry turnover is now under 20 percent. If the bookmakers are called upon to hand over an even larger cut from each racing bet struck with them, it is hard to see that figure not falling still further.