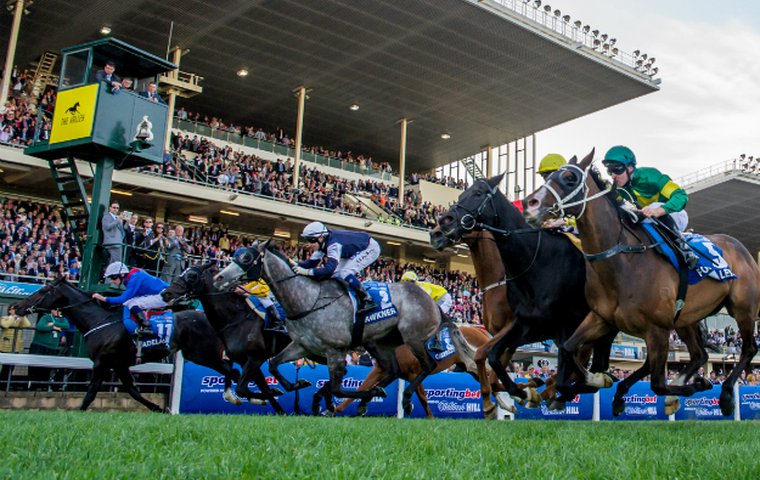 A few months ago, we set out to write year-end stories that attempted to address the year that was in Europe, the United States, and Australia. We didn't aim for a uniform approach to this project -- the goal was to comment on and find themes among the stories that shaped the year without attempting to recap every single event that might be considered notable. In the end, all three TRC editors (Ashley Herriman in the U.S., Chris Smith in Europe, and Jessica Owers in Australia) approached the project in different ways, but as we think about the new year, this exercise has helped us reconcile the one drawing to a close.

Read 2014: The year that was in US racing

At the peal of the midnight bells on New Year's Day, the Australian racing season is only half cooked. However, as with the rest of the world, 2014 was an eventful 12 months for racing in Australia. There were headlines that polarized us, and people we loved and lost. There were The Championships, ravenous internationals, and television disputes, famous foals, and controversial billboards. Let's take a look back at some of these, the big hitters of 2014.
It was a sobering reality of our sport this year that death seemed to be front-and-centre so often. On Apr. 4, the news that affable jockey Nathan Berry had died in a Sydney hospital sunk the racing community. Berry had been struck by Norse Syndrome, an acute and rare version of epilepsy, during trackwork the fortnight before in Singapore. His death was raw and traumatizing for Australian racing, pushed along by the fact that he was well planted in racing. His twin brother Tommy Berry, father-in-law Glyn Schofield, and brother-in-law Chad Schofield, are all top-shelf jockeys in Australia.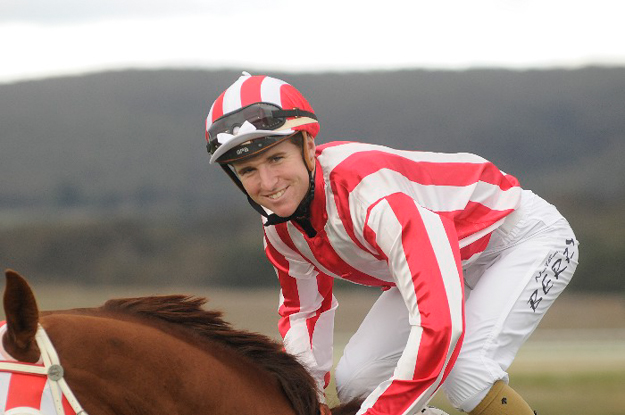 A few months later, we lost two more riders in a single, harrowing October week. Queensland rider Carly Mae-Pye died after a jump-out accident at Rockhampton, and within days, at the other end of the country, South Australian apprentice Caitlin Forrest had died after a race fall at Murray Bridge. The loss of the two young women spurred debate about jockey safety in Australia.
"Forget the Cups and the Cox Plate," wrote trainer Lee Freedman in the Herald-Sun, "there is a human disaster evolving in Australian racing."
On the first Tuesday in November, there was an equine disaster too. Admire Rakti, the Japanese raider who had so valiantly won the Caulfield Cup a fortnight before, collapsed and died in his stall after finishing last in the Melbourne Cup. Fueling animal-rights hysteria across the nation, it didn't help that another runner, Araldo, was euthanised after fracturing a hind leg while returning to scale. For days, Australian racing fended off a wave of unprecedented and widespread criticism. As Sydney columnist Claire Harvey observed: "The debate about Thoroughbred racing has turned into a name-calling festival of silliness."
Meanwhile, a motorway billboard in Melbourne had just been pulled down. Funded by the Coalition for the Protection of Racehorses, it showed, supposedly, a dead racehorse, above the slogan "Is the party really worth it?" After widespread outrage, the owner of the advertising space pulled the plug on the advertisement, though the damage was done. Rarely, if ever, had Melbourne's spring carnival experienced such embattled public perception.
But racing went on, as it always has, and it was exhilarating. The usual troupe of international raiders arrived for the rich spring races, and in the absence of "old reliables" Dermot Weld and Luca Cumani, first-timers Johnny Murtagh and Ed Lynam arrived instead. As usual, the Melbourne Cup was whisked away from Australia when German import Protectionist trounced the field by four lengths, and a few days later, Slade Power was brave when at the mercy of Australia's sprinting kings. But it was the Ballydoyle horse Adelaide that stole everyone's thunder. Trained "over the telephone" by Aidan O'Brien, he became the first international to win the rich Cox Plate, changing the shape of the weight-for-age race forever.
In Sydney, the Australian Turf Club hosted its inaugural The Championships meeting in April, and with some staggering prizemoney on offer, it attracted two international visitors, quite a feat for a fledgling event. Both Hana's Goal, from Japan, and Irish traveller Gordon Lord Byron won races during the Sydney autumn (albeit outside of The Championships program). The two days of the meeting were met with big crowds and a mixed bag of weather, but by the close of business, it was certain that Sydney had muscled onto the global racing stage.
Television networks lapped up the loot. In September, digital channel TVN, which owns the broadcasting rights to all New South Wales and Victorian racing, announced its marriage with free-to-air Channel Seven, bringing racing into millions more Australian homes. But it wasn't all beer and skittles. After years-long negotiations between TVN and its digital rival Sky Racing, carnage occurred in mid-December when TVN rescinded Sky Racing's rights to all New South Wales and Victorian races. Overnight, Sky Racing subscribers, including countless clubs and betting venues across the country, were met with blank television screens that informed: "Contractual restrictions prevent Sky Racing televising this race."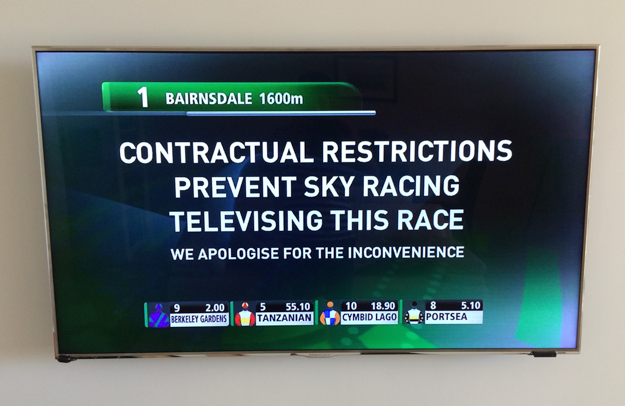 Channel Seven may profit considerably from this very public spat, but in September they had their ear to the ground once again with the arrival of Australia's most famous foal – the first-born of undefeated living legend Black Caviar. Born in the Hunter Valley, the filly, by Exceed And Excel, was quickly acquainted with camera crews and stealthy product placement as her owners confirmed she would not be sold, though she will race. Trainer Peter Moody took to Twitter at 4:17 the morning of the foaling, posting: "Well done big girl."
Baby Black Caviar was an uplifting headline in a year that saw the loss of two sensational stallions in Australian breeding. In July, 17-year-old Commands succumbed to a sudden heart attack, while in September, U.S. shuttler Street Cry was euthanised when he failed to recover from a neurological disorder.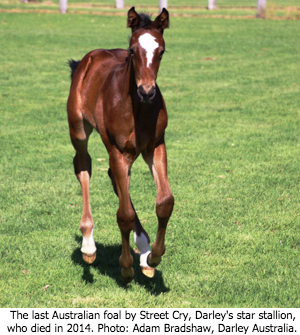 Both horses belonged to the Darley operation, a shattering development for the breeding giant. On Dec. 3, Australia's last-ever Street Cry foal was born on Toolooganvale Farm, a filly out of the Montjeu mare Cheyenne's Star.
The Hunter Valley had mixed fortunes through 2014. In April, Qatar Racing rattled locals when it opted out of the region in the hunt for a Southern Hemisphere breeding base. David Redvers, its bloodstock advisor, cited open-cut mining as the reason, flagging the long battle that has been waged in the Upper Hunter between breeders and billion-dollar mining. But in October, part of that battle was won when the controversial Drayton South proposal near Muswellbrook was rejected. It was a clattering victory for Coolmore and Darley, whose properties flanked the proposed site. It also proved that the New South Wales government was listening to breeders, albeit on a case-by-case basis.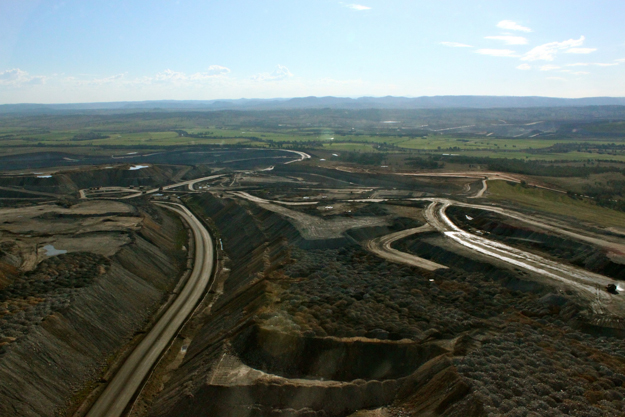 Throughout 2014, racing's leading identities continued keeping on. July 31 brought the 2013/2014 racing season to a close, with Chris Waller atop the trainer's podium for group-race wins. On prize money alone, he was a stratosphere clear of his rivals with more than AU$22 million on the board. But in early December, he incurred a hefty penalty, and a rare slur on his record, when Junoob, his Metropolitan Handicap winner, tested positive for Lasix in a post-Metrop swab.
"It is embarrassing," Waller said. "I've had to live with this for six weeks waiting for this day [the steward's ruling], and you wouldn't put yourself through that knowingly."
There were countless other stories through 2014 that drew us in, such as the ragtag Tasmanian galloper The Cleaner and his trainer Mick Burles. There was Lankan Rupee and the rise and rise of Buffering. But as January hauls the Australian racing season into its second half, we can probably conclude that 2014, overall, was a feisty year Down Under. Above all, jockey safety and horse welfare will be carried into 2015 with the weight of public opinion on their shoulders, and we live in hope that neither will fruit the sad headlines we saw this past year.