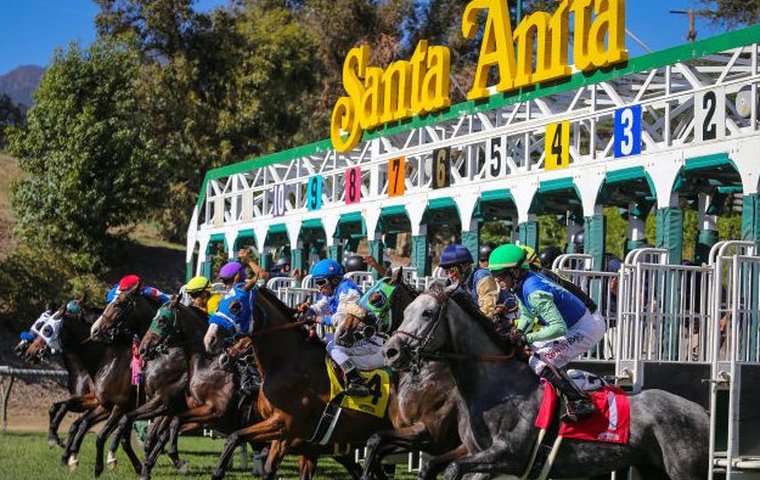 Seabiscuit, Vigors and Zenyatta rank among some of the most popular horses to run and win at Santa Anita Park. This year marks the 20th anniversary of another tremendously popular victory: The Deputy taking the 2000 Santa Anita Derby.

The Irish-bred, English-raced horse came to America under the care of trainer Jenine Sahadi, who became the first female trainer to win the prestigious race. But there was drama before the race, making the victory all the sweeter.
The Deputy, a son of G2 winner Petardia, took four tries to break his maiden. He hit the board at Newbury, Newmarket and Chester before finally getting the job done at Epsom for Freddy Bienstock.
Arrival in America
International owner Barry Irwin, who heads up Team Valor Stables, said, "I've always looked in Europe to try to find horses that I thought would fit in America and that had the right style. It's been my theory for years that, in America, class is secondary to style."
The Deputy fit Irwin's ideal, and Team Valor bought the horse and brought him overseas. "We did bring him over thinking Kentucky Derby," Irwin said. "When I promoted him to the partners, I said this was a Derby prospect."
But Irwin had reason to be anxious. "I've seen many classy horses come over from Europe that couldn't adapt," he said. "But I'd figured out what worked and what didn't, and this horse had the right style, the right look. I've never looked at a horse physically in person before I bought it that I decided to buy within 15 seconds of looking. He was the perfect horse for America."
The Deputy was purchased in September 1999 and arrived at Santa Anita in early October. Having campaigned foreign runners in the United States such as Ipi Tombe, Becrux and Irridescence, Irwin knew what to expect.
"Of all the horses that I brought to America, there's only been two that adapted immediately," he said. "One was The Deputy, and the other was (G1 winner) Martial Law. I've never seen anything like it; the first time he set foot on the track, then his first breeze, it was like he'd been in America all his life."
Irwin and partner Gary Barber chose trainer Jenine Sahadi, who was most famous for winning consecutive Breeders' Cup Sprints with Lit de Justice and Elmhurst in 1996 and 1997. "I've known her since she was a girl, so to speak," Irwin said. "I used to do some work with her father, Fred Sahadi. I felt very comfortable with her."
Irwin is known for speaking his mind, and he liked Sahadi for the same reason. "She's more like a guy than a girl in that there's no bullshit," he said. "There's no games. She tells you like it is, and I want that. She's very up front and knows I can handle bad news."
Sahadi immediately had a good impression of The Deputy, a diminutive dark bay. "He was one of the smartest horses I've ever been around," she said. "He was just a cool customer. Nothing bothered him, and he adapted right away so that he could train right away. He was a breeze to be around, with a demeanor that was his best asset."
Sahadi's reservations
The Deputy's first American race was the listed Hill Rise Handicap on the grass at Santa Anita on January 2. He won by a length under Chris McCarron, beating the royally-bred favorite Promontory Gold, who finished ten lengths ahead of the third. It would have been easy to keep the horse on grass, but the Kentucky Derby beckoned.
Irwin called The Deputy's action on dirt a "miracle. Each work was better than the last one. We got lucky".
Sahadi had reservations. "I didn't know how effective he would be on the dirt, but I knew he was classy," she said. "Was I positive on the surface switch? No, but I had some ideas because Chris McCarron had worked him several times and he's a great communicator. But until you do it with a European runner, you don't actually do it. Did I think he was a Derby horse? No. But I thought he was going to be a really nice horse."
The Deputy went to the post in the G2 Santa Catalina Stakes for his dirt debut, where he faced two horses who were already G1 winners: Captain Steve and High Yield. The Deputy beat them both, which set him up to run second in the G2 San Felipe Stakes. He lost to eventual Kentucky Derby winner Fusaichi Pegasus on that occasion, but defeated Breeders' Cup Juvenile upset winner Anees and future Belmont Stakes winner Commendable.
Santa Anita drama
That led him to the Santa Anita Derby, a nine-furlong dirt race worth $1 million. In retrospect, the field was stellar. Anees had been named Eclipse Champion Two Year Old, while the filly Surfside would earn the award as the Champion Three Year Old Filly of 2000. Captain Steve went on to win the Dubai World Cup, and War Chant took the Breeders' Cup Mile.
"We're just lucky Drysdale decided not to run there," Irwin said of Fusaichi Pegasus, who went to New York to win the Wood Memorial instead. "We couldn't beat that horse."
It was still a stacked field even without Fusaichi Pegasus, and the drama kicked up a notch at the post-position draw breakfast. Trainer Bob Baffert, at the helm of Captain Steve, made a crack about whether Sahadi was really training The Deputy, or if it was McCarron. Sahadi snapped back and stormed off, dropping her microphone.
"I always say that day was just a weird day for me," Sahadi said of the incident. "I had a lot of support, a lot of people that were rooting for me. It was interesting to say the least."
Baffert had won three of the previous four Santa Anita Derbys, starting with Cavonnier in 1996, then with Indian Charlie in 1998 and General Challenge in 1999. The odds seemed stacked against Sahadi. "I'm not saying times aren't changing, because they are very slowly," she said. "But no woman had ever won the race. And you've got to have a lot of good 2-year-olds to make it. What are the chances of me getting a European horse bred for the grass to end up winning the Santa Anita Derby? It was like it was meant to be."
The Deputy broke alongside the others, then moved up three-wide into the first turn to show speed. McCarron attempted to drop in behind Surfside and War Chant but was forced outside the entire trip. He made a sweeping move with three furlongs to go, collaring War Chant at the quarter pole and battling with that rival to the wire. The crowd roared as The Deputy won in a popular score (see video below).
"I remember that the fans were really cheering for Jenine to win the race," McCarron said. "They were gathering a lot of support for her around the event. The Deputy was a little horse on the small side, but he had a big heart. He was a versatile and easy ride with no bad habits. Winning the Santa Anita Derby always meant a great deal, because it's a top-class race on the annual calendar, and horsemen around the country aspire to put that feather in their cap."
"I was there for the race," Irwin said. "I had just moved to Lexington at the end of 1999 and was going back and forth. It was a very good field."
"When the horse won, I wasn't surprised," Sahadi said. "He wasn't the favorite but he should have been. It was just one of those days in racing where the stars seem to align. It was great, and fun, unlike the Kentucky Derby which was stressful."
Off the Santa Anita victory, The Deputy went to the Kentucky Derby as the second choice behind Fusaichi Pegasus, but ran 14th in a 19-horse field.
"We don't know what happened in the Derby," Irwin said. "He was sound but he was losing condition and muscle tone. It was very depressing at the time because I love that horse. He was a such a neat, athletic horse, and it's fun to watch those horses go."
Sahadi called the Kentucky Derby experience "special, but stressful". She added. "The horse was not thriving, but I was trying to be upbeat and pleasant to all the reporters. It was a lot. You're trying to be accommodating but when you've got stuff going on it made for a difficult week."
A bowed tendon after the Derby ended The Deputy's career early. He was retired to stud at Margaux Farm in Kentucky, then moved to Ohio and ultimately Iowa. He sired only four stakes winners, including Panamanian champion Happy Buy, but his family lives on in an unexpected way.
"I could see after a few works that he was special," Irwin said. "So, I went and found his dam."
Irwin bought the Last Tycoon mare Manfath – originally a $6,910 purchase - for $60,000, then sold her for $650,000 while in foal to Kingmambo. The resulting offspring was King Kamehameha, winner of the Tokyo Yushun (Japanese Derby) and NHK Mile Cup before siring the likes of Lord Kanaloa, Lovely Day, Rulership, Duramente and Rey de Oro during an illustrious stud career.
Although the Kentucky Derby experience proved forgettable, the Santa Anita Derby is one memory Sahadi will never take for granted.
"He's one of the smartest horses I've ever been around," she said. "He was a cool customer that adapted right away. He was happy standing on the gap hanging out and enjoying the day. Winning the Santa Anita Derby with him was a really big deal. It's still a big deal."