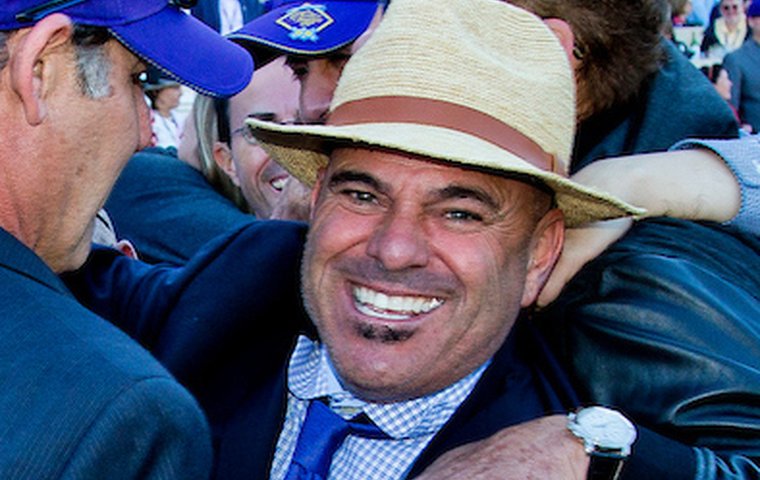 Last Saturday's G3 Daytona Stakes at Santa Anita was another remarkable achievement in the recent career of American trainer Peter Miller. The man who saddled two winners at the Breeders' Cup at Del Mar last November produced another rabbit out of the hat in the Daytona when his runners swept all three places.

Possibly slightly more remarkably, however, this was the 32nd time a trainer has been responsible for a 1-2-3 in Group and Graded races worldwide over the last two years.
That means roughly one percent of all Group or Graded races that count in the TRC Global Rankings (which is just about all of them) has resulted in a clean sweep since the start of 2016. See below for details of all 32.
The unrelenting dominance of Aidan O'Brien has made what you might have thought was an extreme rarity a relatively regular occurrence. Indeed, of those 32 sweeps in the last two years, the Irishman has been responsible for no less than 11 (six of them in Group 1s). His first 1-2-3 in this timeframe came in Minding's 1000 Guineas at Newmarket on May 1, 2016, and since then he has averaged one sweep every two months.
O'Brien's highlight - everybody's highlight in this context - was that year's Prix de l'Arc de Triomphe, when Found, Highland Reel and Order Of St George filled the first three places in the world's most prestigious middle-distance turf race.
In all, 13 trainers have achieved a 1-2-3 in a Group or Graded race during the two years, and six other than O'Brien have achieved more than one sweep in the two years - headed by American Chad Brown, with four, and New Zealander Chris Waller (who operates in Australia), with three.
All but one of the 32 races have been on turf. Ironically, the exception was run in Dubai, not the U.S., although the race, the 2016 Godolphin Mile, produced a 1-2-3 for an American - UAE-based Doug Watson.
THE TRAINERS WHO HAVE LANDED CLEAN SWEEPS
Group and Graded races since March 1, 2016
Miller's sweep at Santa Anita on Saturday was led by Conquest Tsunami, who beat Stormy Liberal and Calculator, all 6-year-olds. Miller is now up to #68 in the world trainers' standings.
Both Conquest Tsunami and Stormy Liberal are sons of Stormy Atlantic, who is up to #97 in the sires' standings as a result.
Stormy Liberal was one of his Breeders' Cup winners last year, taking the Turf Sprint. Miller was also responsible for Twinspires Breeders' Cup Sprint hero Roy H.
THE 32 GROUP/GRADED RACE SWEEPS IN THE LAST TWO YEARS
In reverse chronological order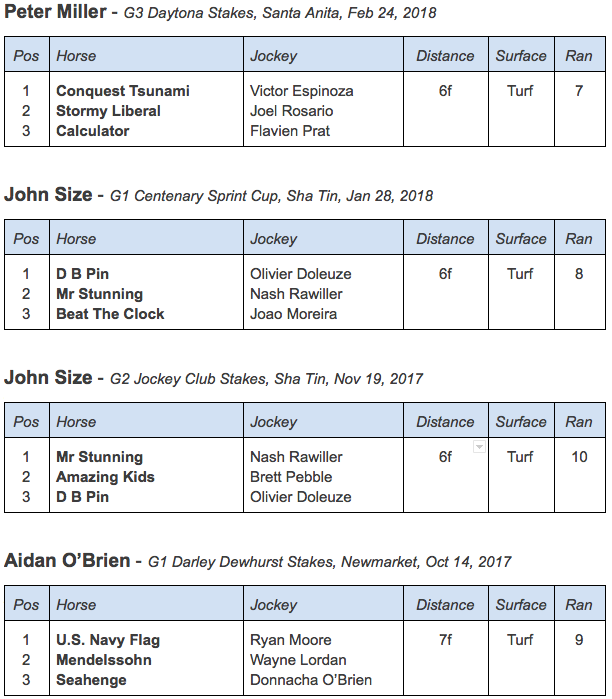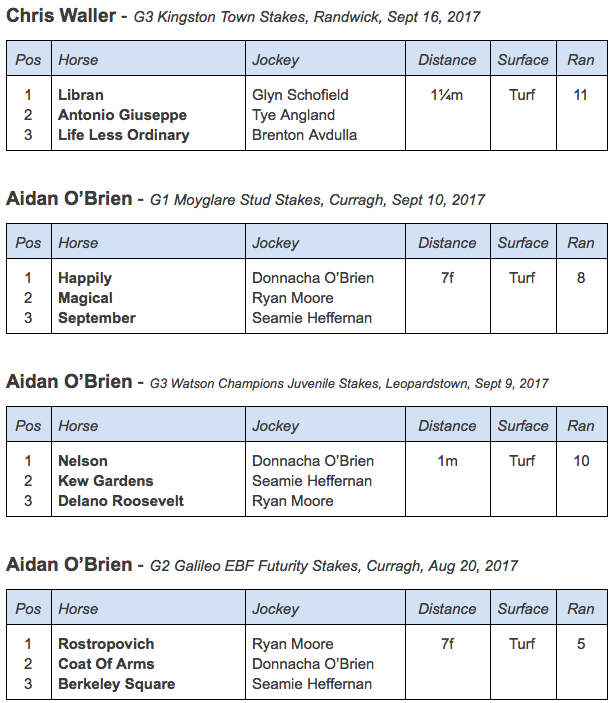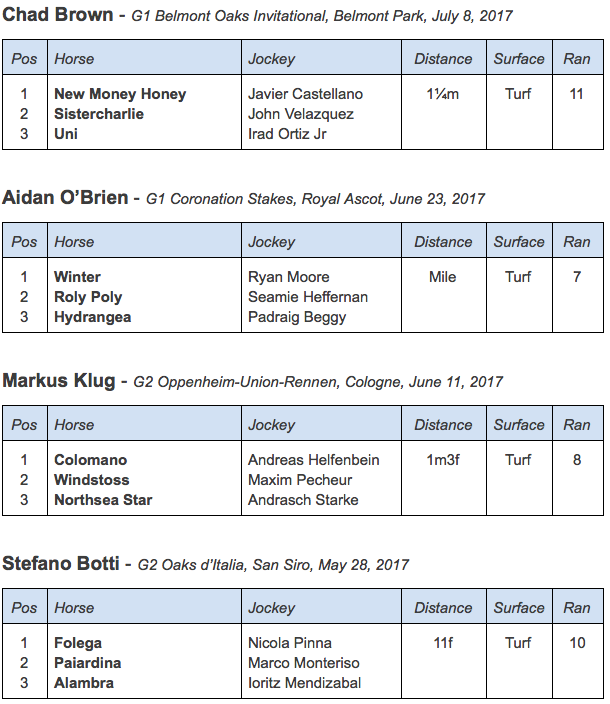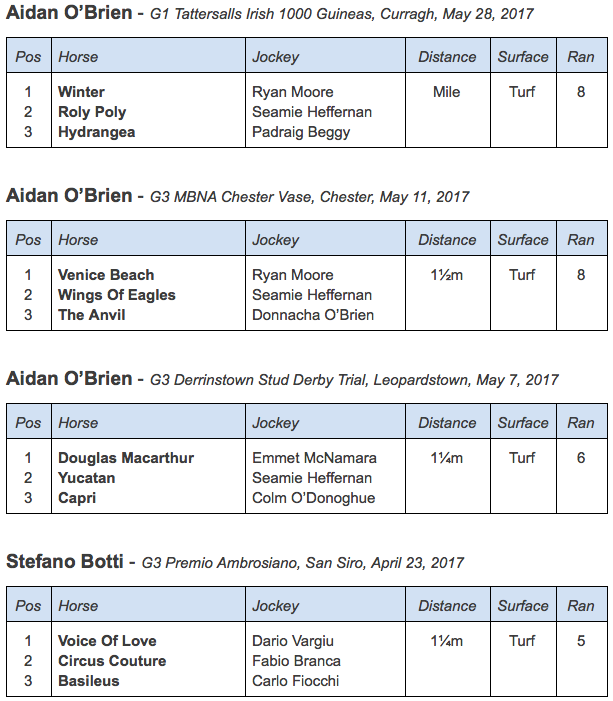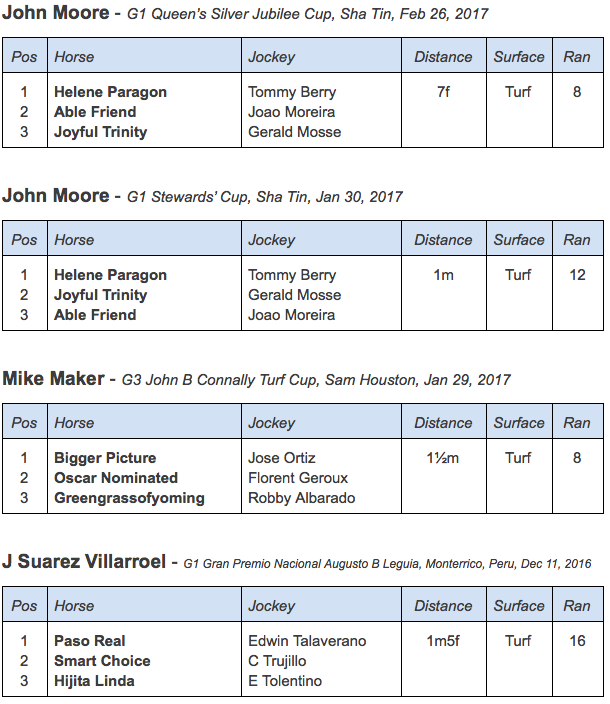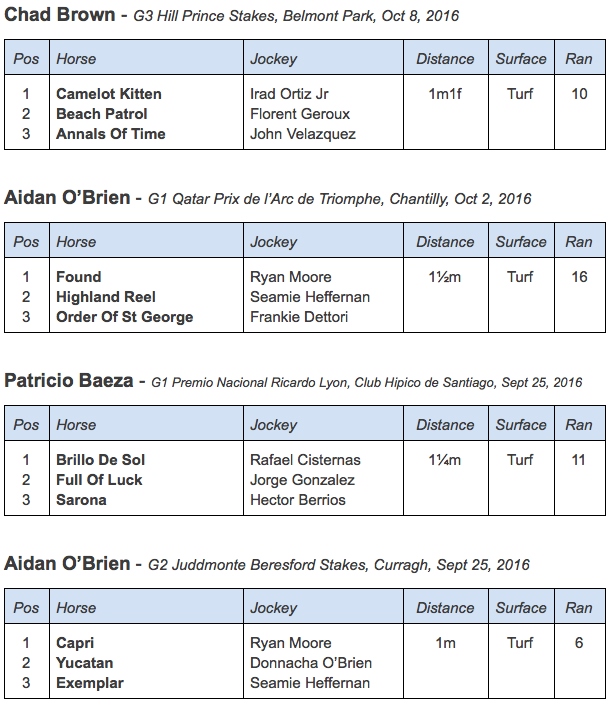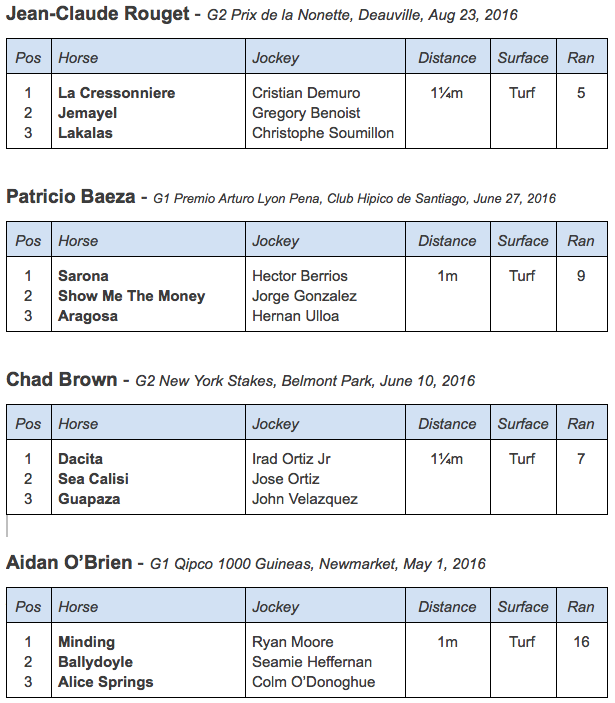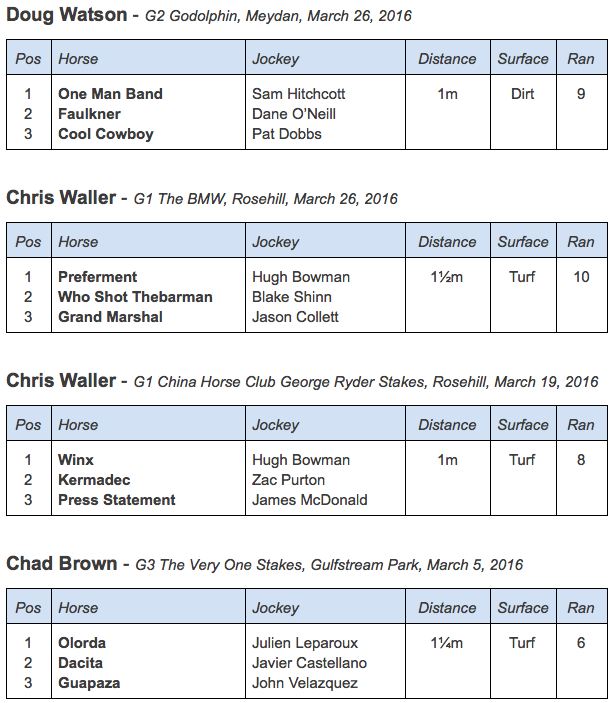 Click here for a list of all last week's biggest TRC Global Rankings points gainers.
Click here for a list of all the week's Group and Graded winners.