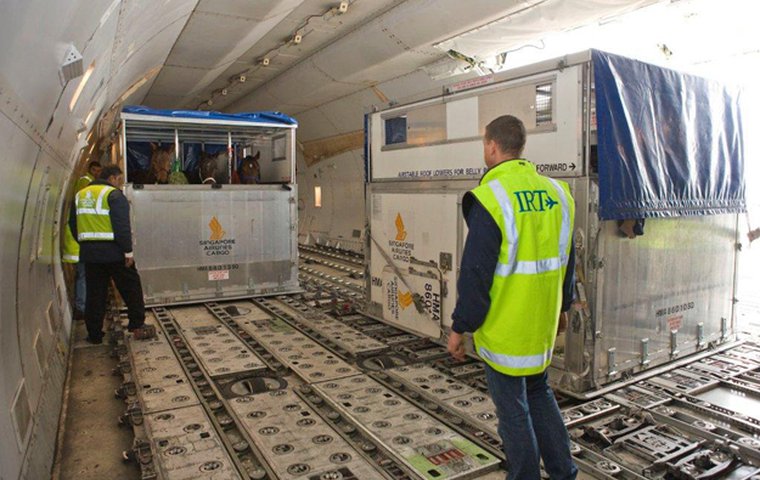 For more than a decade, Australian racing has been searching for a quarantine arrangement in the United States, a facility that will allow top American horses to travel down under for the spring and autumn carnivals. With prize money at record levels in Australia these days, Jessica Owers investigates the confounding reasons why no American racehorse in training can travel direct to Australia to race.

Close enough to New Year's Eve in 2009, American racehorse Cannonball rolled off a cargo flight at Melbourne's Tullamarine Airport. He had come from Hong Kong's International meeting, and before that the Breeders' Cup. Before that again, he'd been at Royal Ascot. It was a lot of mileage, but touching down in Melbourne, he created a small bit of history. Cannonball became the first American-trained Thoroughbred to race in Australia when, under the tutelage of Wesley Ward, he lined up in the Lightning Stakes the following February.
He didn't win that race, outsmarted, as are so many, by Australia's fleet sprinters. But Cannonball's owner, the far-sighted Kentuckian Ken Ramsey, was undeterred. He had long harbored affections for Australian racing, and a single loss wasn't going to change that.
Ramsey Farm is one of very few U.S. operations to pay any attention to things down under. In 2005, it nominated Kitten's Joy for the Melbourne Cup, and had every intention of sending him. The following year, Badge Of Silver was considered for the Futurity (when that race was a leg in the now defunct Asian Mile Challenge). In 2010, there was Cannonball, and, as recently as 2014, Ramsey had suggested he might send Charming Kitten for the Cup. However, barring Cannonball, none of these came, in part for a very good reason.
For more than a decade, Australian racing has been searching for a pre-export quarantine (PEQ) facility in the U.S. It is yet to find one. This means that any American-trained racehorse lured to rich Australian carnivals cannot serve compulsory quarantine on U.S. soil while remaining in training. Like Cannonball, it must get to Australia via another racing jurisdiction.
Let's take a closer look at this.
Australia has approved the importation of horses from 25 countries around the world. However, this doesn't mean that horses can serve PEQ in all of these countries, because there must be an approved PEQ facility in that country for them to do so. For example, Canada and the United Arab Emirates are among the 25 nations approved for exporting horses to Australia. However, neither has an approved PEQ facility. In fact, according to Australia's Department of Agriculture, the only countries that have approved PEQ facilities for the export of horses to Australia are Germany, Hong Kong, Ireland, Japan, Singapore, the U.K., the U.S., and, as of 2014, France.
However, there is a difference between a PEQ facility that handles breeding stock or a general horse population, and one that handles racehorses in training. The latter must have a training track, and is generally a more involved setup.
Australia's Department of Agriculture states that it has approved racehorse PEQ facilities in six countries – the U.K. (1), Ireland (2), France (1), Japan (2), Hong Kong (1), and Singapore (1). These are the only nations in the world that can install horses-in-training into quarantine for shipment to Australia.
All horses entering Australia must undergo a compulsory two weeks of PEQ in their country of origin, along with an additional two weeks of post-arrival quarantine (PAQ) in Australia. However, when it comes to the importation of any horse from the U.S., Australia's biosecurity measures outline a few very specific things.
A PEQ facility must be surrounded by two secure, stock-proof fences that are at least five metres apart, or an equivalent physical barrier that prevents quarantined horses coming into contact with outside horses, people, and livestock. A PEQ facility must ensure that quarantined horses remain at least 50 metres away from other non-quarantined horses, and horses not of the same consignment. It must have areas designated for veterinary examination and sampling, and the disinfection and cleaning of equipment and vehicles. There must be showering facilities for authorized personnel, and all feed and bedding must enter the PEQ facility before a horse's quarantine begins. Hay and straw bedding are not permitted; treated wood-shavings, sterilized peat, and soft board are the only bedding allowed.
In addition, a U.S. PEQ facility must be located within reach of an Animal and Plant Health Inspection Service (APHIS) vet. APHIS is an agency of the United States Department of Agriculture, and is responsible for animal health and welfare, and plant health, in the U.S. This vet is responsible for the supervision of the facility, and all activity that occurs within it. If a horse in a consignment does not complete PEQ, it can jeopardize the eligibility of the rest of the consignment. In other words, Biosecurity Australia can refuse the remaining quarantined horses entry into Australia.
Approved PEQ facilities in the U.S. currently operate with all of this in mind. However, none are capable of handling racehorses in training. A PEQ training facility would need a track attached, and while an obvious candidate would be an already-operating racecourse, with a barn allocated for isolation, there are other problems to consider. For example, how can quarantined horses remain at least 50 metres away from non-quarantined horses at all times when entering and leaving a busy track? The Australian quarantine period is 14 days, not a few days, so things would get very complicated for locals.

Chris Burke is the managing director of the Australian-based IRT. With offices in New Zealand, the U.K., and Germany, and U.S. cities Chicago and Los Angeles, IRT is as experienced as it gets in freighting horses around the world. It is also well acquainted with Australia's American problem.
"Generally, U.S. racetracks are very busy," said Burke, commenting on the suitability of an already-operating racecourse becoming a PEQ facility. "Trying to find one that won't have horses on the track when you need quarantined animals to do their training, and one that will have the separation required, is extremely difficult. Those tracks have other horses and other commitments, so for us to take that facility for weeks of the year, just for our private use, has been prohibitively expensive, and also psychically prohibitive."
For years, IRT has worked on this issue with Australian racing. It has ruled out taking a lease on a property, and has looked at private facilities in Kentucky and California, but none fitted the mould. In fact, the only option that has ever gained any traction is southern California's Del Mar Racetrack.
Del Mar has been on the Australian radar for a few years, but it's not a simple negotiation. First, Australia would require the facility twice a year – in September, when a consignment would go into quarantine for spring carnival, and in February, for Sydney's autumn carnival. During these weeks, for a fortnight at a time, Del Mar's track would need to be cleared of local runners for a certain space of time each day before quarantined horses could use it, and training would need to be scheduled under the supervision of an APHIS vet. Additionally, quarantine would need to occur outside of Del Mar's racing calendar, when the track is at its busiest.
"Quarantined horses would need to be the first on the track in the morning, or the last horses on the track after there's been a gap," Burke said. "Obviously the quarantine barn would need its perimeters and showering facilities, and all the things that restrict the access of people. So, with Del Mar, we're not just looking at a facility. We're looking at a facility that would need adjustments to make it a quarantine facility."
Leigh Jordon, international scout for Racing Victoria, has been working alongside IRT on this matter. To him, the U.S. is a final frontier, the last major racing jurisdiction that is yet to send racing horses to Australia.
"We had discussions with Del Mar officials two or three years ago," Jordon said. "Back then, there were a few problems. Their racing season was one, and there was also a riding school or equine centre very close by, which has since closed, or is closing. Discussions will obviously open up again now with Del Mar about a potential PEQ facility."
Jordon is well versed in flying horses in and out of Australia. It's his job at Racing Victoria to know when a racehorse can get on a plane bound for Melbourne, because timing is everything. During spring, the Werribee PAQ facility – Victoria's sole PAQ facility – takes only two shipments of international horses, and flights must be coordinated so that foreign horses arrive when there is room for them. This is where it gets complicated for Del Mar.
"In the case of spring carnival, we get the first shipment at Werribee around Sept. 27, always a Saturday," said Jordon. "So horses would leave America, depending on the scheduling, on the Wednesday or Thursday of that week. Work 14 days back from that, and horses would be entering quarantine. But I'd say for America, the second shipment [around Oct.10] would be the way to go, but we'd really need to look at Del Mar's racing schedule."
In 2015, Del Mar will be racing from July 16 to Sept. 7, and Oct. 29 to Nov. 29. Things would just be wrapping up at the track when Australia would need its PEQ facilities for the first shipment in early September. For the second shipment, things would be less hectic.
At the moment, Werribee is not only Victoria's only PAQ facility. It is also Australia's only PAQ facility for horses in training. In Sydney, negotiations are underway about a PAQ centre at Canterbury Park Racecourse, but, as things stand, all international racehorses must divert to Werribee. For Americans, this is yet another problem, because there is no cargo flight that will carry horses direct from California to Melbourne. The two freighters that depart Los Angeles each week fly straight to Sydney via Honolulu.
"By getting Canterbury approved, it means that horses can fly into Sydney and stay in Sydney," Burke said. "They can do their second leg of quarantine on the Canterbury track. This is something we've been working on with Racing NSW for a while, and it will be a major boost for The Championships."
By IRT estimates, if one horse were to travel on its own from the U.S. to race in Australia, and travel back on its own, air costs would approach AUD$100,000. Australian prize money is a great incentive for internationals, but so also are the purses at the Breeders' Cup in November, and in Dubai in March. If Australia is to lure the best Americans, it must first make the entry path simpler. The trek to Australia is a long one from anywhere in the world, but right now, from America it is almost impossible.