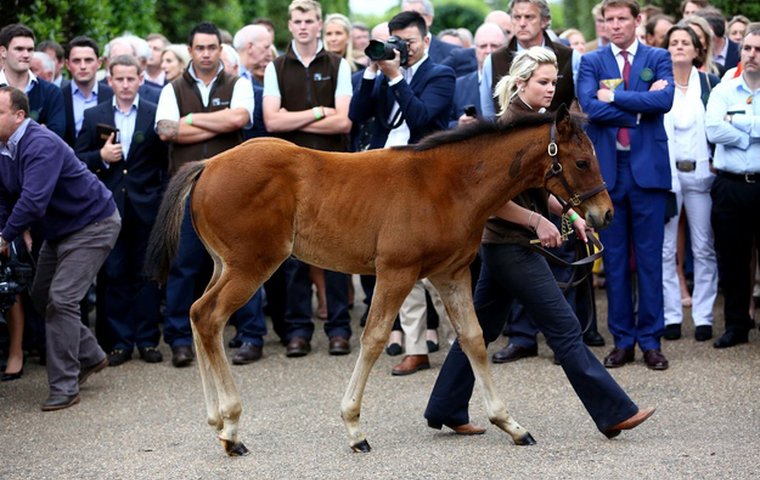 Bloodstock journalist Janet Hickman picks out some of the most notable facts in the industry in Britain and Ireland over the past 12 months.

Galileo continues to rule the roost
Galileo earned his fifth successive champion sire title (British/Irish earnings). Much like his sire Sadler's Wells, he has a stranglehold in Europe, thanks largely to a collection of highly talented colts. The big earner this time was his third Epsom Derby winner, Australia, now off to join his sire at Coolmore, with Frankel's brother Noble Mission, and Irish 1,000 Guineas winner Marvellous other notable contributors.
At auction, predictably, Galileos drew huge money; he was responsible for the Tattersalls October sale-topper - a 2.6-million-guinea half-brother to 2010 King George winner Harbinger - as well as the top-priced filly at 1.25 million guineas, and the €1.5 million sale-topper at Goffs Orby. He has to be favourite for a sixth general title in 2015.
The next question is how his sire sons develop. So far, Teofilo (five Northern Hemisphere G1 winners) and New Approach (three G1 winners) have done pretty well even given the high hopes behind them; on the next rung are Nathaniel and Frankel, who had their first foals this year.
There's a major buzz about Frankel
Frankel is the most anticipated sire of his generation. He made general news headlines in June, when one of his colt foals - together with its dam Crystal Gaze - made £1.15 million at a unique Goffs Sale in London. More foals appeared at Goffs - including a €1.8 million daughter of dual Guineas winner Finsceal Beo, whose price was more than three times her pursuer in the top-lots table - although at Tattersalls just one of his foals was recorded as sold.
Few of Frankel's foals appeared at auction; most of the best-credentialled offspring remain in private hands and will race for their breeders. In addition, at Tattersalls seven mares in foal to him were sold at prices ranging from 1.2 million guineas to 260,000 guineas, at a median of 525,000 guineas.
Younger brother Noble Mission collected three G1s in 2014 and has his stud chance at Lane's End in Kentucky for $25,000 - around an eighth of his brother's Banstead Manor Stud fee.
Sea The Stars: Patience is being rewarded
Frankel's predecessor as most anticipated sire arguably was Sea The Stars, and this year we found out his capabilities with his first 3-year-olds.
The key with his progeny is time; they do not make 2-year-olds. Those who benefited from patience were Epsom Oaks and King George winner Taghrooda, German Derby winner Sea The Moon, Prix Saint-Alary winner Vazira, and Prix du Jockey-Club runner-up Shamkiyr.
To date he has sired 11 stakes winners, nearly all as 3-year-olds. His two best runners are out of stoutly bred mares, and that pattern is often repeated with his other talented runners. Expect to see him as the subject of some interesting in-breeding with mares possessing his half-brother Galileo in their pedigree.
Kodiac a force to be reckoned with
Leading juvenile sire by number of winners was Kodiac, with a record 36 individuals collecting 55 races, 10 ahead of his nearest pursuer, first-crop sire Zebedee. Nearly half (46 percent) of Kodiac's runners won.
The son of Danehill got his stud chance largely because of the racing and early stud exploits of his half-brother Invincible Spirit, and he has been building a reputation for early winners over the past few seasons. He is now also poised to become champion 2-year-old sire by earnings, thanks to Tiggy Wiggy.
That has resulted in a fee hike at Tally-Ho Stud in Ireland to €25,000 from €10,000, a mere quarter of the fee charged at the Irish National Stud for his older brother Invincible Spirit, sire of Kingman, who makes his stud debut at Banstead Manor for £55,000 next year.
First-season sires: The Danzig line shines
In number terms, the leading first-season sires in Britain and Ireland were Zebedee (26 individual winners) and Showcasing (25), both with a win tally of 39. Behind them, Approve and Fast Company broke through the 20 mark for individuals.
There are themes behind this quartet. All were fast and precocious. All are from the Danzig male line, via Oasis Dream (Showcasing and Approve), Danehill Dancer (Fast Company), and Invincible Spirit (Zebedee). Both Showcasing and Fast Company are out of Zafonic mares.
They have done well in their anticipated role - lots of speedy, precocious offspring. Next year might reveal more of their versatility.
Lope de Vega looks a real class act
The most eye-catching first-season sire, however, was Lope de Vega, who leads the British/Irish newcomers' list in terms of earnings. He did not have the quantity of winners of Zebedee and Showcasing but he had a heavy dose of class among his progeny.
His four Pattern winners include Belardo (G1 Dewhurst Stakes) and English G3 winners Burnt Sugar and Royal Razalma. Just as interesting are his plethora of highly rated maiden winners.
Based on his own performances and pedigree, Lope de Vega will do better with his 3-year-olds, mostly over a mile or more. His promise is no secret; Ballylinch Stud in Ireland have the son of Shamardal at €40,000 for 2015. And with no Danehill or Mill Reef in his pedigree, he has outcross potential.
Danehill: A broodmare sire par excellence
Top broodmare sires tend to reflect the composition of the general table around five to 10 years previously. Top this time was Danehill, securing a top-three place for the fourth year in a row and securing his second title.
His daughters, when mated with Galileo, produced Noble Mission and Yorkshire Oaks winner Tapestry. But in his case it was numbers that promoted him; currently his daughters have produced the winners of 195 races in Britain/Ireland.
Huge gap left by the death of Street Cry
The most significant stallion death of the year was Street Cry, who died at Darley Australia just before the start of the Southern Hemisphere covering season. His loss is a huge blow to Darley, for whom he was flagbearer at Sheikh Mohammed's Jonabell Farm in Kentucky.
His first crop featured Breeders' Cup Juvenile and Kentucky Derby winner Street Sense (who stands at Jonabell) and outstanding filly Zenyatta. G1 winners, though nothing of their ilk, have followed, and in Europe his most prominent performer has been the Queen's Carlton House, who is now standing at Darley's Kelvinside Stud in Australia.
Street Cry, however, leaves a heavy genetic legacy open to Darley and others, via Street Sense and Shamardal, whose dam is a full-sister to Street Cry.
Close behind him was High Chaparral, who died at Coolmore in December.
The Derby, Irish Derby and dual Breeders' Cup Turf winner sat in the shadows of his stud-mate and paternal half-brother Galileo but has three young, interesting stallion sons in So You Think (Coolmore), whose first foals arrived in 2014, National Stud newcomer Toronado, and New Zealand champion Dundeel (formerly It's A Dundeel), who retired to Arrowfield Stud in Australia in April.
Farewell to the great mare Al Bahathri
Deaths of mares generally capture fewer headlines or are missed. One worthy of a big obituary is Al Bahathri, who died at the age of 32.
A high-class 2-year-old, the daughter of Blushing Groom was beaten only by Oh So Sharp in the 1985 1,000 Guineas before collecting the Irish 1,000 and Coronation Stakes.
She was a big influence at stud, too. Her best son was 2,000 Guineas and Champion Stakes winner Haafhd, but she also produced G2 winner Munir and G1-placed Hasbah. Her grandchildren include top-level winners Military Attack (Hong Kong) and Gladiatorus (Dubai/Italy), and among her great-grandchildren are three-times Melbourne Cup runner-up Red Cadeaux. She was prolific, and many of her female descendants are active.
She leaves one permanent legacy - the Al Bahathri all-weather training track at Newmarket, funded by her owner Hamdan Al Maktoum, was named in her honour.
The enduring legacy of the late Nelson Bunker Hunt
Nelson Bunker Hunt's influence on the racing world was largely historical, but his horses of the 1970s and 1980s include some of the greatest and most influential of the era.
Bunker Hunt, who died in October, owned 1976 Derby winner Empery but in bloodstock terms his most important horses were the incomparable Dahlia, another tough and top-class French mare in Trillion, both of whom he also bred, and U.S. G1 winner Glorious Song.
Dahlia foaled four top-level winners (Dahar, Rivlia, and Delegant, none exceptional as sires, plus the filly Dahlia's Image), and was also grand-dam of St Leger winner Nedawi and third dam of Ascot Gold Cup winner Rite Of Passage. Trillion, dam of the ill-fated Triptych, is also fourth dam of Treve.
Glorious Song foaled top-flight performer and decent sire Singspiel, and his inferior on the racetrack but superior at stud, Rahy.
---
* All stats from racingpost.com, including racing to 12-17-2014