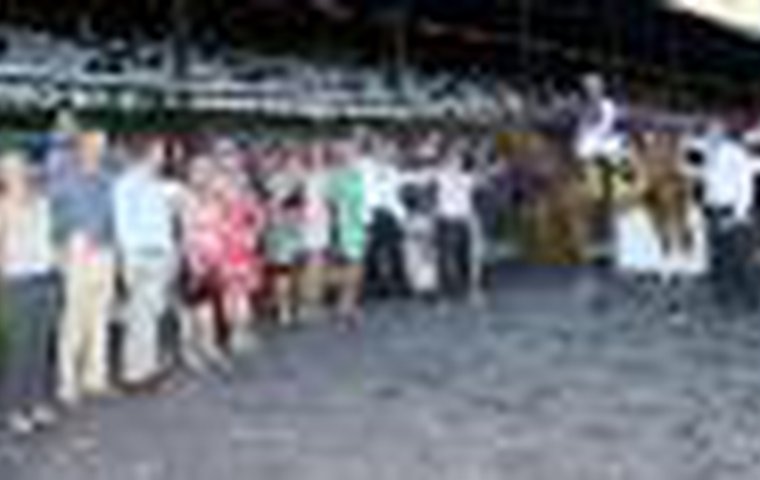 Julian Muscat talks to a small-scale British owner Eddie Partridge, who has enjoyed globe-trotting and profit thanks to his investment in Newmarket trainer Amy Weaver's North Star Racing project.

The concept of North Star Racing took a deal of selling when Amy Weaver set up the company more than two years ago. Having sourced some inexpensive horses from claiming races in Britain, she asked investors to buy into the syndicate before paying shipping fees of £7,000 ($11,730) per horse to race them in the U.S.
"It may have sounded a bit of a pie-brained scheme," Weaver said. "It was ambitious and adventurous, but I always felt it would work. I liked the angle from the start."
Her angle was to transfer ordinary racehorses from Britain to the U.S, where more generous purses gave North Star investors a shot at making money. She drew up a business plan from a seed sown when she completed a working stint at Christophe Clement's New York stable in 2007.
"We just needed people who believed in the concept," she said.
Among the early believers was Eddie Partridge, who has owned horses with Weaver since she started training from a small base in Newmarket in 2008.
"I said to Amy, 'This is a novel idea, Miss Weaver, even by your standards,'" recalled Partridge, 47. "We had raced horses together in [mainland] Europe, but this was something quite different."
Partridge bought shares in three horses Weaver sent to the U.S. in 2012. In that batch was Marchwood. Now a five-year-old, he has won four races and earned in excess of $100,000 to date.
Partridge has fared even better with his second investment in a three-strong batch of North Star horses.
"I had a couple of cash dividends from horses in the first batch, so I put that money towards the second," he said.
"In any batch of three horses, you must expect one to disappoint," he continued. "But that still leaves the other two. Since I made that original down-payment, I have not had to pay one penny more."
Better than that, Partridge built a vacation around running plans for North Star Boy, a horse from the second batch. Having won at Saratoga Race Course and Aqueduct Racetrack, North Star Boy was primed for the $125,000 Claiming Crown Emerald Stakes on Gulfstream Park's turf last December, when he finished a gallant runner-up for trainer Niall Saville, who handles all the North Star horses.
"I took my partner to New York for four days before we flew down to Florida for a week," Partridge reflected. "We had the time of our lives. I have been to Royal Ascot with runners before, but to watch our horse run second in such a valuable race was like a dream come true."
A national sales manager for a central heating manufacturer in Preston, northwest England, Partridge had to save up before he could make the trip.
"I am not Sheikh Mohammed," he said. "I have to work for a living. And, while I miss not being able to see the horses regularly, there is simply no way they could make the same money in England."
The centralised handicapping system in Britain is largely responsible for horses like North Star Boy falling through the cracks. The son of Acclamation was a talented juvenile, having finished fourth in the Group 2 TNT July Stakes at Newmarket Racecourse when trained by Richard Hannon.
From there, however, a horse who fell slightly short of the highest grade was left with little opportunity to express himself. He went down the handicap route as a 3-year-old but his superior juvenile exploits saw him over-burdened by weight.
When he failed to win in 10 starts, connections finally despaired. When they dropped him into claiming company early in his 4-year-old season, Weaver was quick to pounce. She gave £12,000 ($20,100) when North Star Boy won at Windsor in May last year.
Partridge is familiar with such woes. His Tariq Too, a 7-year-old he has in training with Weaver in Newmarket, has run at French provincial tracks – and once in Norway – in search of paydays commensurate with his ability.
The respective stories of Tariq Too and North Star Boy help illustrate why Weaver is onto a winner. In Britain, Tariq Too has an official handicap rating of 104. When North Star Boy won at Windsor his official rating stood at 78, which means that, had the pair clashed in Britain, Tariq Too would have spotted North Star Boy 26 lbs in weight.
Tariq Too has considerably more ability, yet while he has earned prize-money of £55,000 ($92,130) in 26 starts over four years (primarily in Britain), North Star Boy has earned nearly $150,000 from nine North American starts over 10 months.
Partridge has done the math and intends to savour further busman's holidays in the U.S.
"I plan to save up so I can go once or twice every year," he said. "It is such a buzz when you run for prize money well into six figures. And it's far nicer to be at Gulfstream, with its swaying palm trees, than at Wolverhampton on a cold winter's night."
Who can blame him?