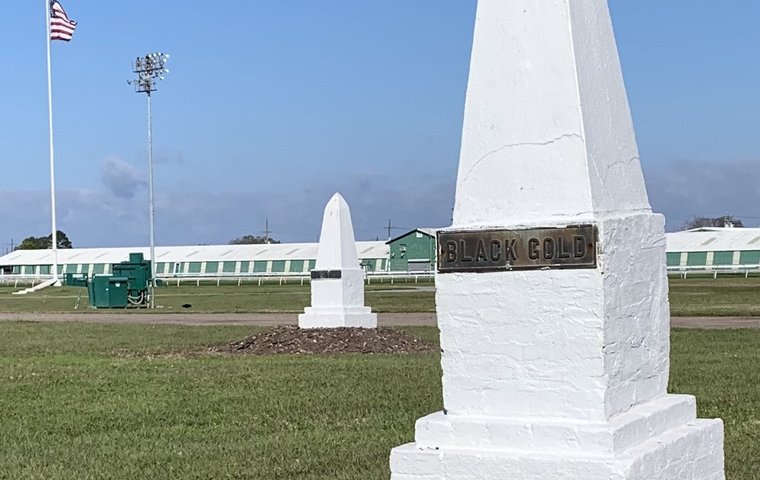 There is a horse buried in the infield at Fair Grounds in New Orleans. A famous horse, with an interesting story. His racing career commenced and ended at Fair Grounds, but his tale began with his mother.

The Thoroughbred filly foal was born, somehow, in Oklahoma, in the then Indian territory in 1907. Although a registered Thoroughbred, most of her 34 career victories were gained in informal unregistered bush races, match races, but she did win under rules.
The last time she ever ran a race, her owner, who doted on her, had been convinced to enter her for a claiming contest in Juarez, Mexico, with a $5,000 tag. His trainer had spoken with connections of the other contestants and was assured no-one would claim her as the owner's love and attachment for the filly was well known. She was family to Al and Rosa Hoots. Rosa was born in the territory, and she was half Osage.
Useeit got claimed that day after the race, a race she also got beaten in. A man came with a claim ticket, after the filly had been washed down and cooled out and readied for her stall.
He found himself looking down the wrong end of Mr Hoots' rifle, that man, and decided pretty quickly that maybe he could find another horse to buy. The stewards had to explain to Mr Hoots that sadly they would have to warn him off and remove Useeit from the Thoroughbred
Register.
It was a long way home with Useeit, all the way back to Oklahoma.
Along the way, an idea came to him. He was excited to return home again. He was not well anymore. Upon his return, he announced to his wife that they were going to breed Useeit to a fine Thoroughbred stallion, and that, should anything happen to him, she was not on any account to sell the colt she was going to have, even though they didn't even really have money to cover her. She was going to be bred, and the resultant colt would win the Kentucky Derby.
He decided all this, just days after the filly he loved had been removed from the Thoroughbred Register.
Three things happened over the next couple of years. Al Hoots succumbed to his illness, and oil was discovered in Oklahoma, on Indian territory, meaning every Osage tribe member would gain an annual payment from the sale of the rights to that oil.
Covetous eye
Rosa Hoots' share came to $12,000 a year. She was now able to write to the owner of successful Kentucky stallion Black Toney.
The third thing that happened was the Jockey Club relented and reinstalled Useeit into the Thoroughbred Register.
Useeit's foal by Black Toney was born in 1921 in Lexington, Kentucky. The colt was fine but small, and he was as dark as oil. And, since he maybe never would have been conceived without the money from those oil rights, Rosa named him Black Gold.
He ran his first race at Fair Grounds at the end of January of his 2-year-old year. The undeveloped young colt, still well shy of his actual second birthday, ran well enough. He ended up winning nine of his 17 races that year, including the Bashford Manor Stakes at Churchill Downs.
Shortly after, he began his partnership with jockey John David Mooney, known to everyone as JD. A young rider, born of Irish parents and raised in New Orleans ten minutes from the racetrack, he grew up riding the dray horses his father cared for.
The rider had held a covetous eye for the young black colt he would see regularly on the track in the mornings and raced against sometimes in the afternoons.
Out-of-town credentials
Black Gold matured and strengthened from two to three. He won the Louisiana Derby - then held at the Jefferson Racetrack. He had booked his ticket to head back to the state of his birth. He was going to run for The Roses.
In spite of his out-of-town credentials, and some condescension from connections of the more blue-blooded racing states, Black Gold went off favorite for the race. He lined up on the inside with 18 other 3-year-olds at the far end of the Churchill Downs straight, over 80,000 people there to witness. He met significant interference twice through the race, but it didn't matter. He still cut them down by the wire.
On May 17, 1924, Black Gold won the Kentucky Derby, in its golden jubilee year, the rider wearing the rose-colored silks of Mrs Hoots. He returned to the winner's enclosure and had that blanket of flowers placed over him. JD. picked one of the flowers and gave it to Rosa.
The black colt didn't go east for the Preakness or the Belmont Stakes afterwards. The trainer, Hanley Webb, went north with his single horse and won the Ohio State Derby and the Chicago Derby at Hawthorne. He won four derbys that year, but by its end his heavy campaign had taken its toll. He was sore, and the decision was taken to retire to stud the horse who won 18 from 35 starts and $111,000 in purses.
But then the oil well ran dry. He proved infertile. He produced only one foal in two seasons, and that single foal was struck by lightning and killed. The decision was made to return the sore horse to the track.
JD Mooney, his jockey, who had fallen in love with the young creature before he was ever actually united with him, was appalled and heartbroken and refused to be with the one he loved most.
Black Gold ran five times in his comeback, winning none of them. His final race was on January 18, 1928. The Salome Stakes at Fair Grounds. His ankle snapped in two places early in the home stretch, but the jockey could not pull him up. He hobbled on, past the wire.
Accounts differ, but it is of little matter. He was put down that day, after that race, five years after his first start at that very racetrack. They buried him in the infield, the brave little horse. A monument placed above him by the sixteenth pole is there to this day.
There were reports that Rosa Hoots ordered the horse returned to training as she had encountered financial difficulties. There were also rumors that she had taken out a $45,000 insurance policy on the horse. If those stories were true, then that last race was well named. Or was it the hard-pushing trainer, dismissive of the horse's plain calling of pain, who maybe was the real culprit.
The inaugural running of the Black Gold Stakes at Fair Grounds was held in 1958. The 2020 running is on Saturday (February 29). The winning rider traditionally places a wreath around that monument in the infield after the race, a touching way to keep alive, in some way, a piece of racing history.
There is one other horse buried next to Black Gold at Fair Grounds. Her name is Pan Zareta. She held the world record once as the fastest five-furlong sprinter. Useeit met her more than once. They raced against each other, eyeball to eyeball, when they were young and swift.