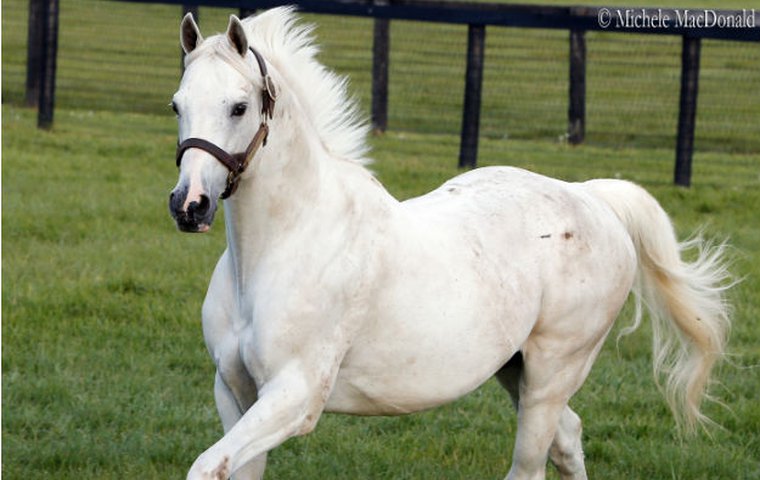 Take a peek into the daily routine of 'the incredible Tapit'

With dawn brushing the sky, pink, soft sunlight streams across a sloping field of grass, illuminating tiny diamonds of dew before igniting the white stallion in a brilliant beam.
This scene is so stunning that the horse, who is gazing imperiously at the horizon, could be a unicorn in some kind of fantasy, magically springing to life as he pivots on powerful haunches and romps away.
In fact, he is something almost as rare.
Tapit, who lords over the verdant pastures at Gainesway Farm as well as over all American racing as the record-breaking leading sire in each of the past two years, has proven to be the most unusual kind of progenitor: he begets exceptional offspring from even the most ordinary mares.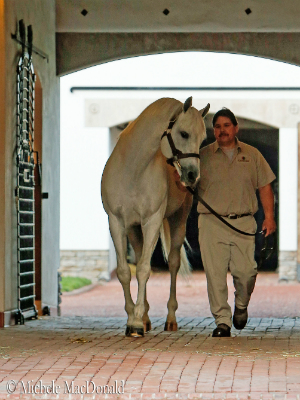 "People ask what works with him, and I say, 'What have you got?'" says Gainesway stallion manager Carl Buckler with a knowing chuckle. "That's what separates him from the other horses. One guy told me, 'You could breed a mule to him and get a winner,' and I think you could.
This year, Tapit (pictured left with groom Pedro Venegas) is the sire of a remarkable trio of colts who have qualified for the Kentucky Derby — Shadwell Stable's multiple Grade 2 winner Mohaymen, WinStar Farm's Arkansas Derby winner Creator and Koji Maeda's UAE Derby winner Lani. All three are stamped with the gray/roan coloring of their sire, although, at age 15, Tapit now appears white.
There could even have been a fourth gray son of Tapit in the Run for the Roses had not Coolmore's Cupid suffered an entrapped epiglottis in the Arkansas Derby.
These kind of generation-leading performers have become the norm for Tapit, beginning with his very first crop, born a decade ago after being sired on an introductory fee of $15,000. The last mare bred to him in his initial year at stud, the Remington Park stakes winner My White Corvette, by the obscure stallion Tarr Road, produced outstanding Breeders' Cup Juvenile Fillies Stakes winner and runaway champion Stardom Bound.
Other champions and G1 winners rapidly followed. In that first crop, fillies Careless Jewel and Laragh both won at the highest level, while colts Testa Matta and As de Trebol made their mark internationally, with the former becoming a G1 winner in Japan and the latter a champion in Spain.
----------
Bob Ehalt: is Nyquist a gift from Santa Claus?
----------
In subsequent crops, before Tapit's fee rose to be the highest in North America and one of the highest in the world at $300,000, he sired 2011 champion juvenile colt Hansen, 2014 champion 3-year-old filly Untapable and 2014 Belmont Stakes winner Tonalist.
His colts and fillies clearly can be precocious, they perform in superior company on dirt and turf, and they can sprint or go long. They may be known for their typically fiery natures, but, above all, the offspring of the son of Pulpit out of Tap Your Heels, by Unbridled, call to mind another mythical white equine, Pegasus.
In racetrack parlance, they can fly.
Gainesway President Antony Beck refers to him simply as "the incredible Tapit". The farm notes in its stallion brochure that Tapit — who during his own racing career competed just six times, winning three races including the G1 Wood Memorial Stakes — arrived at Gainesway on October 24, 2004, and "the rest is history".
"We really caught lightning in a bottle with Tapit," says Gainesway Director of Sales Michael Hernon. "Obviously, he moves his mares way up. He can change a mare's life — and he can change a breeder's life."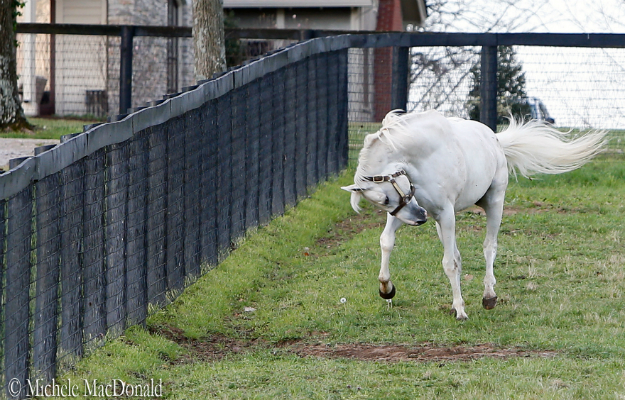 Tapit has sired 17 G1 winners, with many broodmare sire lines represented, including a variety of stallions from the Northern Dancer and Mr. Prospector lines. Some of his elite winners also were produced by mares sired by sons or grandsons of Broad Brush, Ribot, Damascus, Herbager, Icecapade and Kris S.
Tapit's own intriguing pedigree is 3x4 to Mr. Prospector and 5x3 to Northern Dancer's son Nijinsky, and it also features two lines of In Reality on his female side, which earlier had produced successful sires Relaunch and Rubiano.
With this genetic tornado inside him, Tapit has sired 77 black-type winners through late April, and he is poised to cross the $100 million threshold for total progeny earnings later this season after consecutive record annual earnings of $18,265,469 in 2015 and $16,813,536 in 2014.
The racing exploits of his offspring also have propelled Tapit to the summit among North American sale sires.
Global prominence
In 2015, he sired the sale-topping yearlings at the Keeneland September, Fasig-Tipton Saratoga Select, Kentucky July and October sales, with a gray colt out of Winning Colors' daughter Silver Colors, bred by Gainesway and purchased by Mandy Pope's Whisper Hill Farm, leading the way at $2.1 million.
Altogether, 41 of the 119 members of Tapit's current juvenile crop were sold as yearlings at auction last year, generating $23.97 million. When auction prices for yearlings, weanlings, juveniles and broodmares by Tapit are added together for 2015, the total is a staggering $43.7 million.
Tapit has become an industry to himself. A single share in the stallion sold for $2.8 million in 2014, which Beck said made his value, including breeding rights, approximately $140 million at that time.
But, beyond the money and the statistics, and beyond his mythical appearance, not many people know what Tapit is like to handle or the routine of his life at Gainesway, where, as Hernon says, he has re-established the program to global prominence.
Just as his stud record is unique, so too are some aspects of Tapit's personality, and the staff work diligently to not only keep him healthy, but also happy.
On a typical spring day, hours before the sunrise, Tapit rests in his stall in the four-stall barn he occupies with only one other horse, his son, Tapizar, who won the 2012 Breeders' Cup Dirt Mile. Such is Tapit's allure that no fewer than 28 of his sons are listed at stud around the world, with eight in Kentucky.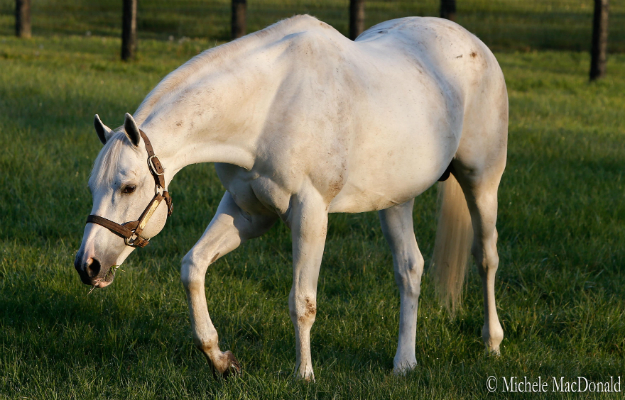 Tapit stands in a corner, facing the door, as he dozes. A special video system in the stallion complex allows staff to see what Tapit is doing at all times, and occasionally, after his head has nodded as he naps, he will lie down for a while.
He is served breakfast around 4 a.m. by a nightwatchman, who puts two quarts of a special 12 percent protein mixture - of sweet feed with molasses, corn, oats, alfalfa pellets, minerals and salt - into his tub.
Tapit is weighed once a month as a guide to his health. Standing 16 hands, he last checked in at 1,309 pounds, a level Buckler tries to maintain, with a variance of only about 50 pounds, throughout the year.
Just as important to Tapit's diet is a premium-quality western timothy hay, says Buckler, who started working with the Gainesway stallions in 1973.
Keen dislike
After breakfast, Tapit chews contentedly on the hay, with the green stems protruding over his distinctively pink lower lip. He gets another fat flake after his groom, Pedro Venegas, works with a special vacuum grooming system to remove dirt collected on his coat.
Generally, Tapit is accommodating with those he knows, but "he likes for you to get in there and get done — and then leave", Buckler says. "And around here, we let Tapit call the shots."
Like many stallions, Tapit is territorial about his stall and his paddock, and he quickly sizes up people who work with him and whether he will be able to get away with any mischief.
"He's a horse who is always looking to do something," Buckler says.
Around 7 a.m., the tempo of activity increases as the stallions are prepared to be turned out. One by one, they walk down a lane that leads to their paddocks — Belmont Stakes winners Empire Maker and Birdstone, dual classic winner and champion Afleet Alex, Japanese champion Hat Trick, Breeders' Cup winners Karakontie and Tapizar, and G1 winners To Honor And Serve and Afleet Express.
Last in this parade is Tapit, who has such a keen dislike for seeing other horses pass by him that he will kick the wire fence in his paddock, endangering himself. So, he is taken out last as a safety measure.
"He's the boss," Hernon exclaims, watching the stallion jog past, neck flexed and muscles rippling in the crisp air.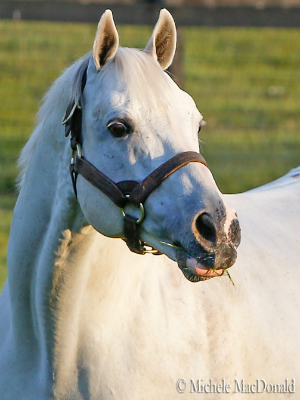 Once Venegas releases him in the paddock, Tapit surveys his immediate neighbors, Hat Trick and Afleet Alex, and issues a deep-throated grumble of dominance. With a sigh, he gently lies down on the ground and rolls both sides of his body in a dirt wallow he created on many previous mornings.
Suddenly leaping to his feet, Tapit canters off to find a sun-dappled area where he can pick grass and warm his back, curiously listening as honking geese fly overhead. At one point, he shakes his head at Hat Trick and races him down the length of the fence lines that keep them apart.
Soon, it is time for the stallions to come back in to prepare for 9 a.m. breeding sessions. In this ritual, Tapit will be first, for the same reason that he does not like to see others going past him, but he plays with Venegas before allowing himself to be caught, dodging and wheeling with his ears pricked and a bemused look on his face.
When Venegas produces a bucket of grain, it's a different story, and Tapit docilely accepts the gift and submits to the shank before prancing back to the barn.
"All you have to do is put sweet feed in your hand and he'll wait for you because he knows you have something for him," Buckler says. "Otherwise, he'll want to play or rear up and try to strike you."
On this particular morning, Tapit has seen the vans bringing mares to the breeding shed and he senses the duty ahead of him.
Waiting mate
His waiting mate is Stormy Sunday, a 14-year-old bay mare by the Storm Cat stallion Sir Cat, who began her racing career with a win at Turfway Park, from which she was claimed for $5,000 by Dr. Kendall Hansen. When Stormy Sunday and Tapit met in the Gainesway breeding shed in 2008, they conceived champion Hansen, and now, after producing a filly by Frankel in mid-March, she is returning.
Buckler approaches Tapit's stall and talks in a firm voice to the stallion, who is on his toes. "Don't push me," he tells Tapit after putting a muzzle on the horse as a protection for the mare and staff since the stallion is known as intense force of nature when he is working.
Ears up, neck arched, Tapit could be scoring points in a dressage ring for passage as he floats to the breeding shed. He swishes his tail and whinnies.
"Ready, 'Big T?'" Buckler says, using the nickname the Gainesway crew has coined for the farm star. "Let's go, son."
Tapit does not hesitate. "He is a terrific breeder in the shed — he's a very determined horse," Hernon observes. "He breeds so aggressively that you can nearly feel the power."
Stormy Sunday, who, like all mares bred to Tapit, is fitted with kick boots to reduce the possibility of any injury to the stallion, is a bit uncertain and shifts her feet, but Tapit manages to maintain his balance. With a deep exhale, he completes the breeding.
Filled out with maturity
When Tapit first arrived at Gainesway as a 3-year-old raced by Winchell Thoroughbreds, which retained a 50 percent interest in the horse, he was narrow in front and looked smallish, features that didn't excite breeders, Buckler recalls. But it quickly became apparent that Tapit — who has filled out with maturity — seemed to sire bigger offspring than expected, likely due to the influence from his maternal grandsire, Unbridled, he says.
"He mostly throws good, strong foals with powerful shoulders and flat knees," Buckler adds, noting the power of Tapit to draw America's best mares to Gainesway. Among those who have been bred to him over the years are Horses of the Year Zenyatta, whose 3-year-old son Ziconic is by Tapit, and Havre de Grace, who has a juvenile Tapit daughter named Heavenly Grace and a filly foal, Triple Crown winner American Pharoah's dam, Littleprincessemma, who in February produced a Tapit filly, and champion Groupie Doll, who has a yearling Tapit colt and a filly foal.
Gainesway limits Tapit's book to about 135 mares, a move that should prolong his life while increasing the value of his progeny because there will not be as many of them as other prominent stallions may sire. His book has been full of the best and brightest mares for years, almost assuring him continued, if not increasing, success.
This year alone, foals sired by Tapit have been produced by — in addition to those luminaries named above — the likes of Juddmonte's champion Close Hatches, who produced a colt; Stonestreet's champion My Miss Aurelia, who foaled a filly; Brereton Jones's Kentucky Oaks winner Believe You Can, who delivered a filly; George Strawbridge's European champion Rainbow View, who foaled a filly; Godolphin's Breeders' Cup Distaff winner Unbridled Elaine, who produced a filly, and Shadwell Farm's Breeders' Cup Filly & Mare Turf winner Lahudood, who had a filly.
Meanwhile, after Tapit leaves the breeding shed, he jigs a bit on the short journey back to his paddock. The other stallions have been turned out ahead of him, to avoid his displeasure.
As the day begins to warm, Tapit grazes and watches everything around him, including a small crowd that has gathered near his paddock gate. They are waiting for him to be brought back to his stall around noon.
"Tapit is a really smart horse," Hernon tells the group. "If you're thinking of something, he's probably already thought of it."
Most farm visitors arrive around 1 p.m., when Gainesway allows inspections of the stallions, and Tapit has been groomed again, or received a bath if he is muddy.
"Tapit misses very few of our stallion shows," Buckler says. "The first horse most people who come here will ask for is Tapit. They'll say, 'I can't afford him, but I want to see him'."
Tapit carries himself regally. From little girls to older men, most visitors seem in awe as he strides before them.
A jolt of his spirit
"Can I touch him?" a breeder from New York asks as his friend prepares to take a photo, then adds, in a child-like voice as he looks at Tapit: "How are you today, big boy?"
On some days, Tapit has other mares waiting for him in breeding sessions at 2 and/or 6 p.m. His second two-quart meal of grain is served around 3-3:30 p.m. and his temperature is taken for a second time, another gauge of his health. He spends the remainder of the day and night in his stall, resting and eating hay until the next time he will be called upon to impregnate a mare with a potential future champion.
More than any other single trait, Tapit gives his offspring a strong jolt of his spirit, Buckler says, a key quality in many great racehorses.
"He's very competitive, very strong-willed, and he passes that along. He also gets great cardio [scores] in his offspring, and they're very versatile," Hernon says. "When you breed a foal or buy a yearling by Tapit, your potential of buying a top stakes winner is very high."
"He is just an awesome horse," declares Buckler. "I have seen some great horses pass through (Gainesway) over the years, but I've never seen anything like him."