As Dubai's senior trainer, Satish Seemar has experienced all the massive changes in the Emirates racing landscape, and he could be forgiven for taking another big night at Meydan as a matter of course. Yet, with five runners to saddle on Saturday, he is approaching the world's richest single day's racing with the enthusiasm of a rookie.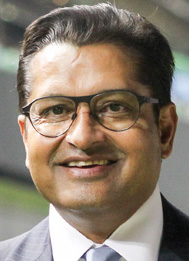 "I've been here for 27 years," said the trainer (pictured). "It's the 23rd year of the Dubai World Cup, and this is the best team I've ever fielded on the big day."
His flagbearer is North America, whose appearance in the Dubai World Cup Sponsored by Emirates Airline he describes as fulfilling "a dream".
"Since His Highness Sheikh Mohammed bin Rashid Al Maktoum built this amazing racecourse and then started the Godolphin sales of horses, it was his way to tell the rest of us to get on and do something different," Seemar said.
"I interpreted that as to mean introducing private ownership, which I started on straight away. I can proudly say that three of my five runners have come from the Godolphin sales, including North America, and are all owned by different people, including a syndicate which has Raven's Corner."
North America, the mount of stable jockey Richard Mullen, takes pride of place after progressing through the three rounds of the Al Maktoum Challenge with a better placing each time.
Seemar said, "He's done nothing but improve since he arrived at Zabeel Stables, after I bought him for Dh140,000 [about $38,000] at the April sale in 2016. He came as a maiden rated 75 and was very impressive when he won for us first time out by eight lengths. He then won one handicap by eight and three-quarter lengths and another by a length and a quarter, beating Heavy Metal. And finally he won a Group 3, the Firebreak Stakes, by seven lengths.
"Before World Cup day, it rained for 36 hours, and he hadn't the experience for the sloppy going in the Godolphin Mile, plus being drawn wide didn't help him at all. When I woke up on the morning of the race, I knew it wasn't going to be my day, so we had to write it off."
Starting with a clean sheet this year, North America was well beaten in the Al Maktoum Challenge R1, ran Thunder Snow to a neck in the second round and turned the tables on the Godolphin contender by an impressive five and a quarter lengths in the final stage.
Seemar explained, "The plan was to take it steady with him this year. I wanted to run him earlier than we did, but it didn't work out because I didn't think he was 100 per cent ready to go. You have to swallow your ego and excitement, and listen to the horseman's voice in your head. That's what we did, and slow and steady, he's peaking at the right time.
"He's a thorough gentleman of a horse to deal with, no attitude, no dangerous playing around, just a gentle giant. He has one rider, Abdul Sattar, who's my oldest staff member at Zabeel. In fact, it's a mystery how old he is. He's a very small, fragile man, but he has great hands."
Seemar added: "We've not done anything special with North America in the build-up. We always work five days out, and his final work-out was on Monday as a wake-up call. If everything goes well and the draw is kind, I feel we're as good as any other horse in the field. It's the first time I've felt that at a high level of racing. We definitely belong there."