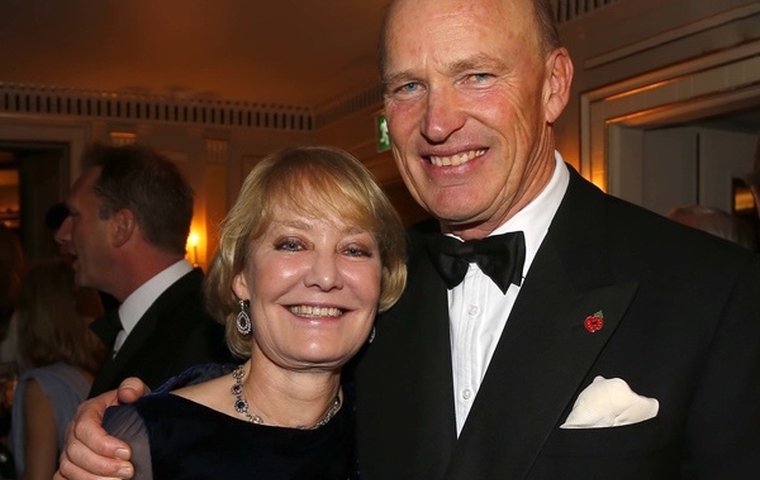 It wasn't long after Rachel Hood moved to Newmarket with her husband, John Gosden, that she had a seminal moment. It was 2006, and the couple had just bought Clarehaven Stables, a renowned training establishment on the iconic Bury Road. The search for a property large enough to accommodate Gosden's string of more than 100 horses was over. They had finally found their home.

One morning Hood was driving down the Bury Road, with its 10 majestic Victorian stables on either side, when something stopped her in her tracks.
"I saw loads of 200-year-old copper beech trees being chopped down to make way for the development of an inappropriate block of modern flats," she says. "I was flabbergasted, so I made some inquiries and was astonished to find I was treated with contempt at town, district and county levels (of local government).
"You assume that there's someone watching the shop, stopping these things from happening in a historic town like Newmarket, but that was a fool's paradise. Nobody was. Newmarket has been extremely badly served by local government over many years, and it's a tragedy."
This sour experience incurred Hood's wrath. It led to her forming Save Historic Newmarket, an action group highlighting issues that might detrimentally affect the town.
Hatchfield Farm victory
It also lobbied hard against Lord Derby's controversial proposals to build hundreds of houses on the site of his Hatchfield Farm, on the fringe of the town - and victory for the campaigners came last week, when those proposals were finally rejected by the government.
Hood also put herself forward as a candidate for election to the Newmarket Town Council, and subsequently, to the Forest Heath District Council, which is one step higher up the local government ladder. She was successful on both counts.
Coincidentally, Hood's involvement in local politics dovetailed with her increasingly visual profile in racing politics. She became president of the Racehorse Owners' Association (ROA) in 2011, which delivered her a seat on the influential Horsemen's Group.
And, when it came to appointing the chairman of the British Horseracing Authority in 2013, and its chief executive the following year, Hood was on the three-person selection panel both times.
Influential company
Her march through political corridors happened simultaneously with husband John scaling the training heights. He was champion trainer in 2012 and again last year. All of which saw their Clarehaven Stables (Rachel is a partner in the business) become something of a Camelot within Newmarket.
For instance, when the former Prime Minister, David Cameron, visited Newmarket last year, Gosden was by his side – as was bloodstock agent Tom Goff, an old school friend of Cameron who was best man at his wedding. Goff often acts for the Gosdens at bloodstock sales.
Also in the unofficial welcoming committee that day was local MP Matt Hancock. When Hancock rode in a charity race at Newmarket four years ago, it was Gosden who supplied his winning mount.
All of which saw Hood mixing in influential company. Together with others, she has been vocal in amplifying racing's cause where it matters most, which she maintains is the legacy of years of the sport neglecting to get its message across to politicians on all levels.
Equally, her insight into complex issues confronting racing became clear from the monthly column she penned in the monthly trade publication, Thoroughbred Owner & Breeder, until her term as ROA president ran its course in February.
Progress over 'racing right'
She pressed hard for the introduction of a "racing right" to replace the existing levy mechanism, which is projected to increase the bookmakers' contribution to the sport, at a time when many felt the cause was mired in the political process. Even the British Horseracing Authority's antennae suggested its implementation was some years distant.
So it surprised several seasoned observers – but not Hood – when the government announced in May that it would press ahead with a concept it hoped to introduce in April next year. Had she played a part in the process?
She is guarded in her response. "Well, we in racing felt everything was moving along quite smoothly but we hadn't appreciated that a different message was being conveyed to politicians who were involved in the process," she says.
"Fortunately, that was brought to our attention and we were able to rectify it. Hopefully we can now proceed with the secondary legislation that's required. It doesn't take so long (as primary legislation) and is not so fraught with risk. The BHA is working very hard on it."
Hood is reluctant to discuss the minutia because so many others have helped to propel the case forward. There are also trusts she cannot betray, and the process remains ongoing.
Exasperation over Tote sale
Another significant date is fast approaching: the expiry of Betfred's seven-year exclusive licence on pool betting, which came with the bookmaker's purchase of the Tote in 2011. Some racing professionals believe that opportunity knocks, although Hood remains exasperated how the Tote came to be sold off in the way it was.
The "tragedy of the commons" is an economic theory relating to a shared resource that is eroded by the individual actions of those involved who behave contrary to the mutual benefit of all. Hood believes the Tote is a classic case in point.
"The Tote was taken for granted in such a big way that it was destroyed by neglect," she says. "Remember, when the government first looked at disposing of the Tote, it was supposed to be given to racing. In the end it was sold to a bookmaker."
Now, however, the industry is exploring how to best harness pool betting, which Betfred has all but left in the long grass. "Various people are working on it," Hood says.
"People in Britain do like on-course betting, so that seems to be the area to focus on. It's my understanding that groups of racecourses are putting plans together which will one day require input from the Horsemen's Group.
"The Horsemen's Group wants to contribute in a helpful way but, from its perspective, there must be benefits for its members. We are no longer prepared to be taken for granted. The alliance between racecourses and the Horsemen's Group is going to be the principal axis of the future for British racing."
Living in America
Interestingly, the concept of a Horsemen's Group arose from a gathering more than 10 years ago at Manton, where Gosden trained before his move to Newmarket. "Our inspiration was the American model," Hood says.
"In the U.S., racetracks can't race until they have agreements with horsemen on prize money and the racing programme. Our Horsemen's Group has the same philosophy, but the mechanisms in Britain are different."
Mention of the U.S. induces a look of nostalgia in Hood's eyes. Her husband's training odyssey started in California back in 1979, where he won so many celebrated races for patrons that included Hollywood's A-list actors. Considerable adjustments were required from those joyous, carefree days when the couple relocated to Britain 10 years later.
"There was a very long period when I wondered whether we had done the right thing," Hood says. "Truthfully, I didn't want to come back. I was very happy being a lawyer living up in the Hollywood hills, but it was different for John. For him, training good horses is what it's all about. We are very happy here now. John works non-stop, but it's a great joy when things work out."
Gosden, for his part, often quips that he must contact his wife on Monday morning if he is to secure half an hour with her before Friday is out.
Uncertainty over the Brexit effect
Hood's workload is gradually subsiding. She stood down from her responsibilities at the ROA and no longer sits on the Forest Heath Town Council. Nevertheless, in racing's political firmament, she would be aptly described as Minister without Portfolio.
She makes no apologies for her occasionally brusque business manner, arguing that there has been too much ground for racing to recover in too short a time. And, of course, all her efforts on the political front may yet be undone by the recent Brexit vote and the political upheaval it generated.
Many of Cameron's allies, and thus racing's allies, were purged by Theresa May when she was sworn in as Prime Minister earlier this summer. It remains to be seen whether the ambitious timetable for the introduction of the long-awaited "racing right" is met in April.
If not, the implications for British racing are severe. Offshore betting platforms, from which no levy flows from bookmakers to racing, continue to attract larger betting volumes with the consequence that a black hole is forming within the sport's cash-flows.
However, if and when the "racing right" legislation is introduced after a delay, it would be no surprise to find that Hood had played a silent part in bringing it about. Whether it is racing or her beloved Newmarket, she is drawn to worthy causes like a moth to the flame.