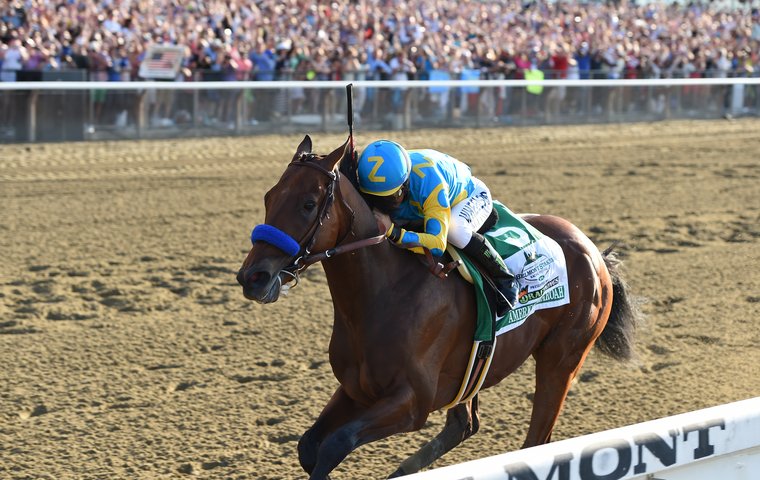 A competitor's merit has two basic components: their record of winning and losing, and the strength of the opposition faced.

This is the basis of all reputable ratings systems in the wide world of sport, most notably those of Ken Massey or Jeff Sagarin or Nate Silver in the U.S. It is also the ethos of TRC Global Rankings, such as our current figures for jockeys:

In the table, IV (Impact Value) represents the rate of winning and losing and tRPR the de facto strength of opposition. We run an algorithm to connect all jockeys, owners, trainers and sires around the world in a broadly similar way that Silver and others connects European football teams, for instance.
To date, we haven't published rankings for horses. This is mainly because their data is far more sparse than, say, jockeys, who take hundreds of rides in Group/Graded races. A horse may run just a handful of times in the races we care about, so comparing them across the world is no easy task.
This is especially true for TRC Global Rankings because we care about uncertainty over a competitor's true ranking.
You will see that most competitors at the top of our rankings have won more races than the majority of their opponents, but a jockey like Zac Purton doesn't get that opportunity because Group races in Hong Kong, where he is based, are less frequent than elsewhere. So, we try to marry up those twin impostors rate and volume to produce one number (shown as Points in the table), which expresses the achievement of a competitor relative to the opportunities afforded – taking into account that larger samples are more reliable.
A horse can earn the right to be regarded as world-class far faster than a jockey or trainer. So, the coefficients we use to weigh volume against efficiency need to reflect this. Fortunately, the TRC Global Rankings algorithm can adjust to a new environment automatically because it learns how to balance the performance of a relatively new competitor with that of an established one by making predictions about future races and seeing what works.
We haven't had enough data to produce a stable weekly ranking of horses, but, now we have a decade of detailed Group and Graded races around the world, it is nearly time. So, here are the top 100 horses in the TRC Global Rankings era, starting from the first week of 2014, when three years' worth of data was in the system, and we have had seven years afterwards to perform out-of-sample learning: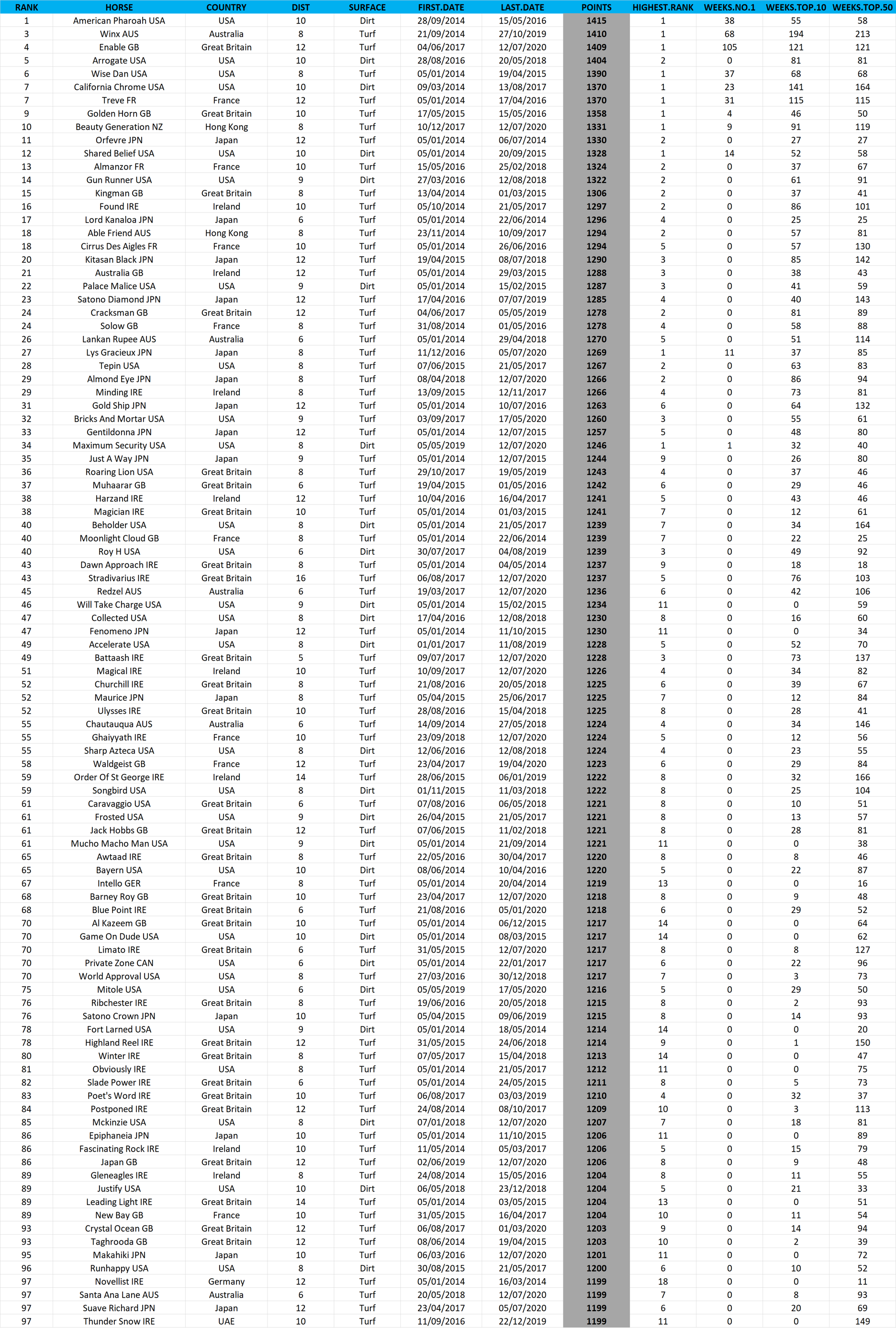 We have had 11 different world #1s in the era, which post-dated the great Australian sprinter Black Caviar because a horse is excluded from our system after 200 days of inactivity. Chronologically, these were:

And our current top 40 is: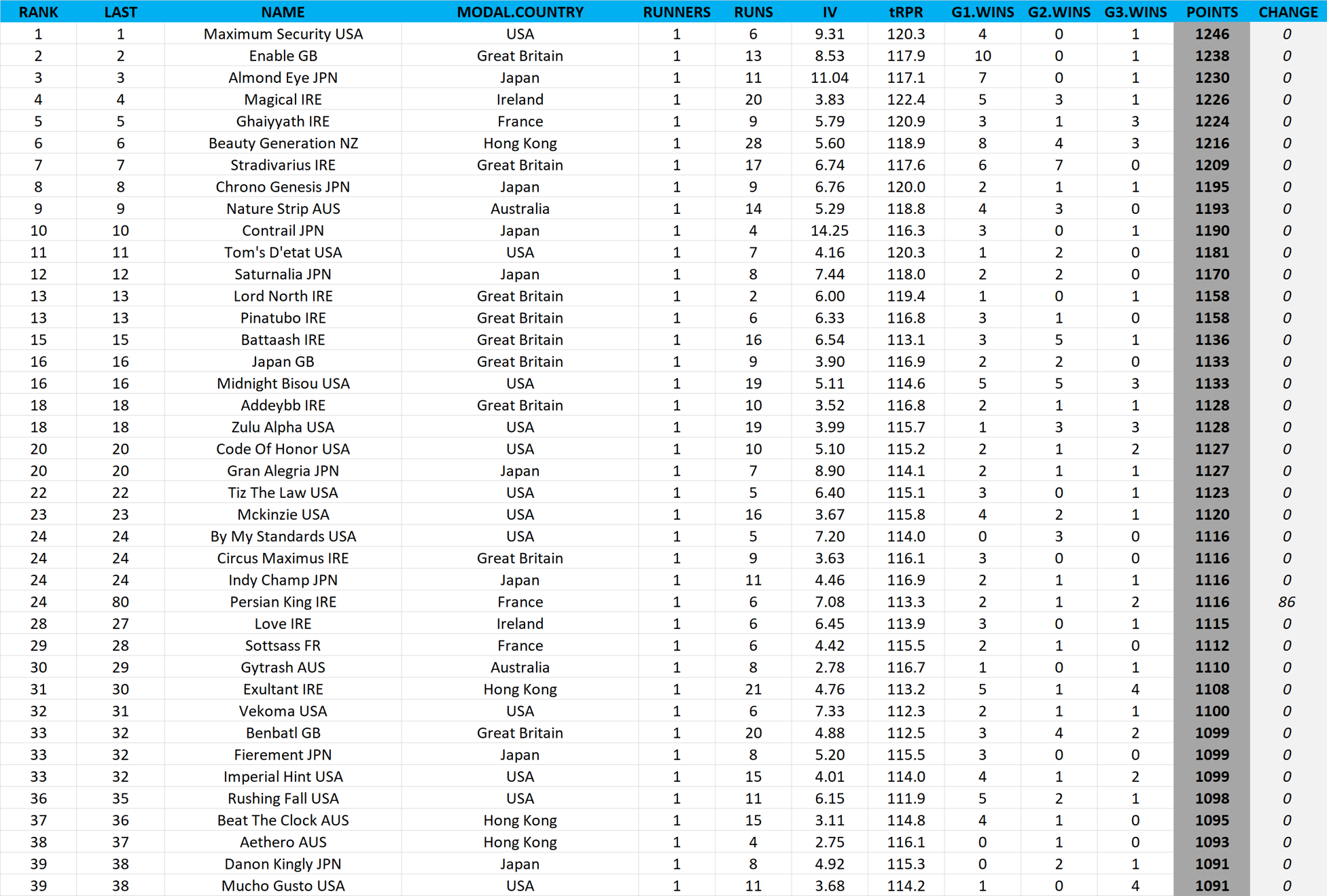 A few notes as a reminder of the basis of TRC Global Rankings:
Recency is important. Enable has been #1 for 105 weeks, more than any other horse. She hasn't been active recently and lost to #5 Ghaiyyath on her comeback in the G1 Eclipse Stakes at Sandown, albeit in highly encouraging circumstances. If she win the G1 King George VI and Queen Elizabeth Stakes at Ascot on Saturday, chances are she will reclaim the top spot from controversial U.S. dirt horse Maximum Security.
These are not merit ratings, or else a horse like the British sprinter Battaash would be much higher than #15. But, Battaash has had many more chances to pad his record than some others at the top of the sport and our algorithm is reflecting this.
Notice how 3-year-olds with an outstanding record in small samples like Contrail, Pinatubo, Tiz The Law and the filly Love are able to make the list. The algorithm allows this to happen (by means of the coefficients it has learned) because in the data there are numerous examples of horses with their profiles defeating older runners with more complete CVs. The rankings of lightly raced horses are therefore more volatile. Notice, for instance, how Persian King has leapt up the charts from #80 to #24 after gaining 86pts by winning the G1 Prix d'Ispahan last week.
Rankings that track horses over multiple seasons simply have to use an ageing curve. Battaash, for instance, had 1228pts at his peak, reading from the top table, which would make him the current world #4 – a position more in line with his merit. But he is now a 6-year-old with 16 Group runs under his belt and the algorithm seems to balance his rating with more lightly raced horses of upside. Again, this is a feature entirely learned from data that can see experienced horses sometimes even losing rankings points despite a win.
In the table, tRPR is a rescaled version of Racing Post Ratings (RPR) using the method of paired comparisons. From every race result, we take all the head-to-head margins to create a massive web of relationships across all horses in the world. The connection between turf racing and dirt racing is still admittedly volatile, even based on ten years of results. But, we can also use the parameters of the distributions of horses, assuming the median-quality horse on both turf and dirt is the same and ranking horses partially according to their rarity value among that population. It seems like the resulting rankings have achieved a fair balance between the two spheres of world racing judged by the leading horses, but we cannot be as sure about this from the co-mingling of talent as we are sure of the ranking within each surface. So, if you think dirt racing is 100pts too high, or whatever, go ahead and make that adjustment. But, we have relied on the data to do the best job it can in striking the balance, and there is very little between those titans American Pharoah, Enable, Winx and Arrogate.
We will continue to work on our horse rankings and test them against data before releasing them on a weekly basis.