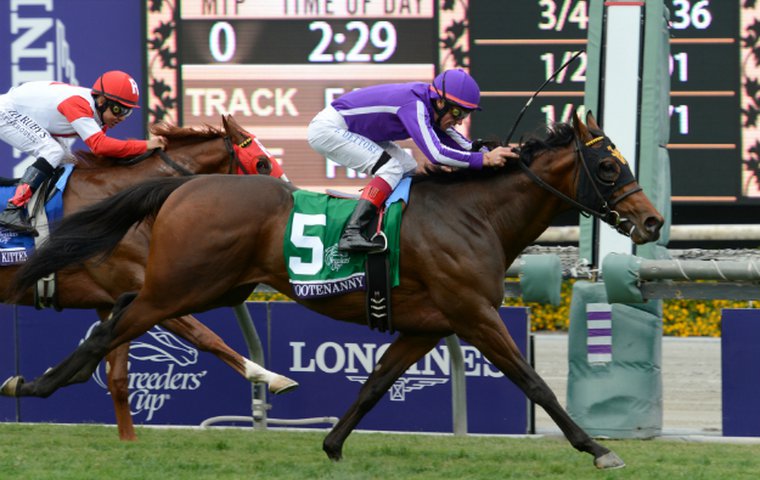 Royal Ascot 2015, which starts its five-day run Tuesday, promises to be a vintage edition. Naturally, much of the cream of British equine talent will be there, but it is the awesome mix of superstar internationals that truly elevates this year's meeting.

Top-drawer challengers like lightning-fast Brazen Beau (Australia), powerful middle-distance runners Spielberg (Japan) and Criterion (Australia), stunning Dubai Turf winner Solow (France), and dual Guineas hero Gleneagles (Ireland) would be enough by themselves to quicken the pulse of any knowledgeable racing fan.
But there are two other raiders from overseas that take this Royal Ascot up another level entirely, and put it at least alongside the Breeders' Cup and Dubai World Cup meetings at the very summit of global sport.
California Chrome (United States) and Able Friend (Hong Kong) are not only two of the best horses in the world, they are two of the most charismatic -- and they are truly up against it this week.
Many believe the task facing California Chrome, the Kentucky Derby and Preakness winner last season, is close to mission impossible. Not only are Spielberg and Criterion taking him on in Wednesday's £525,000 mile-and-a-quarter Prince Of Wales's Stakes on unfamiliar turf round an unfamiliar right-handed bend, also lying in wait are French Derby and Irish Champion Stakes winner The Grey Gatsby and race favourite Free Eagle, the Irish colt widely expected to be one of Europe's top horses of 2015.
The straight mile of the £375,000 Queen Anne Stakes on Tuesday shouldn't inconvenience the mighty Able Friend so much, but Solow may -- and the bookmakers have the French horse as narrow favourite.
Certainly, in these contests, we have two of the most intriguing and significant races not only of the week but of the whole year.
But perhaps not the most significant.
Friday's G1 Commonwealth Cup is a new race, a six-furlong event for 3-year-olds. And it has the potential to change the face of European sprinting.
Make no mistake, in Europe sprinting is very much a second preference for most, a sort of consolation option for horses that haven't quite lasted home in the Guineas. You get a good 2-year-old and you invariably aim it at the mile classics the following spring. The top trainers do it in Britain, in Ireland, in France. Only if the animal is found wanting over eight furlongs do they rethink its campaign and drop it back in trip.
Breeding for speed is not so much the fashion these days as the raison d'être, so it's little wonder the distance that horses are effective over has gradually been diminishing. Europe's race program, however, has not kept pace with the trend.
Which is one of the main reasons why the world's fastest horses are from Australia and the U.S. -- with hardly a European in sight.
The £375,000 Commonwealth Cup is an attempt to redress the balance, to provide a new career path for Europe's speediest 3-year-olds. The good juvenile that would have been aimed at the Guineas despite having little chance of staying a mile now has somewhere else to go, a different first option with no loss of face, carrying a similar level of prize money and prestige.
"The idea is to increase the profile of sprinting [in Europe]," said Ascot's head of international racing, Nick Smith. "The profile of sprinting is very high at Royal Ascot, but not because of the European sprinters, because of the horses that have come [from overseas] and run in them."
Just as the Guineas races provide a stepping stone to clashes with top older horses later in the season, the Commonwealth Cup is designed to do the same for young sprinters who otherwise would be thrust in at the deep end with nothing to prepare them for the inferno of a G1 sprint.
And, as with the classics, which are preceded by a series of trials, a number of prep races have been introduced to provide a route to the Commonwealth Cup itself.
"You would hope that natural sprinters would have a better chance of being better horses long term if not asked to do something that is unnatural to them," Smith said. "The idea of the race in the long term is that horses that have little chance of getting the trip [in the Guineas], will be aimed at their own early season major target. Of course they can go the Guineas route too, like Tiggy Wiggy, whose Guineas run was worth it as she was placed, and drop back – this just expands the options"
The appeal of the new race is not likely to be restricted to Europe, however. "We're working very hard to promote it to the Americans for the conventional 3-year-olds and for the 2-year-olds in Australia [where they are aged 3 under Northern Hemisphere rules]," said Smith.
"[U.S. trainer] Todd Pletcher wants to run a horse in the Commonwealth Cup. He hasn't got one unfortunately this year but he loves the idea of the race. I mean, a 3-year-old turf sprint over six furlongs, there's nothing for them in the States. Nothing close to that level. If you want to run round in stakes races and wait for the Breeders' Cup, fine, but this is a Group 1 race in June. Connections of Cyclogenisis have seen that and decided to supplement – to get a U.S. supplementary entry has surprised and delighted us. The Commonwealth Cup is an international race in year one, which is great."
Another American trainer who certainly does have a horse for Friday's race is Wesley Ward, who is due to run his Breeders' Cup Juvenile Turf winner Hootenanny, also victorious at the royal meeting last year. Chief among the high-quality British and Irish 3-year-olds he will face are Tiggy Wiggy and another blisteringly quick filly, Anthem Alexander.
So, whether the Commonwealth Cup has the expected long-term impact or not, Friday's first running promises to be one of the week's standout races -- which is enough on its own to make the new event worth its place.