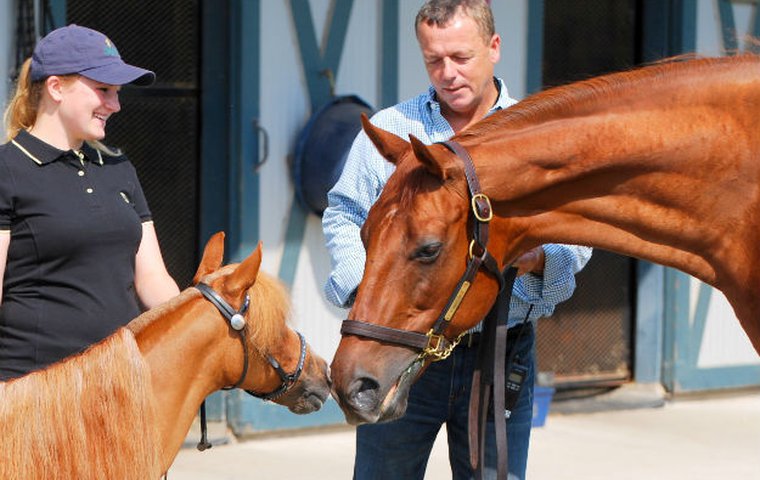 Next Monday marks the ninth anniversary of the final race of one of the most popular American racehorses of recent times, the 2003 Kentucky Derby and Preakness Stakes winner Funny Cide, who was retired shortly after his victory in the Wadsworth Memorial Handicap at Finger Lakes on July 4, 2007. The track's normal capacity was 6,000, but a crowd of more than 12,000 turned up to watch him. But how is Funny Cide these days? Glenye Cain Oakford went to find out.

Funny Cide, winner of the 2003 Kentucky Derby and the first gelding to win the race since Clyde Van Dusen in 1929, has not lost his edge.
It's been 13 years since he won the Derby (and became the first New York-bred to be voted North America's champion 3-year-old) and just over seven years since he moved in at the Kentucky Horse Park's Hall of Champions. But age, affectionate visitors, even fan mail with peppermints have not mellowed the fiery chestnut, who still owns possibly the most colorful Triple Crown campaign in recent memory.
Visiting with Funny Cide today, one still sees the tough, demanding athlete who overcame setbacks in races but couldn't always overcome his own headstrong temperament.
"Mostly, he just wants to be left in peace," said Robin Bush, who has been one of Funny Cide's chief caretakers since his arrival at the Hall of Champions in December 2008. "He'll let you mess with him, but you kind of have a time limit before he starts to get cranky about it. So we try to accommodate his sensitivity, and we don't take too long grooming him. You have to accommodate his personality, but I don't let him run roughshod over me. We've just come to an understanding with each other."
That understanding, Bush says, includes a Grooming Compromise: Funny Cide will tolerate being brushed if Bush allows him to eat hay at the same time.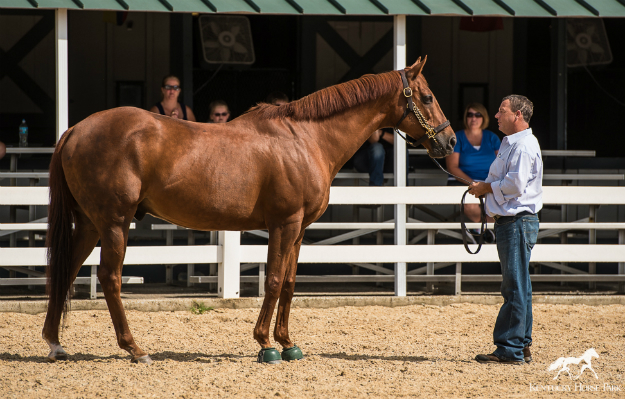 This is life with Funny Cide, who appears to have taken up the mantel of curmudgeonliness that another great gelding, the late two-time Horse of the Year John Henry, previously wore. Funny Cide has strong opinions, says Bush, and he can have a quick temper, but, unlike John Henry, he doesn't hold a grudge.
"They were both very intelligent and both very sensitive," explained Bush. "Both of them, if they really were seriously angry, it could be scary. But, despite that, they're tolerant and put up with a lot, which is lucky. John Henry would hold a grudge. If you did something he felt you were in the wrong about, he could almost be conniving, and he'd find a way to get you back later. But Funny Cide, he can get so angry and look like he's fantasizing about killing you, maybe he'll get furious because you tried to straighten his blanket. But, once whatever has made him mad is over, once you've straightened the blanket and left, he just lets it go."
"He just doesn't like a whole lot of things — doesn't like being brushed, hates his mane being pulled," she said of Funny Cide. "Some things, though, he'll kind of surprise you with. He doesn't mind having his whiskers and bridle path clipped, which surprised me at first, since he seems to mind just about everything else you have to do with him. And he does have a few spots that, if you scratch them just right, at first he stands there with a face like he's trying so hard not to show that he likes it, and then finally he gives up, like, 'Okay, that actually feels good'."
Strength of character
None of this would surprise Funny Cide's former racetrack connections. He was so strong on the track that exercise riders often had to gallop him with his head cranked to one side in order to keep a hold of him.
"You can't win an outright fight with him," regular rider Robin Smullen, assistant to Funny Cide's trainer Barclay Tagg, once observed. You have to convince him into doing things. The whole ride is a negotiation."
The Distorted Humor gelding's strength of character helped him bull through some tough times on the Derby trail: a hard whack into the starting gate in his first start of 2003, a lung infection that sidelined him early in the season, and a difficult, wide trip in the Wood Memorial (in which he battled back and finished a hard-charging second to Empire Maker). But sometimes Funny Cide's willfulness proved costly, most famously when he lost his Triple Crown bid to Empire Maker after fighting jockey Jose Santos's attempts to steady him early in the 1 1/2-mile race.
Funny Cide's brave performances, his relatively inexpensive purchase price (he was a $22,000 yearling that the Sackatoga Stable partnership bought privately at two for $75,000), and his status as a gelding added to Funny Cide's image as an underdog on the Derby campaign. And his unpretentious owners — a partnership of former high-school friends who had pooled their money to buy a horse or two — added to the team's appeal.
They traveled to Funny Cide's Triple Crown races in a yellow school bus, and, as the gelding won the Derby and the Preakness, his and their "everyday Joe" popularity with the public grew. When a bizarre allegation after the Preakness — that Santos had been carrying an electrical "buzzer" to make Funny Cide run faster during his record-breaking victory — was investigated and found to be baseless, public support for the gelding and his connections reached a fever pitch.
Most visited horse at the Hall of Champions
Led by managing partner Jack Knowlton, the Sackatogians and their horse returned to their native New York for the Belmont Stakes like the Beatles came to JFK airport, to nearly wild public adoration, and Funny Cide's loss in the race did nothing to dent people's regard for him.
When Funny Cide came to the Kentucky Horse Park in December 2008, the park was quiet during its winter hours, and there were no big crowds to greet the celebrated chestnut gelding, who arrived with a note, detailing his personality and some of his quirks, attached to his halter.
But public affection for Funny Cide has stood the test of time, says Bush.
"He still gets a lot of attention, and we have folks who still come down from New York specifically to visit him, and from other places, too," she said, noting that Funny Cide currently is the most visited horse in the Hall of Champions.
"He still sometimes gets Christmas cards. There's once man in particular who sends Funny Cide a card every year with a little bag of mints. Last Christmas we took a photograph for him of Funny Cide getting the first mint from the bag. And we do get a lot of requests for people to get their picture taken with him, and we can usually accommodate that. He's usually nicer to visitors than he is to his handlers!"
Hint to visitors: Funny Cide loves mints and carrots, and recently he has discovered an herbal treat called Hilton Herballs that are an occasional luxury.
He loves those," Bush said. "His eyes get really big when he can smell them in your pocket."
These days, when he's not on show in the Hall of Champions presentations for visitors, Funny Cide's schedule — like John Henry's did before his death in 2007 — includes regular hand-walks around the park, often in the company of Bush or 87-year-old Horse Park handler Gene Carter, who sometimes sing to the gelding as they make their rounds.
Stall with an illlustrious history
"You can tell he's listening," said Bush. "He's really relaxed when you walk him around the park. He likes to look around, and if there's not a lot going on, he seems to love the quiet just as much. He's so docile then."
On these sojourns, Funny Cide often bumps into fans who are pleasantly amazed to meet a Kentucky Derby winner striding among them along the park's leafy lanes.
"They're usually so pleased when they see him like that, just walking somewhere around the park," said Bush. "It makes people so happy to just bump into a Kentucky Derby winner unexpectedly on the grounds, and he's usually quite patient with visitors."
Funny Cide also has made a few appearances off site, such as a trip last summer to parade at Saratoga Race Course.
Funny Cide is 16 now, and, so far, he appears untroubled by age. He is known to have slightly thin soles on his hooves, but 20-minute sessions on a TheraPlate vibrating machine, which is thought to increase circulation, appears to have prompted better hoof growth, according to Bush.
Although he often seems only to tolerate human company, Funny Cide is friendly with the park's other equine residents, Bush reports. He is turned out in a paddock by himself but became especially companionable with three miniature horses who lived for a time on the other side of his fence, for example. And his stall and adjoining paddock have an illustrious history. Before Funny Cide moved in, they belonged to Cigar, who died in 2014, and before that to Kona Gold (d. 2009) and to the great Forego (d. 1997). It is not a bad retirement for a horse who has touched so many people — owners, handlers, and fans alike.
"He's a happy horse overall, he just doesn't want to be messed with too much," Bush said of Funny Cide.
And why not? Let's face it: Funny Cide, the gallant and gutsy gelding, has earned his privacy.