It is high time for racing fans everywhere to recognise that Mirco Demuro is one of the most successful jockeys on the planet. He has been red-hot for over a year, posting a sequence of success that is truly remarkable by any standards, but especially praiseworthy considering the nature of racing in Japan.

Since the beginning of last year, Demuro has had 67 rides in Japanese Graded races and one in Hong Kong. In these races, he has faced an average of 14 rivals, yet ridden no less than 20 winners!
This 30 percent strike rate in some of the toughest racing there is has come at an Impact Value (IV) of 4.48 – nearly four and a half times the rate of random chance. In the same period, Ryan Moore's 58 Group wins have come at IV 2.42, while Hugh Bowman's 29 winners have come at IV 2.20.
As a result, Demuro now splits the two big-name rivals at #2 in the latest TRC Global Rankings classification of the world's most successful jockeys. Note the definition here: we are not saying 'best'.
At the start of 2017, Demuro was #6 in the world with 1024 points. He now has 1058 points and, as we have teased before, is the leading Italian rider, with a 17pt cushion over world #4 Frankie Dettori. The latter still has a sizeable lead in brand recognition, however, and with Enable, Cracksman and many other top horses to ride in 2018, is a good bet to close that gap and re-establish himself as Il Re.
The graph shows Demuro's ranking point gains from 1/1/2017 to this week.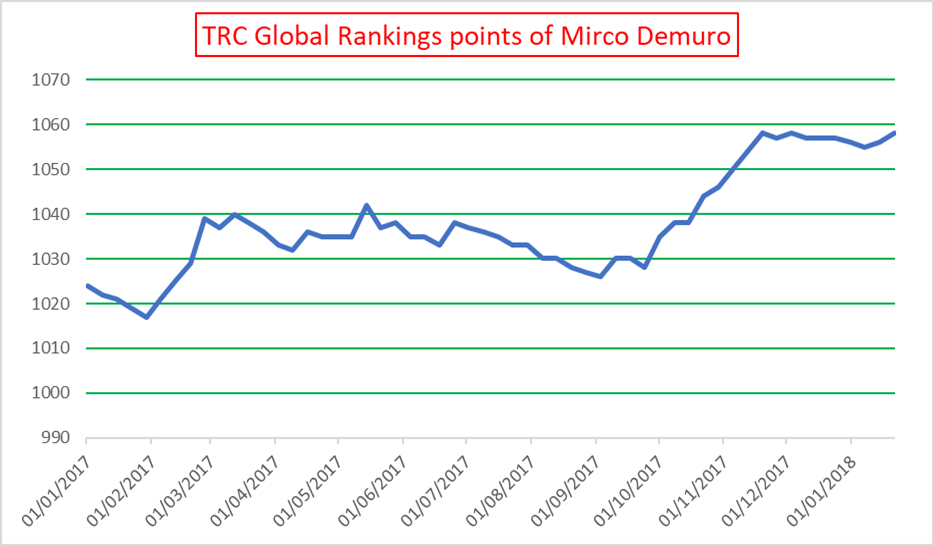 Demuro's 20 wins have come on 17 different horses – another aspect of his performance that impresses the TRC algorithm. When a jockey gains multiple wins on the same horse, the contribution of the horse is assumed to be greater and a rider receives a diminishing reward of points. Only on Persian Knight (G3 Arlington Cup in February, G1 Mile Championship in November), Red Falx (G2 Spring Cup in May, G1 Sprinters Stakes in October) and Satono Crown (G2 Kyoto Kinen in February, G1 Takarazuka Kinen in June – see video below) has Demuro won two Graded races in the sample.
Demuro has ridden for no fewer than 26 different trainers and 28 different owners in the last year, so it is clear that nobody in Japan is entertaining an angel unawares. Racing fans around the world should credit Demuro as being one of the elite too, for the numbers he has produced over the last year justify nothing less than this accolade.
Click here for a list of all last week's biggest TRC Global Rankings points gainers.
Click here for a list of all the week's Group and Graded winners.