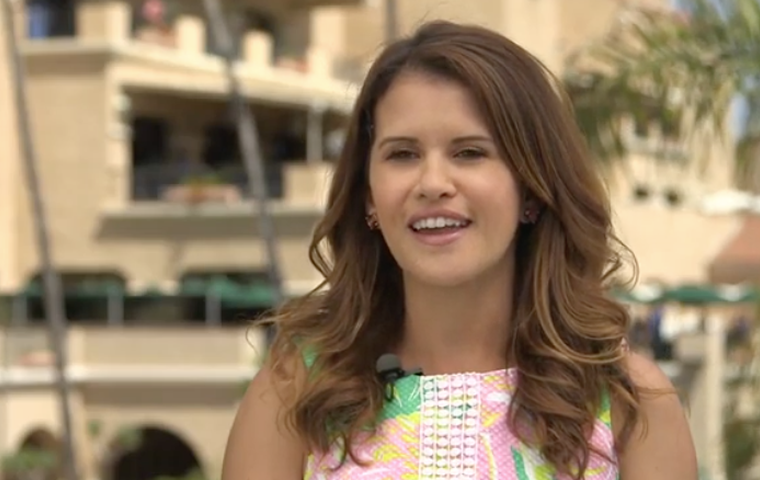 Christina Blacker is a longtime analyst and host at TVG in Los Angeles, California. She grew up in racing - her father, Frank Olivares, was a jockey for 25 years. Blacker is married to trainer Dan Blacker, with whom she has three daughters. She also spearheads the I Am Horse Racing movement in California, which helps educate people on the impact horse racing has in the community.

Who do you think is the most important figure in world racing history?
I think it's daunting to start going all the way back in history all over the world, but there are two people that come to mind for me. They are more recent, but I think the changes they made to the game really have been pretty revolutionary.
The first person is the coach, D Wayne Lukas. Think about the way he modernized training racehorses and turned it into more of a business, with assistants and strings all over the country. He streamlined the process, he changed the way American trainers operated moving forward. It was never something we had never seen.
The other person that comes to mind is the late Cot Campbell, who took it another step forward in terms of partnerships. He split up racehorse ownership among different people. Think about West Point, Little Red Feather and Team Valor as partnerships that are going international and bringing so many people into the game. Sometimes the partners stay with the partnership and sometimes they go on and own their own in the future.
The sport became more accessible to so many more people, which really kept us going, because very few people can afford to own horses outright and support trainers in the business the way they need to be right now.
Which is your favorite venue and race?
I have so many favorites and for different reasons. Some are sentimental, some are where I grew up; there are different things to love about so many racetracks. But on top would be Royal Ascot, maybe because when I've gone I've done so just for fun, to watch and enjoy. I haven't been there working, but for me being there married to [English-born trainer] Dan, going to England and seeing all that … the first time I walked around with stars in my eyes.
I've been twice since, and I still have that feeling of it being so magical. It feels royal; you look around and see why they call this the Sport of Kings. It's incredible to see top-class racing at a top-class venue, and just revel in the pageantry of it all.
What is your fondest memory in racing?
I don't know if Zenyatta and the Breeders' Cup Classic will ever be topped for me, but one up there is Beholder winning the Pacific Classic (see video below). I had a very different experience that year because I was on maternity leave, so I was watching races from the grandstand. I happened to be sitting in the box just above trainer Richard Mandella and his family. When Beholder came around the turn and made that big move - from a horse standpoint, it was one of the most brilliant moves you'll ever see - everyone stood up, everyone was cheering, everyone was jumping, you knew you were watching something really remarkable.
But Richard stood up and froze. Instead of watching Beholder, I watched him. He was almost paralyzed in awe of what he saw; it was one of those things where I felt like he was soaking up what he was seeing from her, the appreciation of the people in the venue and what they were seeing. He was so overcome he couldn't move. It was something so magical.
I know how incredible a horseman he is and how much he loves his horses, and they are children to him, so I felt like he was watching one of his kids show what she could do. I saw the pride and love bursting from him, it seemed like it was more powerful than anything he had experienced.
What do you see as the biggest challenge racing faces today?
If I had to put it in one word, it would be 'trust'. Right now, with the safety issues we are correcting, working to improve each and every day all across the country, one of the biggest problems is we have lost the trust of the outside sports fans. Because of the messaging that has been out there from the mainstream media, it feels like we have this implication that we don't care, that we aren't doing everything we can, that we aren't succeeding in improving safety. The bottom line is that we are!
Look at no injuries in California from June 6 through September 28 during racing, but because the message got so far ahead of us we've lost trust in a lot of people. That's part of the reason I worked with I Am Horse Racing, to try to gain that trust back person by person, step by step, and show how many wonderful horsemen and women in this game that do this because they care. They are deeply affected by where we are right now, and are doing everything they can to improve and help save the game.
If you could change one thing in racing, what would it be?
Ninety percent of the answer you would get from anyone is to unify ourselves. To have one governing body, one set of rules, because I think we could earn back that trust I was talking about if we were unified. We could continue to pick up the baton in terms of the dramatic changes at Santa Anita, and carry those all across the country. With more ideas and the more people helping out comes more research, more improvement, and a safer product for horses and jockeys involved.
Only good things could come from everyone being on the same page. So many people love this game and plan to be a part of it for the rest of their lives, like I do.